Business Domains
NTN develops various businesses worldwide with its main products of bearings, eco products that reduce energy consumption by reducing friction.

Automotive Market
NTN provides a wide range of products for automobiles as a specialist in the power/drive train system, contributing to fuel efficiency and reducing CO2 emissions. In addition to core products of hub bearings (the world's No.1 market share), driveshafts (the world's No.2 market share), and various bearings, NTN provides module products with high functions by combining our products with peripheral components and fusing our core technologies to contribute to the creation of safe, secure, and comfortable future automobiles.
Main Products
*Click each image to enlarge it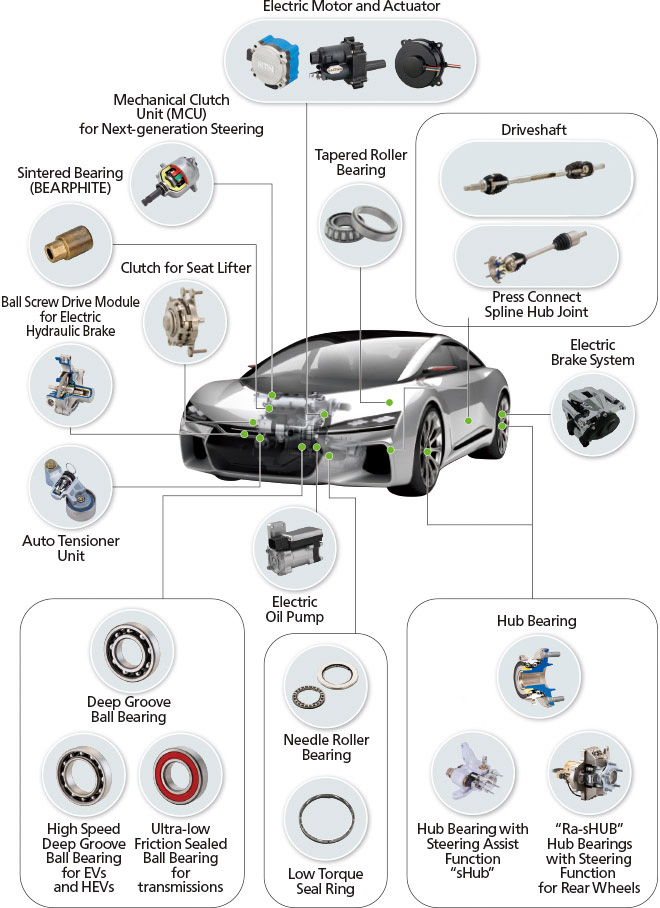 Hub bearings and driveshafts
Hub bearings with the world's No.1 market share and driveshafts with the world's No.2 market share account for approximately 80% of NTN's sales in the automotive business. These products continue to be applied in EVs (Electric Vehicles) as well.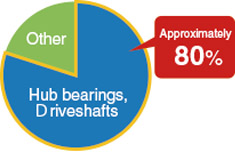 Hub bearings
It is important that the four wheels of a car turn efficiently for smooth driving. Hub bearings help the wheels turn, and play an important role as they support the weight of the car at the same time. NTN's hub bearings are unitized and have less parts, which means they are more lightweight and compact. This helps to reduce fuel consumption as well as improve safety.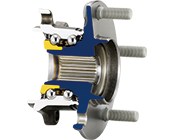 Driveshafts
Driveshafts are parts that transmit drive power from engines and motors to the tires, and NTN was the first to commercialize them in Japan. Since then, NTN has continued to lead the industry with its high level of technical expertise, developing and supplying high-performance, lightweight and compact driveshafts with a long operating life for automobiles, as well as to various other industries such as steel manufacturing machinery, and food machinery.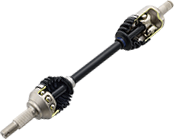 Business Topics
Driven by electrification and shift to EVs
In the automotive market, electrification of automobiles and shift to electric vehicles (EVs) are accelerating. Accompanied with the shifts, the requirements for each product are also changing. NTN regards the change as business opportunities where we can demonstrate our technologies. Through developing and providing high value added products that meet EV's specific needs, we are expanding the business.
Strengthen core technologies and products
In order to meet EV's needs, NTN will deepen our accumulated technologies for core products of hub bearings and driveshafts where NTN has a high global market share, and other bearings. To increase all-electric range of EVs, hub bearings are required to reduce friction and weight to lower electricity consumption. Driveshafts are required to realize high efficiency to transmit the motor torque to the wheels without compromising the torque, and low vibration/quietness characteristics to improve ride comfort as well as lightweight. Additionally, in order for the motors to produce sufficient torque, bearings adaptable to high speed rotation are needed. NTN has already been developing and providing products that meet these needs, and will continue to develop products that anticipate changes in needs.
Expand into new areas
NTN is accelerating the development of highly functional module products that leverage the technologies cultivated through the development of core products to date. Electric Motor and Actuator, which combines bearing and ball screw technologies with motor design technologies and electronic control technologies, contributes to the electrification of various components such as oil pumps and brakes as linear actuator and rotary actuator that can be electronically controlled. We are also developing products that contribute to fuel efficiency and future automated driving by combining hub bearings with motors, generators, and steering assist functions.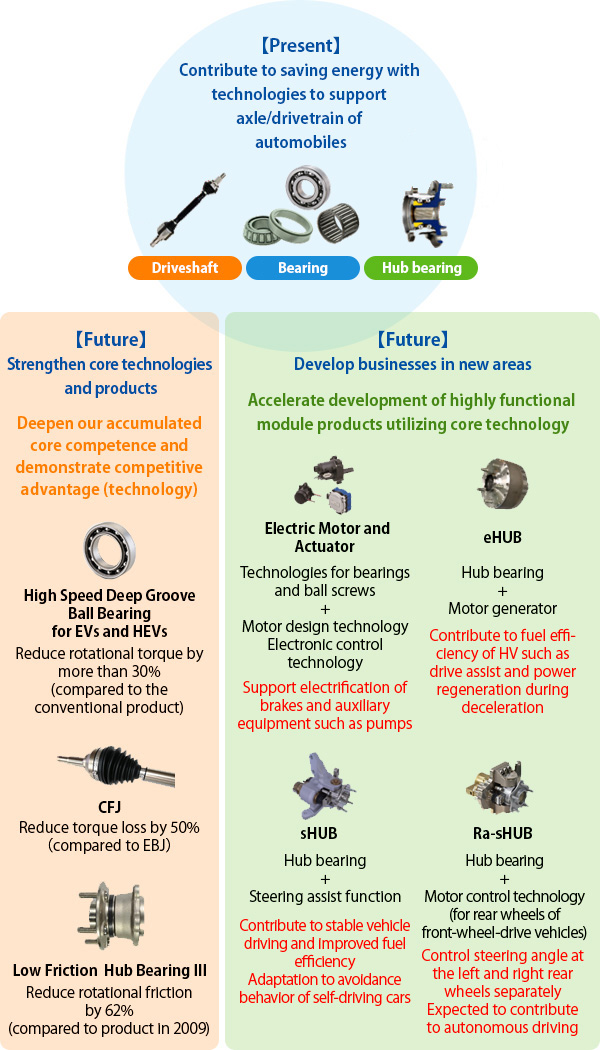 Catalogs

Industrial Machinery Market
NTN supplies a wide range of bearings for various industrial machinery such as construction machinery, agricultural machinery, wind turbines, robots, aircrafts, railway rolling stocks, machine tools, and electronic equipment to reduce the environmental impact. NTN contributes to the development of industry and the creation of a sustainable society by providing products and services that meet the needs for automation and labor saving at manufacturing sites including detection of abnormality in bearings through sensing.
Main Products
*Click each image to enlarge it
For construction machinery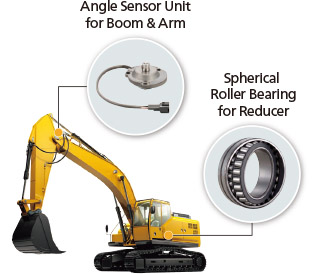 For wind turbines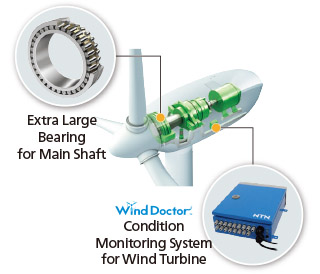 For aircrafts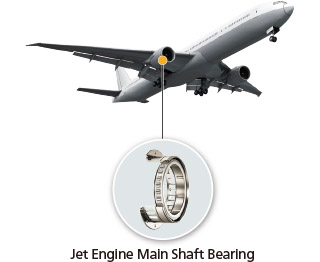 For railway rolling stocks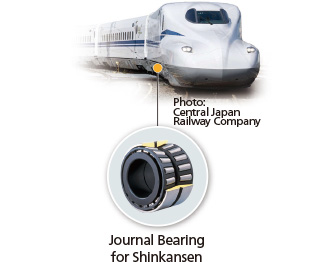 For machine tools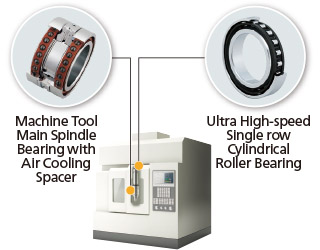 For electronic equipment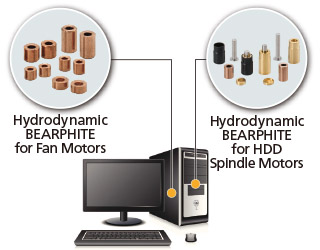 Business Topics
Contributing to growth of renewable energy market
NTN began manufacturing of bearings for wind turbines in 1998, and has been supplying bearings for main shafts, gearboxes, generators, and yaw gearboxes. Main shafts transmit rotation generated by blades. Gearboxes increase the rotation speed and transmit it to the generators. Generators convert the rotational energy from the gearboxes to electricity. Yaw gearboxes change the direction of the turbine in accordance with the direction of the wind.
Furthermore, we began selling Green Energy Products that generate electricity from renewable energy such as wind and solar in 2016, utilizing our technologies cultivated from development of bearings for wind turbines. Transportable Independent Power Supply "N3 N-CUBE" and Stationary Power Supply "NTN Green Power Station" can be customized to suit usage conditions. They are installed in many place in Japan.
NTN contributes to the growth of renewable energy market through the provision of bearings for wind turbines and Green Energy Products.
Click here for details of Green Energy Products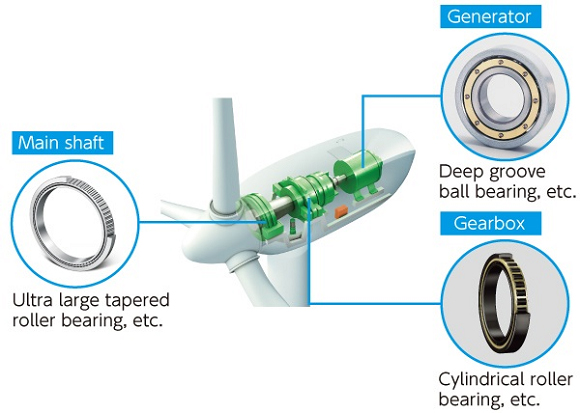 Major bearings for wind turbines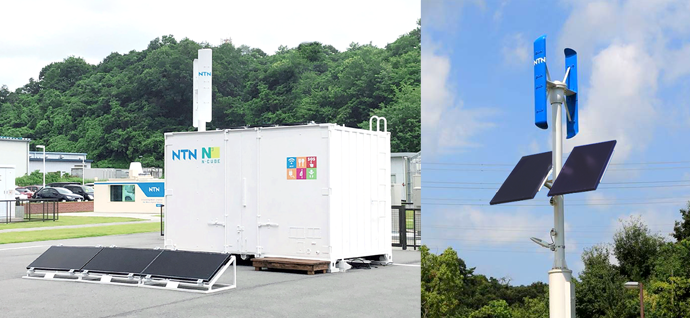 (left) Transportable Independent Power Supply "N3 N-CUBE" which can be transported by means such as truck and generate/supply electricity
(right) Stationary Power Supply "NTN Green Power Station" which can turn on LED lighting and recharge smartphones by using the generated electricity
Provide one-stop solution from supplying bearings to abnormality detection and maintenance for wind turbines
While renewable energy is getting attention to realize carbon neutrality, there are great expectations for offshore wind turbines in particular. NTN plays a key role in supply chain as one of the few manufacturers capable of producing bearings for main shafts used in offshore wind turbines which are larger in size.
In addition to providing bearings, we have been supplying monitoring service and diagnostic service for the bearings by using our condition monitoring systems (CMS). Sensors are attached to the drive train (main shafts, gearboxes, and generators) of the wind turbines to obtain data such as vibration. By monitoring and analyzing the data, it can detect signs of damage in bearings and gears.
Through collaboration with the business partner which specializes in maintenance business for wind turbines, we can also provide maintenance service quickly when abnormalities are detected by CMS. By utilizing CMS data, we can conduct accurate and efficient maintenance, minimizing downtime of facility.
As a supplier which can provide one-stop solution to operate wind turbines from supplying bearings to abnormality detection with CMS, as well as supplying maintenance, NTN contributes to stable operation of wind turbines and expansion of the market.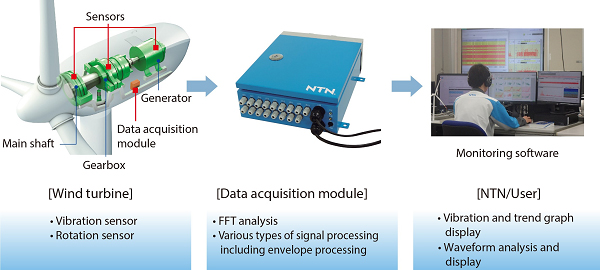 Contribute to automation, labor saving, and improvement in productivity at manufacturing sites
In the robots market, where its demand is rising against the backdrop of a decrease working population, NTN is contributing to automating manufacturing sites, saving labor, and improving productivity through the provision of robot-related products such as Wrist Joint Module "i-WRIST™" and "Multi Track Magnetic Ring."
"i-WRIST™" features free movement like human wrists with our original driving mechanism utilizing technologies of driveshafts where we have the world's No.2 market share. It can provide high precision positioning at high speed. By attaching end effects such as cameras and cleaning nozzles to the tip of "i-WRIST™," it can replace the various processes that were carried out by human.
"Multi Track Magnetic Ring" is formed of a double-row magnetic track with a highly accurate magnetization technology. It adheres a highly durable rubber material kneaded with a magnetic material to a ring-shaped core metal.
Combined with a dedicated magnetic sensor, it enables angle detection with high resolution and contributes to precise movement control by applying it to joints of robots.
Click here for details of robot-related products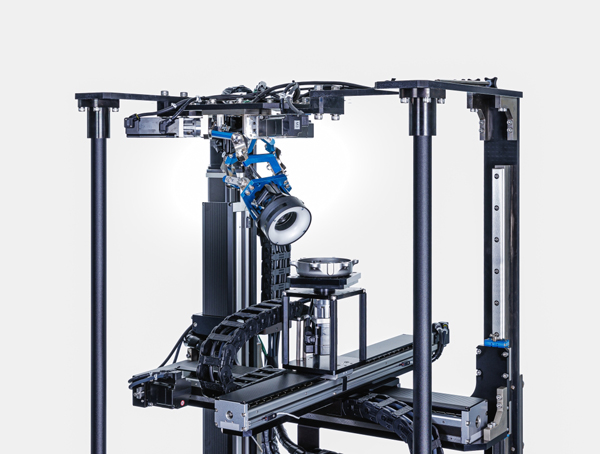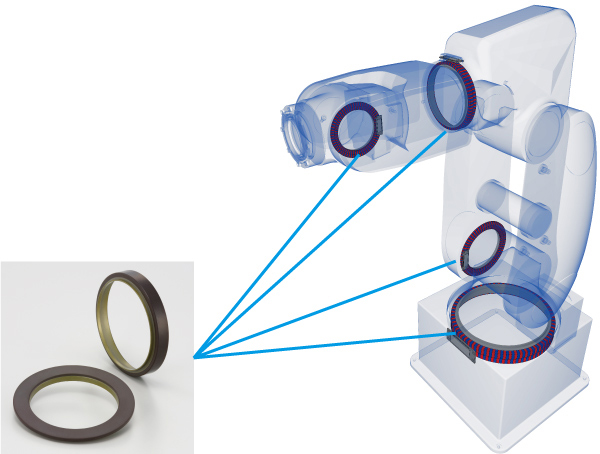 Improve maintenance efficiency with bearing sensing technology
NTN has been accumulating monitoring technology for bearings from the condition monitoring system (CMS) for wind turbines. By evolving the technology, we have been developing the new business model that combines hardware (products) with software (services), such as the detection of abnormality in other bearings and bearings with sensors. We will also utilize AI and other state-of-the-art technologies to develop methods for the early detection of bearing damage and life expectancy forecasts to contribute to improving the operating rates and improving the efficiency of maintenance for a wide range of industrial machinery.
Future image of CMS
Catalogs

Aftermarket
NTN provides bearings for repair for general machineries and automotive aftermarket parts, maintenance tools that support the mounting and dismounting of bearings, and devices to detect abnormality in bearings through our distributors, contributing to the improvement of productivity and stable operation of equipment. We also provide a wide range of technical services to resolve issues related to bearings such as how to handle them. We fully support customers from supply to after services.
Click here for details of Aftermarket Business
Main Products
Products for MRO
As business for MRO (Maintenance, Repair and Overhaul), NTN sells bearings for repair such as mining, paper manufacturing, steel, and food machinery. We contribute to the stable operation of our customers' facilities around the world through a comprehensive product lineup and a prompt delivery system.
Click here for details of Products for MRO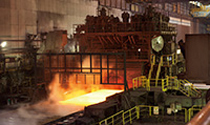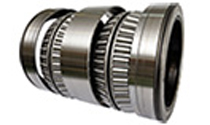 Automotive aftermarket parts
NTN offers a wide lineup of products ranging from passenger cars to heavy trucks, and handle parts kits with bearings and peripheral components as a set. Through expanding our network of distributors mainly in Europe and the U.S., NTN meets the needs of customers seeking high quality products in the automotive aftermarket.

Maintenance tools
We sell maintenance tools that support the mounting and dismounting of bearings, and "NTN Portable Vibroscope" that can easily diagnose bearing conditions simply by installing it on equipment. We also provide a reporting service in which NTN's technical experts diagnose and analyze bearings based on the data measured by the "NTN Portable Vibroscope".
Click here for details of maintenance tools
Click here for details of "NTN Portable Vibroscope"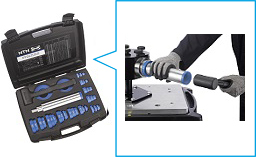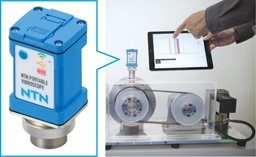 Business Topics
Develop various technical services to ensure safe and secure use of products
As bearings require delicate and correct handling, NTN provides opportunities such as technical sessions and seminars. Participants can learn how to handle bearings and other topics to use bearings.
In addition, for the case when issues regarding bearings occur, we offer technical service where NTN technical experts provide supports to help resolve the issue as soon as possible. Even if the customer's manufacturing site is far from NTN business sites where NTN technical experts are working, we can provide support with remote service. By sharing the information of the manufacturing site to NTN technical experts by using cameras, we can provide support for swift resolution.
In addition, we are strengthening countermeasures for counterfeit bearings globally so that customers can use NTN products with confidence.
Click here for details of technical services
Click here for details of countermeasures for counterfeit bearings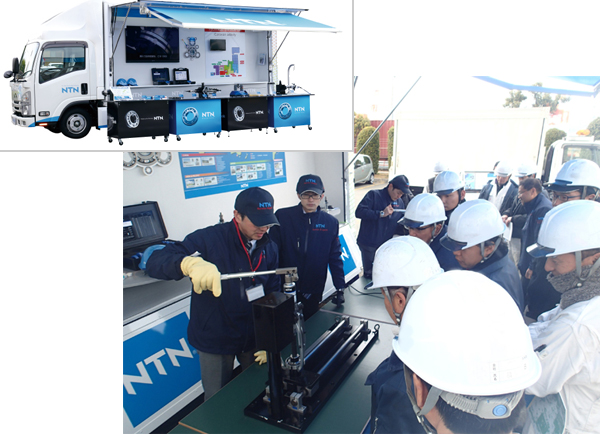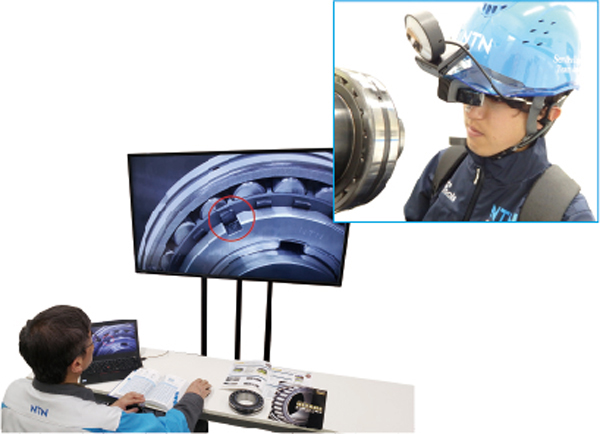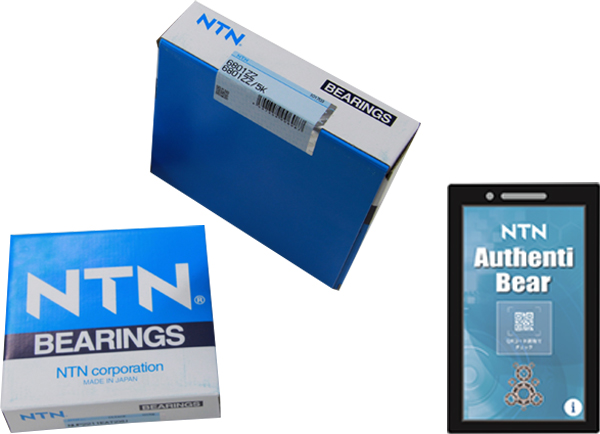 Catalogs