Robot-related Products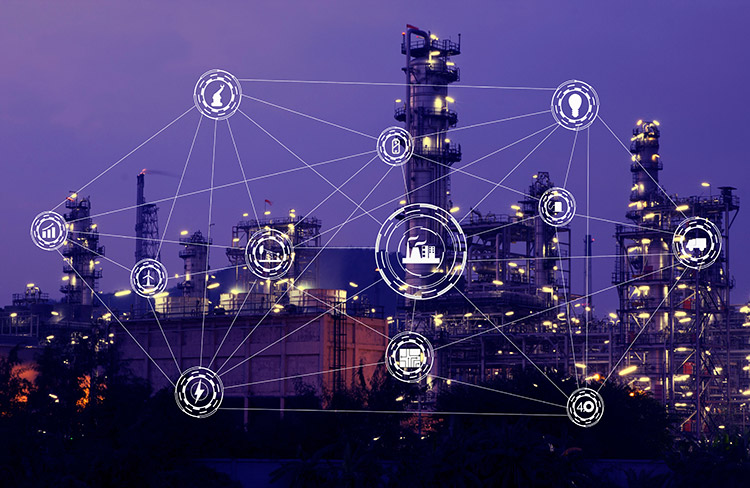 FA (Factory Automation) and IoT (Internet of Things) become widely used at manufacturing sites in recent years due to factors such as the shortage of manpower. Focus is also increasingly turning to collaborative robots which replace the work by people such as assembly and inspection.
NTN is developing robot-related products that utilize technology developed over the 100 years to meet such demand in the market. NTN is accelerating man-power saving and enhancing efficiency at manufacturing sites through products that contribute to spread of FA, IoT and robots.
Wrist Joint Module "i-WRIST™"
Positioning device that moves like a human wrist
Contribute to man-power saving at manufacturing sites
Wrist Joint Module "i-WRIST™" is a module for robots which performs high-speed positioning.
A proprietary driving mechanism provides movement in any direction, much like a human wrist, and it also has a compact design.
"i-WRIST™" can quickly be changed to a variety of devices by mounting an end effector to the end or combining it with other robots.
It is faster and more space-efficient, and can perform work with minimum manpower, to increase the potential of manufacturing sites.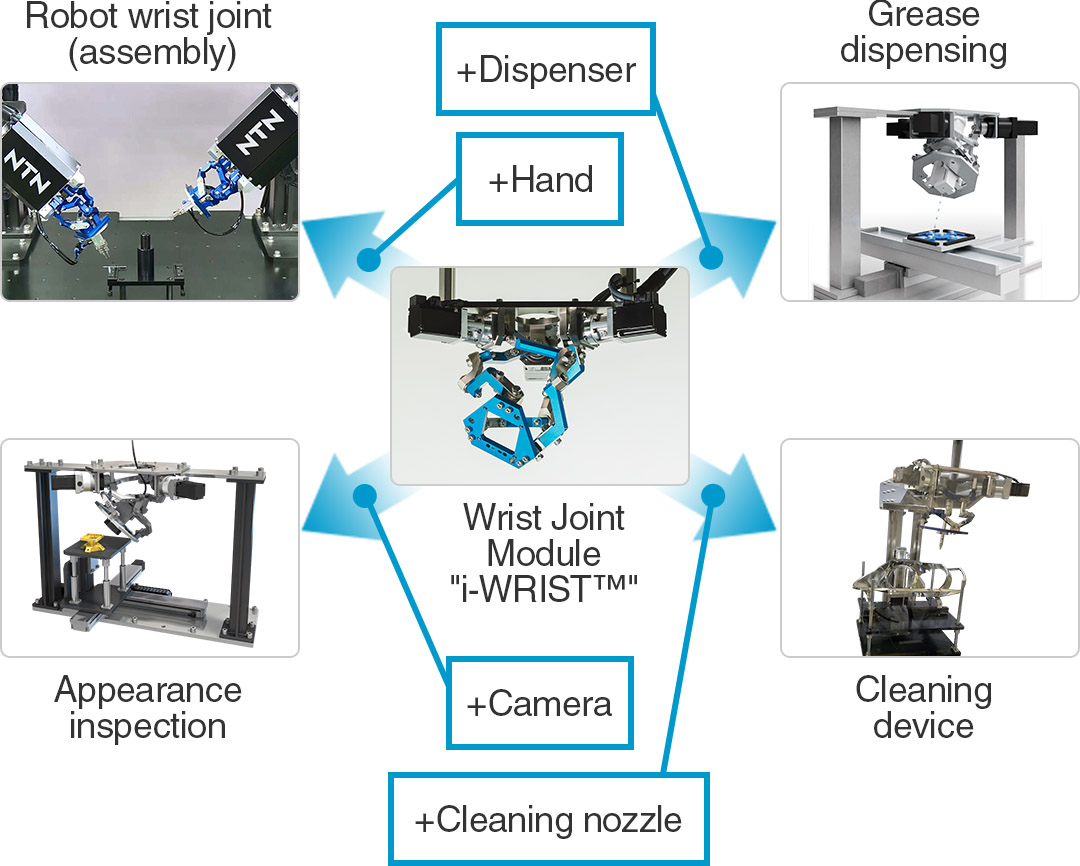 "i-WRIST™" video (approximately 4 minutes)
Feature 1: Wide operating range
The operating range has a maximum bending angle of 90° and swing angle of 360°, meaning "i-WRIST™" can quickly target any point on a hemispherical area, and swing in the same direction repeatedly. It can take the shortest distance to approach target position from various angles.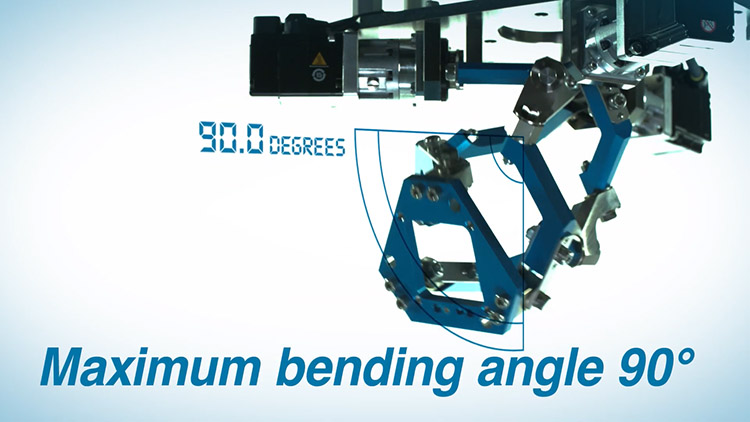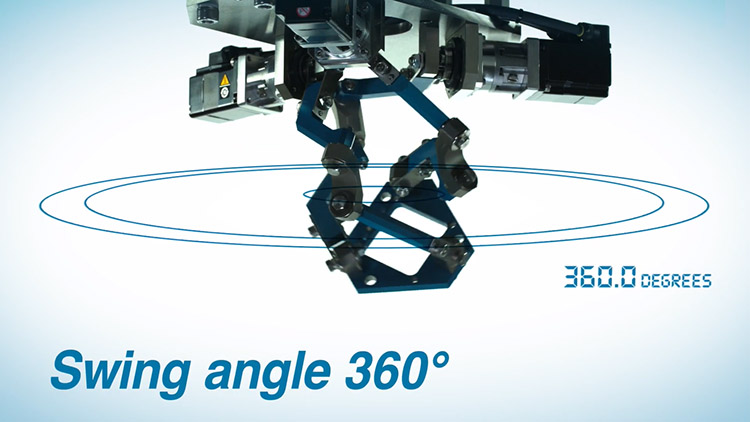 Feature 2: High-speed movement
"i-WRIST™" can change position more than seven times per second. This means it can make minor positional changes quickly, which is difficult for conventional robots. It is able to perform detailed work traditionally performed by human, precisely and at high-speed.
Demo video of appearance inspection (Approximately 6 seconds)
Feature 3: Compact design
A compact design makes it easy to set up at plants with limited space. When combined with a workpiece rotation mechanism, "i-WRIST™" can be installed in the same space that humans work in.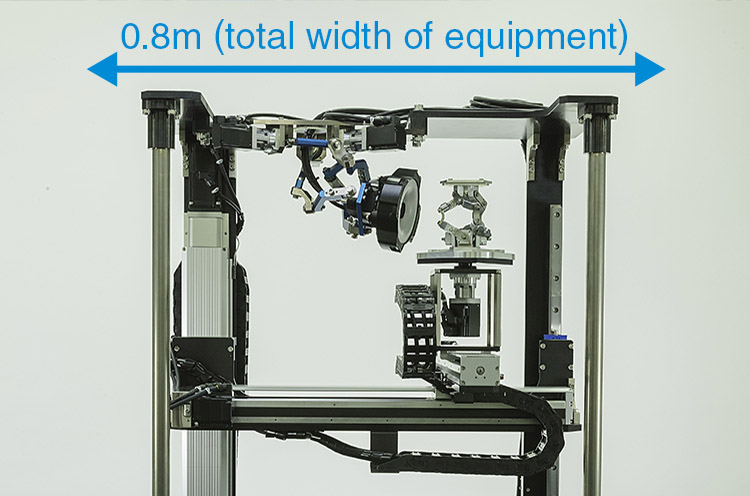 Same installation space that humans work in
"i-WRIST™" developed from driveshaft technology
Driveshafts are products that transmit drive power smoothly from the vehicle's engine to the tires. They are essential for vehicles to drive and turn. NTN succeeded in mass-production of driveshaft for the first time in Japan in 1960's. Nowadays, NTN has the second largest market share of driveshaft. By utilizing technology of driveshaft that transmits power smoothly, "i-WRIST™" which has freedom of movement with large operating angle has been developed.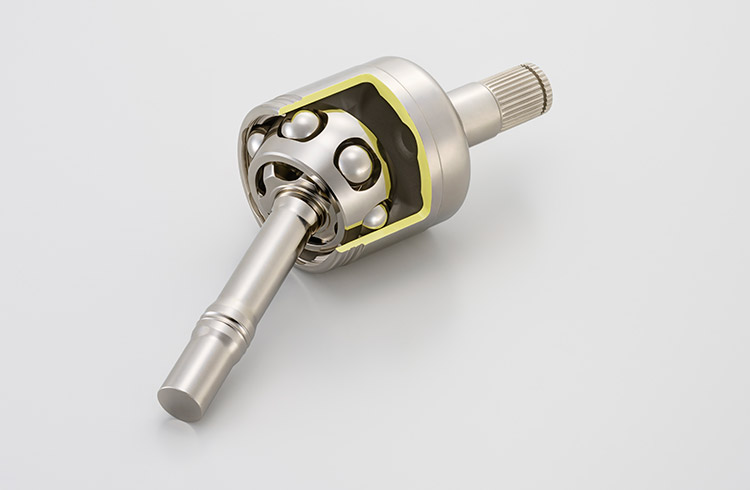 Driveshafts transmit rotation through various angles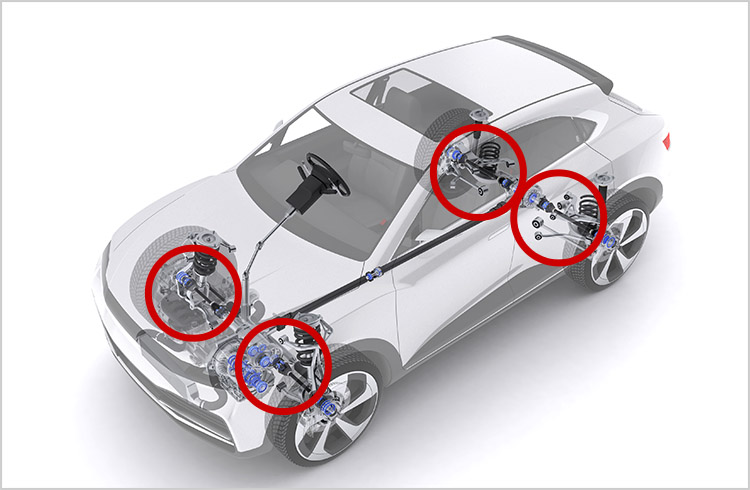 Position where driveshafts are used
Specifications
Type
Bending angle 90° specifications
Bending angle 45° specifications
Size (WxDxH)
331×286×202mm
388×335×191mm
Mass (kg)
5.4
8.0
Degrees of freedom
2
Operating range
Bending angle (°)
90
45
Swing angle (°)
360 (free)
Weight capacity (kg)
1.0
Repeated positioning accuracy (°)
±0.05
Control mode
PTP (Point to point) control, tracing operation
"Multi Track Magnetic Ring"
High-resolution absolute angle detection
Provide smooth, precise movement for all robots
The "Multi Track Magnetic Ring" is a product that adheres a rubber material kneaded with a magnetic material to a ring-shaped core metal. When combined with a dedicated magnetic sensor, it can detect angles of applications such as robot joints accurately at 17 to 20 bit (resolution of approximately 0.0027° to 0.00034°), which contributes to precision control of robot movement.
Being a magnetic type, it provides superior resistance against vibrations, extreme temperatures, dirt, dust and oil mist, and can be used in such environments.
In addition to robot joints, it is an ideal product for absolute angle detection of devices such as servo motors.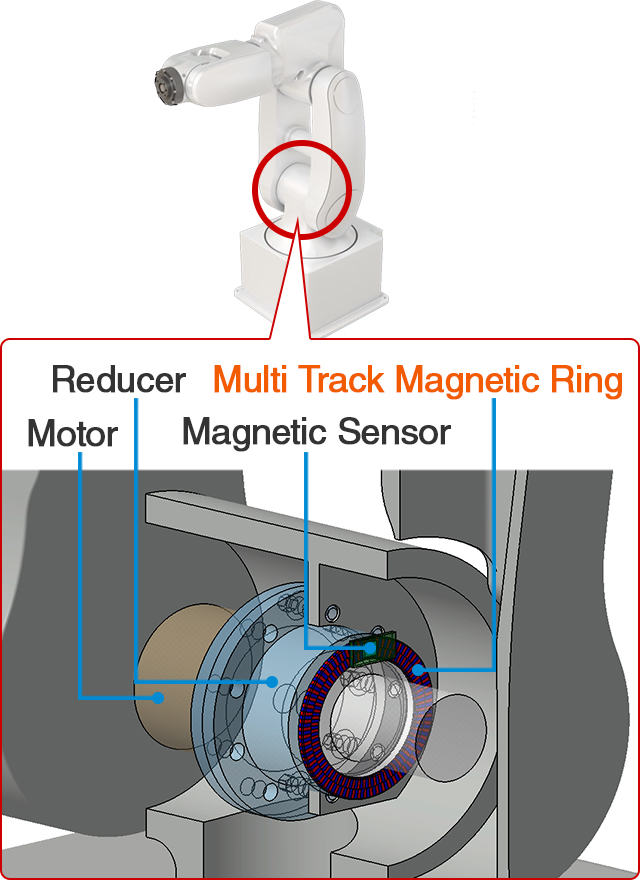 "Multi Track Magnetic Ring" video (approximately 2 minutes)
Feature 1: Contribute to high-accuracy angle detection with proprietary magnetization technology
The magnetic ring is formed of a double-row magnetic track having different numbers of poles (the number of magnetic poles such as N pole and S pole). When the magnetic ring rotates, the dedicated sensor reads the change in the magnetic poles of the double-row magnetic track and outputs the absolute angle with high-accuracy by the electric signal.
In order to detect the absolute angle with high-accuracy, it is necessary to magnetize the N pole and the S pole at regular intervals. Also, when forming a double-row magnetic track, a highly accurate magnetization technology that does not affect adjacent magnetic tracks is required. NTN succeeded in accurately magnetizing 64 pole pairs (N and S pole arrangement) and 63 pole pairs by the proprietary magnetization technology developed so far.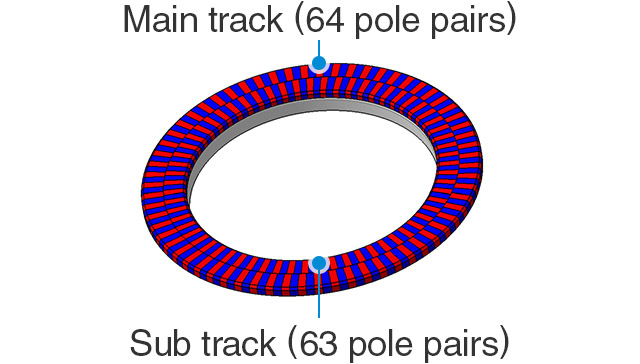 Image of magnetic pattern

High-accuracy magnetization of 64 pole pairs (N and S pole pair arrangement) and 63 pole pairs
Feature 2: Increase robot design flexibility
The magnetic ring is available in a radial type that is small in the radial direction (outer diameter: φ51.5 mm), and an axial type that is small in the axial direction (axial width: 4 mm). Both types have a large opening diameter that allows mounting of hollow shafts with cables inside. Selecting the type depending on a mounting structure increases the design flexibility and helps to achieve more compact, lightweight design.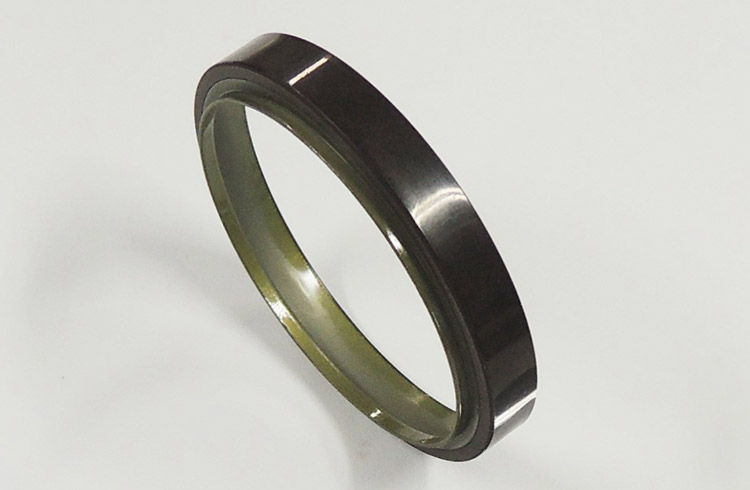 Radial type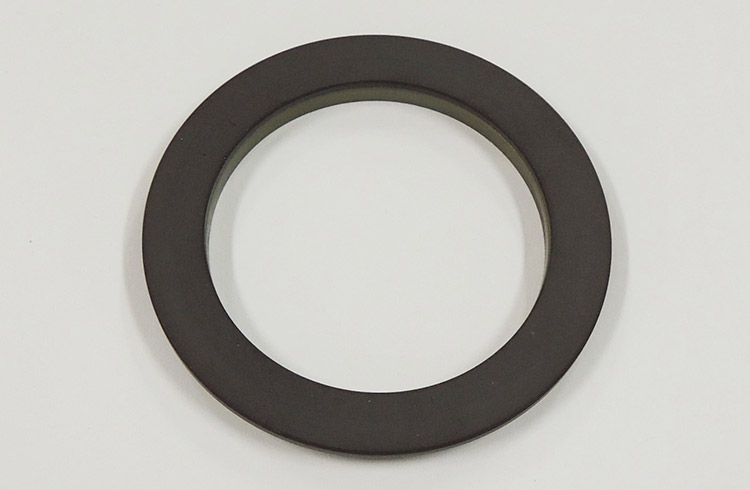 Axial type
"Multi Track Magnetic Ring" developed from integrated sensor bearing
NTN's magnetization technology behind the "Multi Track Magnetic Ring" came about with the development of the "Integrated Rotation Sensor Bearing" that combines a rotation sensor with a bearing. The "Integrated Rotation Sensor Bearing" is a product that detects the rotational speed of a motor. The Sensor Integrated Hub Bearing has also been developed for use with ABS (Anti-lock Braking System) of vehicles. These products are used in various types of industrial machinery and automobiles.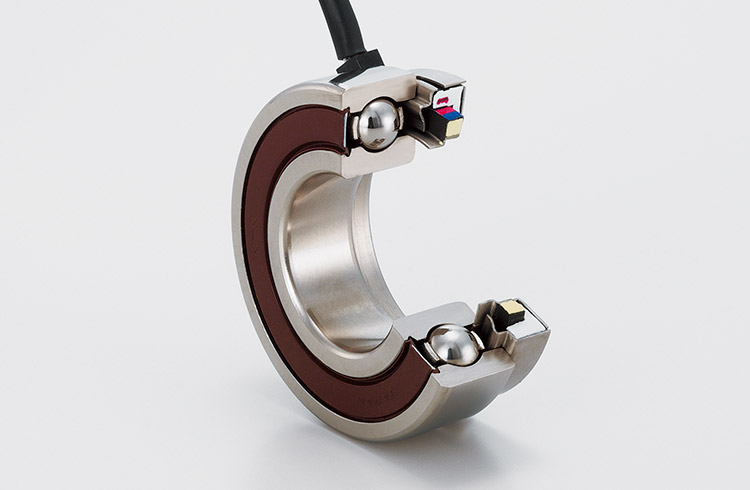 Integrated Rotation Sensor Bearing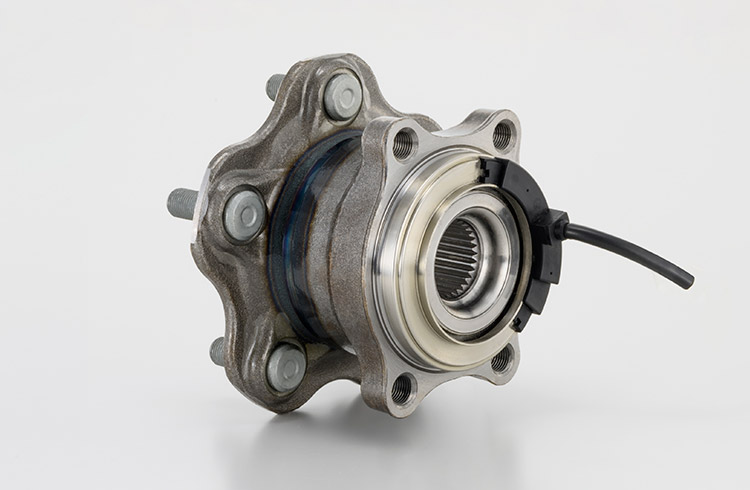 Sensor Integrated Hub Bearing
Specifications
Type
Radial
Axial
Product
MTR64
MTA64
Outer diameter (mm)
φ51.5
φ56
Inner diameter (mm)
φ44
φ41
Width (mm)
8.2
4.0
Mass (g)
10.7
9.8
Magnetization pole pairs
64/63 pole pairs
(128 poles on main track, 126 poles on sub track)
Magnet
Rubber magnet
Core metal
SPCC (rolled steel plate), thickness 0.6 mm
Usage temperature range (°C)
-40 to +110