NTN to Begin Mass-production of "i-WRIST™" Wrist Joint Module

June 29, 2018
For faster, higher performance appearance inspections and space-efficient applications
NTN Corporation (hereafter, NTN) will begin mass-production of the "i-WRIST™*1" wrist joint module for some manufacturers of automotive components and industrial machine parts for appearance inspection applications. The existing "Parallel Link High Speed Angle Control Equipment" has been developed with a wider range of moving angles and a structure that allows high-speed positioning in any direction within a hemispherical area, and changed its name into i-WRIST™. Mass-production will begin from August 2018.
The "i-WRIST™" developed by NTN uses a special link mechanism*2 that allows the associated device to be more compact and space-efficient, and move over a wider range of movement. This enables minor changes in positions (angles), which perpendicular multijoint robots and pan-tilt structures*3 perform poorly with, to be made at high-speed like human wrist. The maximum operating angle of the conventional "i-WRIST™" was 45°, however the operating range has been expanded to 90°, which allows appearance inspections of complex shapes or hemispheric surfaces conducted by humans to be replaced with "i-WRIST™." Appearance inspections of 60 areas can be achieved in just 8 seconds, depending on the shape and size of the workpiece and the speed of the image processing system.
NTN is aiming to offer "i-WRIST™" for appearance inspection applications by combining it with an XYZ stage mechanism. Mounting a camera and lighting device to the mechanism will enable objects to be inspected with camera photography from the side. The addition of an Rz axis to rotate the workpiece has allowed a shorter XY stage stroke to be used for a more compact overall unit size. The camera and cables have been routed inside the link mechanism to prevent them becoming kinked after repeated swing operations. The proprietary controller and console developed by NTN means teaching operations can be conducted easily, without the operator requiring any complex numerical calculations.
After announcing the developed product in 2012*4, NTN has made numerous improvements*5 to meet the needs of various applications that were identified during technical proposals for grease application and cleaning (such as air blowers). The product's automated high-speed, high-performance appearance inspections and its space-efficient size have been widely recognized, and NTN will begin mass-production for appearance inspection applications. As the working population continues to decline in Japan, the demand for automation is expected to grow for appearance inspections that had relied on manual work. NTN is focusing on automation and labor-saving technologies for such worksites, and continue developing products that further increase productivity and quality as a way of contributing to society.
"i-WRIST™"
a merger of the "i" from terms such as "intelligent," "innovative" and "interesting" with word "WRIST." Registered trademarks for the name and logo are pending.

Mechanism comprising of three sets of similar link systems between the moving and stationary link hubs. Each link system consists of a rotating L-shaped arm attached to the outer circumference of the moving and stationary link hubs, and a rotatably connected intermediate link connecting the axis of rotation of the end of each hub in a single location.
Mechanism that enables panning in the horizontal plane (left/right directions), as well as tilting in the vertical plane (up/down directions).
2012 press release
https://www.ntnglobal.com/en/news/new_products/news201200004.html
2014 press release
https://www.ntnglobal.com/en/news/new_products/news201400104.html
Features
Enhancements made to the angle control device that allows high-speed positioning to a target location from a wide range of angles
1. Faster appearance inspections
automation at a speed comparable to visual inspections by humans

· Shorter takt time

Less moment of inertia for positioning high-speed and high-precision

· Less downtime

Improvements to work efficiency, including teaching, movement settings and setup changes with a dedicated console

2. More space-efficient appearance inspection device
can be installed in manual work areas

· Proprietary controller capable of coordinated operation of two degrees of freedom (working angle Θ + rotation angle φ) + XYZ + rotation axis (Rz axis)
Application
Applications that replace manual work such as grease applicators, cleaning equipment and painting equipment
Inquiries about this release
Product photo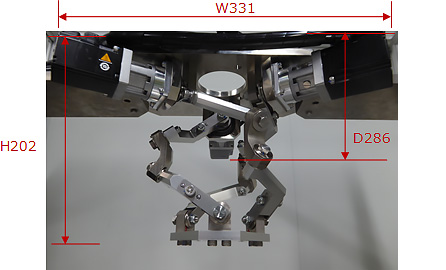 Example of applications
Appearance inspection device configuration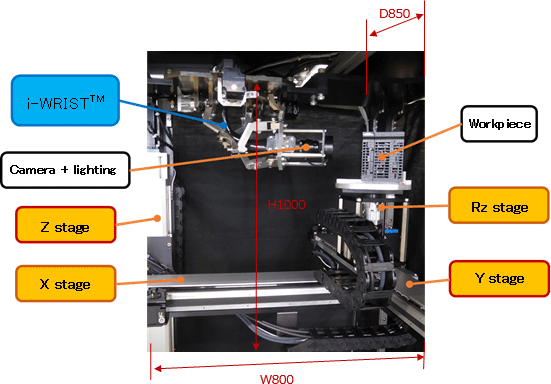 Demonstration of operation (video)
Demonstration of automatic appearance inspection
(Coordinated operation with XYZRz stage with loaded work piece)