Green Energy Products
NTN offers products that generate electricity with compact wind turbines utilizing high efficiency blade technology, solar panels, and others. Transportable Independent Power Supply "N3 N-CUBE" can be transported to locations where needed by trucks and other means, generate and supply electricity. "NTN Green Power Station," a stationary power supply, can be used in a wide range of applications by automatically turning on LED lightning at night and installing various devices according to the uses.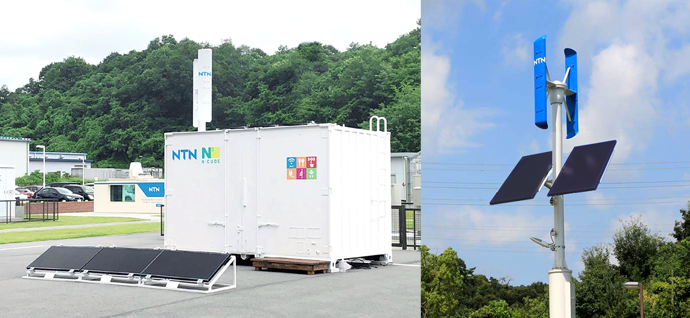 Preparations for Disaster Prevention and Mitigation as well as for "New Normal"
In recent years, many natural disasters such as heavy rains and typhoons have occurred. Various industries and organizations suggest that measures to ensure safety and security are necessary, and it has become essential to take measures in the event of an emergency. NTN's Green Energy Products can meet these suggestions in a variety of ways, contributing to disaster prevention and mitigation.
They can be used not only in emergencies, but also in normal situations, and can be utilized in "New Normal" such as "Workcation" advocated as a new work style.
Disaster prevention and mitigation
Use in disaster prevention warehouse / Use in staggered evacuation / Use in securing toilets in the event of a disaster and maintenance of manhole toilets / Use as simple river monitoring / Strengthening resilience of remote island communications / Use as seawater desalination systems
For power supplies during power outages due to disasters, as well as for disaster prevention warehouses and lighting in evacuation sites
In recent years, there have been many natural disasters, such as heavy rains and typhoons.
"N3 N-CUBE" can be used as a disaster prevention shortage for storeing materials. The room air conditioner can be operated 24 hours a day with generated electricity to store support supplies and pharmaceuticals that require temperature control.
In situations where infectious diseases are prevalent, evacuation methods that avoid "Three Cs (Closed spaces, Crowded places, and Close-contact)" are needed, and evacuation methods using automobiles and tents are required. "N3 N-CUBE" and "NTN Green Power Station" can provide electricity to these evacuation sites as well as lighting temporary toilets and manhole toilets even in the event of a power outage.
Additionally, "NTN Green Power Station" equipped with cameras and installed near rivers can be used as a simple river monitoring system to prepare for typhoons.
"N3 N-CUBE" equipped with a long-distance wireless communication device enables to communicate even in the event of a power outage and to strengthen resilience of remote island communications. In addition, in areas near the sea, it can be combined with a seawater desalination device to ensure drinking water even in the event of a power outage.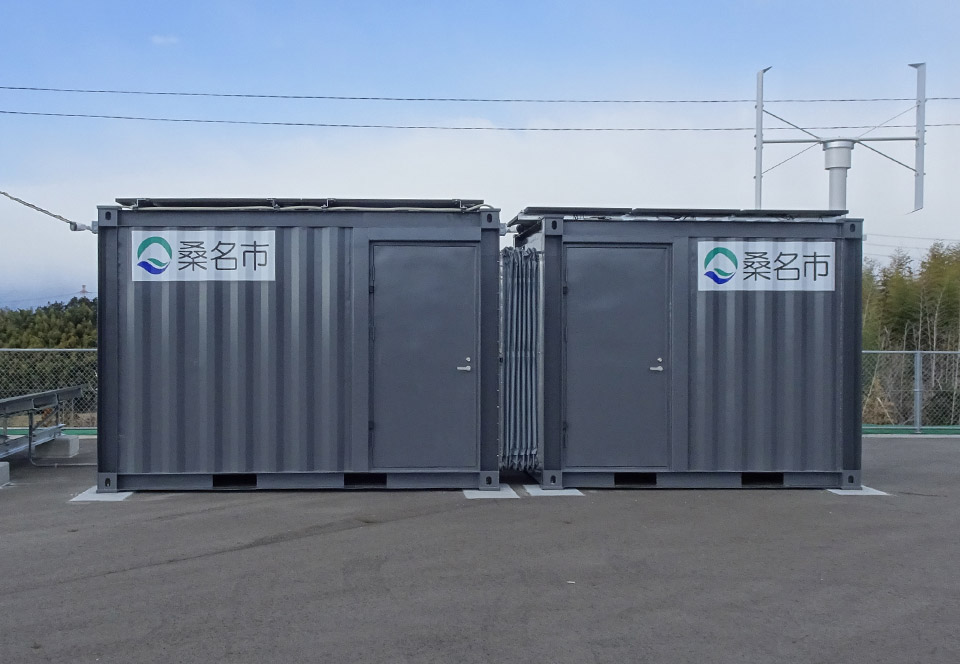 New normal
Use in workcation, glamping / Use in medical space / Temporary office
For new ways of working, offices and lifestyles
Amid a dramatic change in awareness of working styles, office styles, and lifestyles, "Workcation" has been advocated that combines "work" with "vacation." "N3 N-CUBE" provides a space for working while taking a vacation by utilizing telework, etc. in tourist areas and resort areas. The interior and exterior can be customized so that electricity generated from renewable energy can be used for comfortable work and holidays. It can also be used as a space for glamping and temporary offices at construction sites.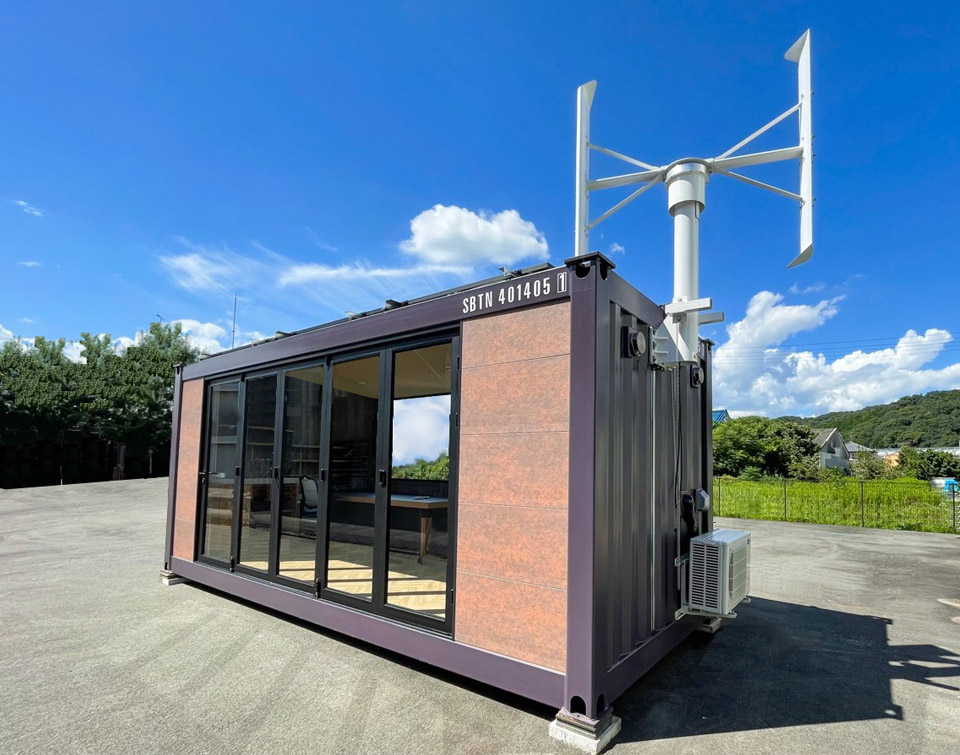 Product Lineup
Contributing to Achieve SDGs (Sustainable Development Goals)
NTN's Green Energy Products which utilize renewable energy sources such as wind and solar light contribute to the realization of a carbon-free society. In SDGs, where efforts are underway around the world to resolve issues, we will contribute to achieving the goal: "7. AFFORDABLE AND CLEAN ENERGY" and "13. CLIMATE ACTION." Additionally, by using them to secure lifelines at evacuation sites in the event of disasters and to monitor water volumes during heavy rain and typhoon, they can contribute to realization of the goal of "11. SUSTAINABLE CITIES AND COMMUNITIES."
[SDGs that NTN's Green Energy Products contribute to its achievement ]

Renewable Energy Circulation Model Proposed by NTN
Now accepting business meetings, requests for broucures and tours