Transportable Independent Power Supply "N3 N-CUBE"
Store generators that utilizes wind, solar light, etc.
Deliver to where you need quickly, and install easily!
Features
Rapidly move to required locations with high "mobility" to supply electricity!
"N3 N-CUBE" stores generators and batteries compactly and can be transported by various means such as a 4-ton truck, cargo ship, and helicopter to a place where needed to generate electricity.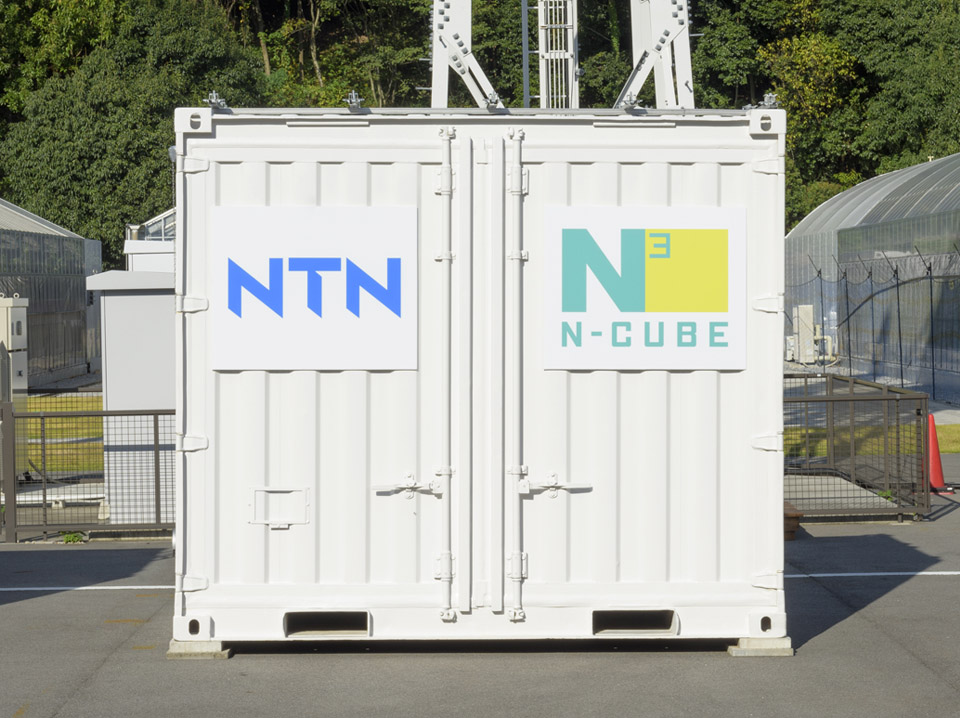 Quick and easy set up!
Generation can be started immediately after installation. Just connect the electrical wiring to the connector. There is no qualification to set up this product.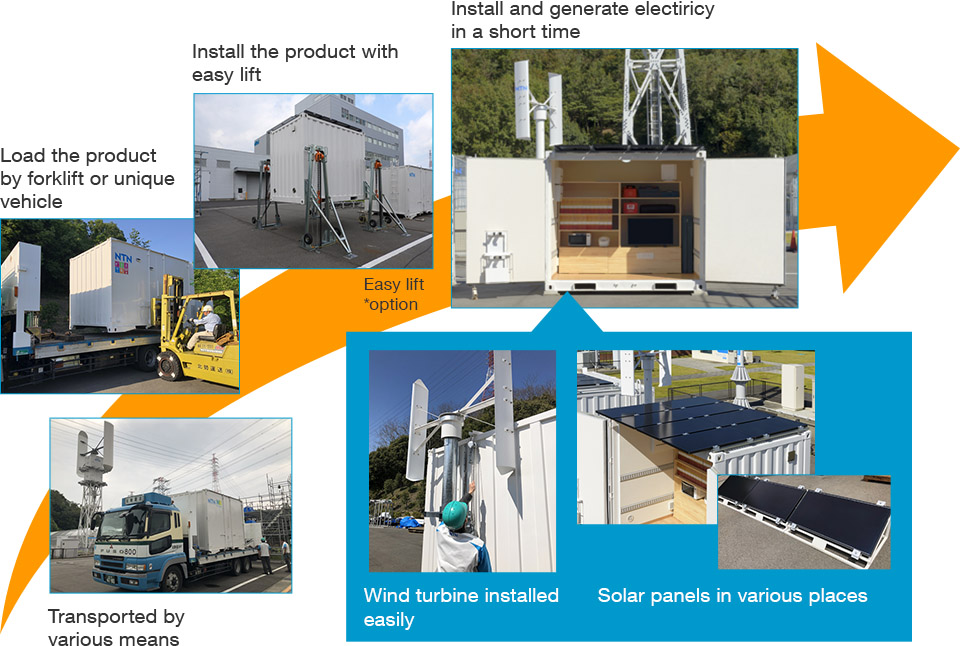 Generate electricity with three generators at any time
Three types of generators are available: vertical axis wind turbine, micro hydro turbine*, and solar panels. It is able to generate 24 hours a day with zero carbon (no CO2 emissions during operation).
* Option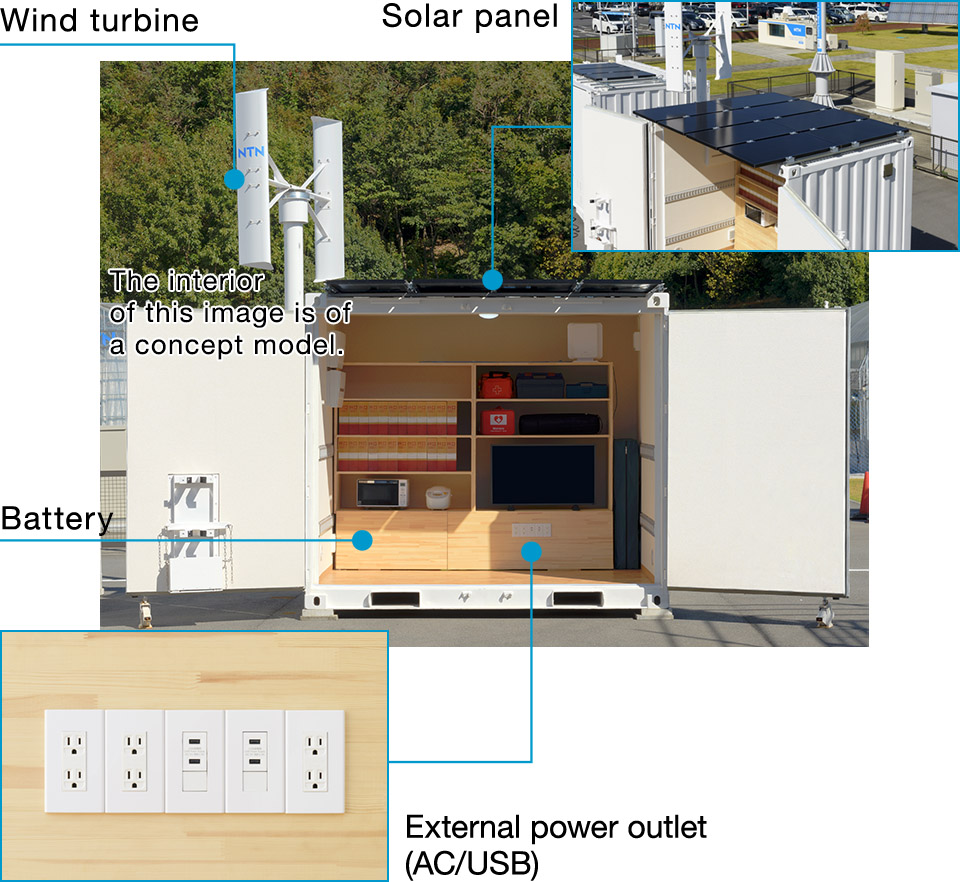 No noise, no odor!
"N3 N-CUBE" does not need fuel such as gas cylinder, gasoline, and diesel oil that typical type of emergency generators need. "N3 N-CUBE" generates electricity with renewable energy so that it does not make any noise and odors while the fuel-based power generator makes them. This product contributes to the people's comfortable and safety lives in the evacuation site at the time of disaster.
Effective use of space
The space of container can be utilized for various purposes by installing shelves, benches, desks, curtains, and other items. You can also use the space to store relief supplies such as emergency kits and food, as well as temporary office in construction sites, medical space, and workcation.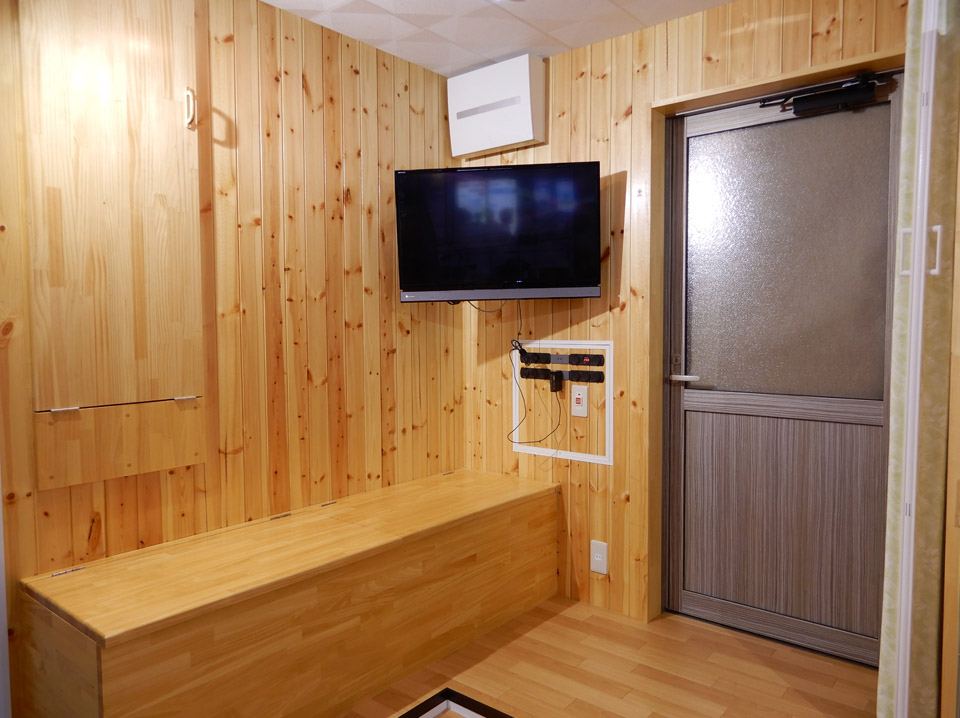 Specification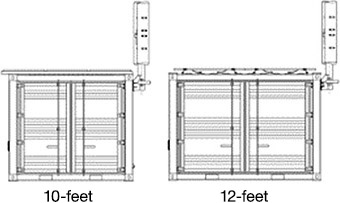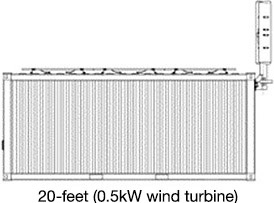 Specifications
10-feet
12-feet
20-feet
Size (m)
L×W×H
3×2.1×2.6
3.7×2.4×2.6
6.1×2.4×2.6
Rated output of wind turbine
0.5kW
0.5kW
Small wind turbine
0.5kW
Large wind turbine
3.0kW
Rated output of solar panel
1.0kW
1.3kW
Roof mounting only
2.0kW
Roof + ground
5.0kW
Deep-cycle lead-acid battery
8.8kWh or more
8.8kWh or more
8.8kWh or more
19.2kWh
Transportation
means
Land
4-ton truck
4-ton truck
4-ton truck
Trailer
Marine
Load in flat rack container
Load in flat rack container
Can be transported as it is
External power supply
AC100V × 4, USB2, grid C100V×2
Durability
Designed to withstand an average wind speed of 46m/s and a seismic intensity of 7
(seismic grade 3)
Amount of annual CO2 reduction
0.46t
0.61t
0.91t
3.01t
* A micro hydro turbine (rated output: 1.0kW) can also be installed as an option.

Available Options
Various equipment can be installed upon request, including micro turbines, additional solar panels, air conditioners, easy lifts (elevators) for unloading from trucks, and water filtration equipment. It can also support a "connected model" in which several "N3 N-CUBE" are concatenated.
Apllications
Utilize during normal times and emergencies!
Taking advantage of the off-grid*, space utilization, and mobility features of "N3 N-CUBE," it can be used as temporary offices, and workcation facilities during normal times. In times of emergency, it can be used as disaster prevention warehouses, emergency power sources by transporting it to neighboring disaster-stricken areas by means such as truck.
Normal times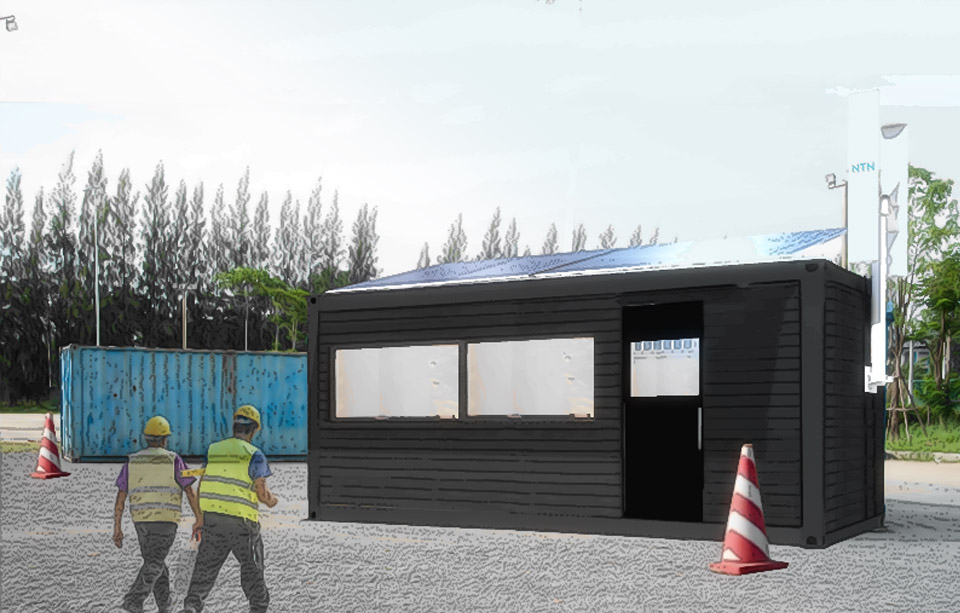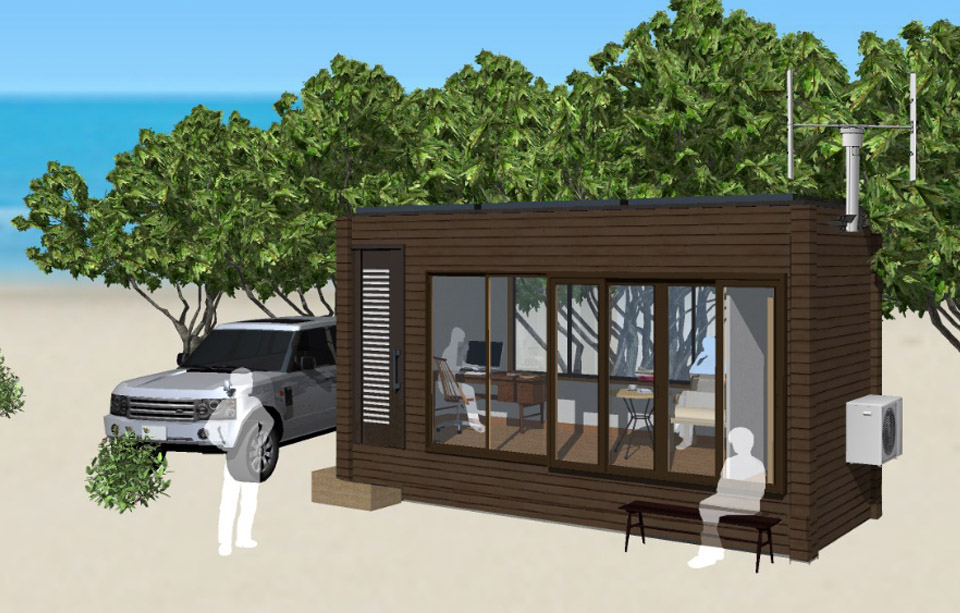 And other applications:
Disaster prevention warehouse capable of temperature control
Toilet power in mountainous areas
Rest area with air conditioner (measures against heat stroke)
Stores
Information bases, etc.
Emergency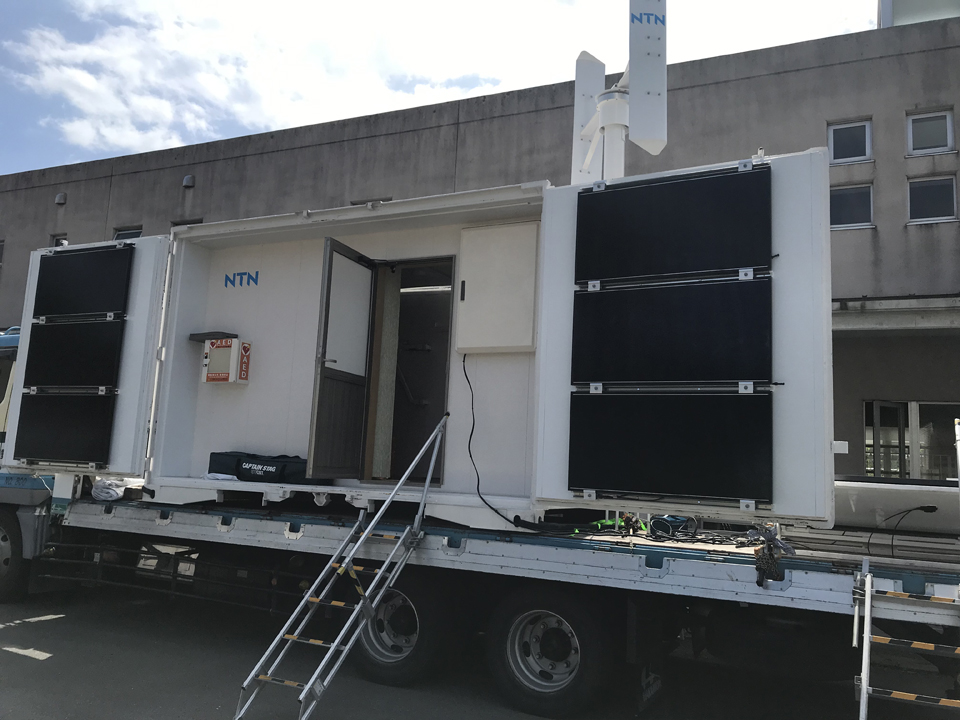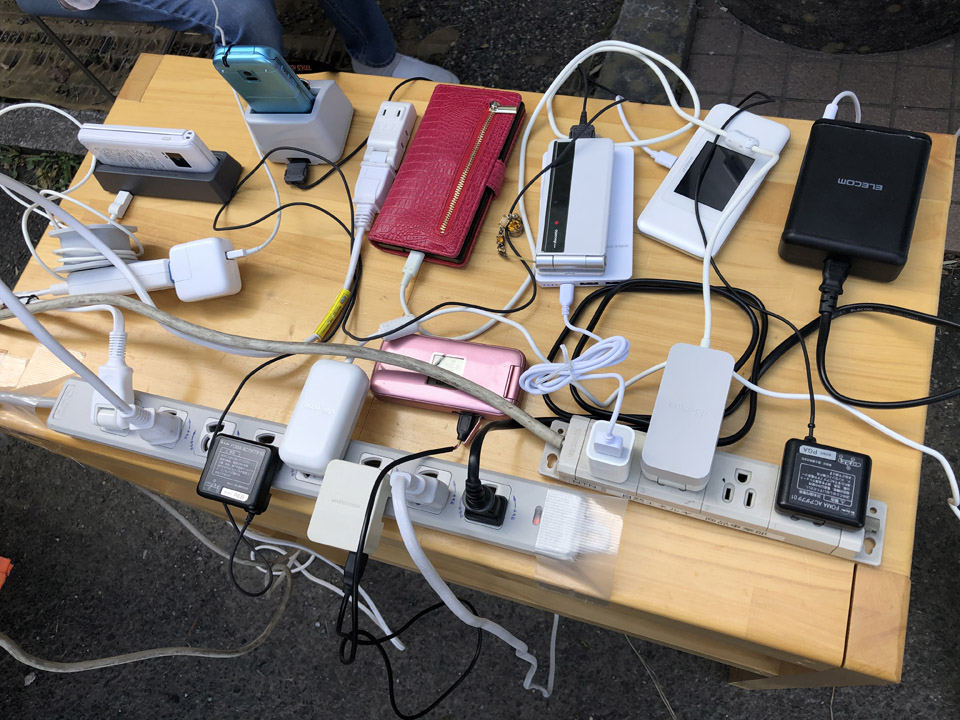 And other applications:
Markings for power outage
Temporary medical space
Power source to rescue air tent
Load water filtration system and secure water at times of emergency
Provide Wi-Fi when communication station stops in the event of a power outage, etc.
Temporary offices
"N3 N-CUBE," which features high mobility, can be used as a temporary office in construction sites and other areas. It is equipped as standard with an air conditioner that uses electricity generated by 100% renewable energy, providing a comfortable space.
For use in mountainous areas and other areas where stable power generation by wind turbine cannot be expected, models that do not have wind turbines but have only solar panels are available.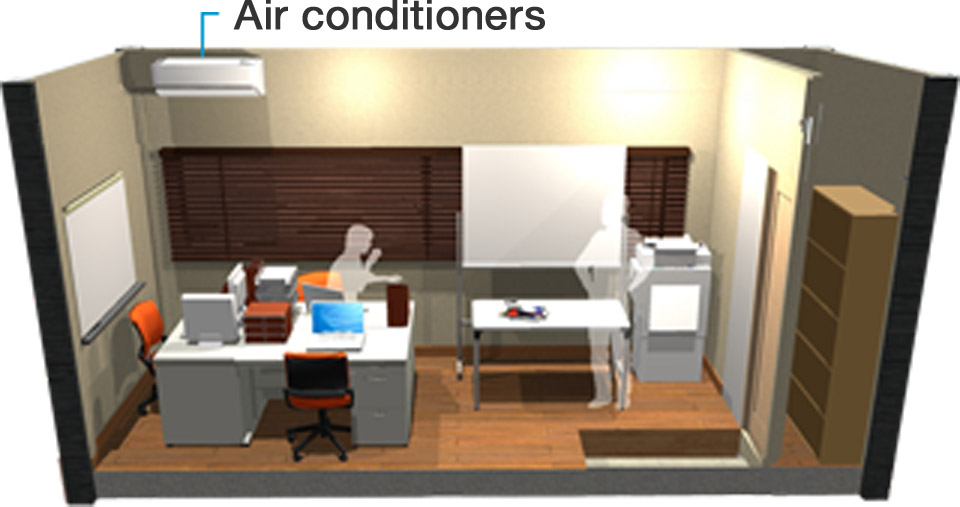 <Internal image>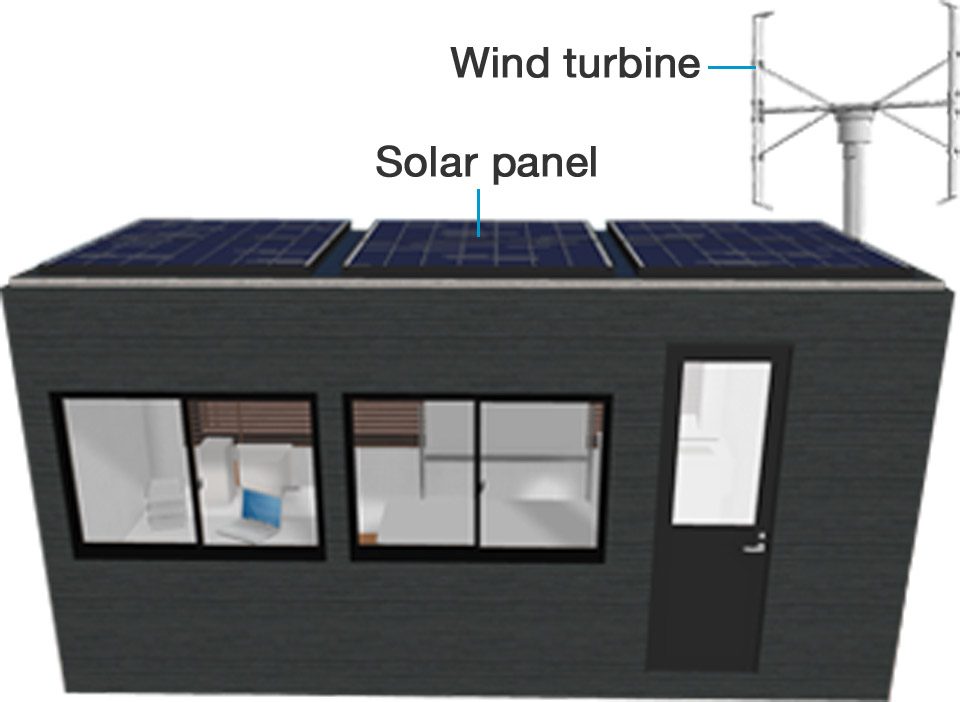 <Front view>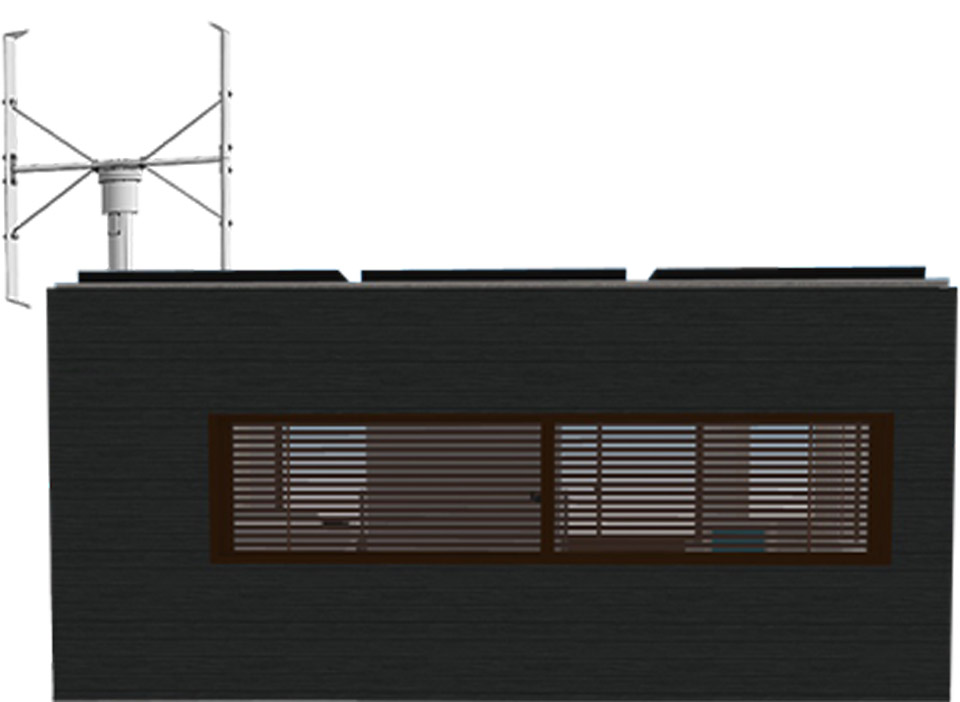 <Back view>
Workcation and glamping
"N
3
N-CUBE" can provide various places with space for workcation and glamping, and also allows people to spend remote work and vacations in a comfortable space by adjusting the temperature with an air conditioner that uses carbon-free electricity generated.
<Internal image>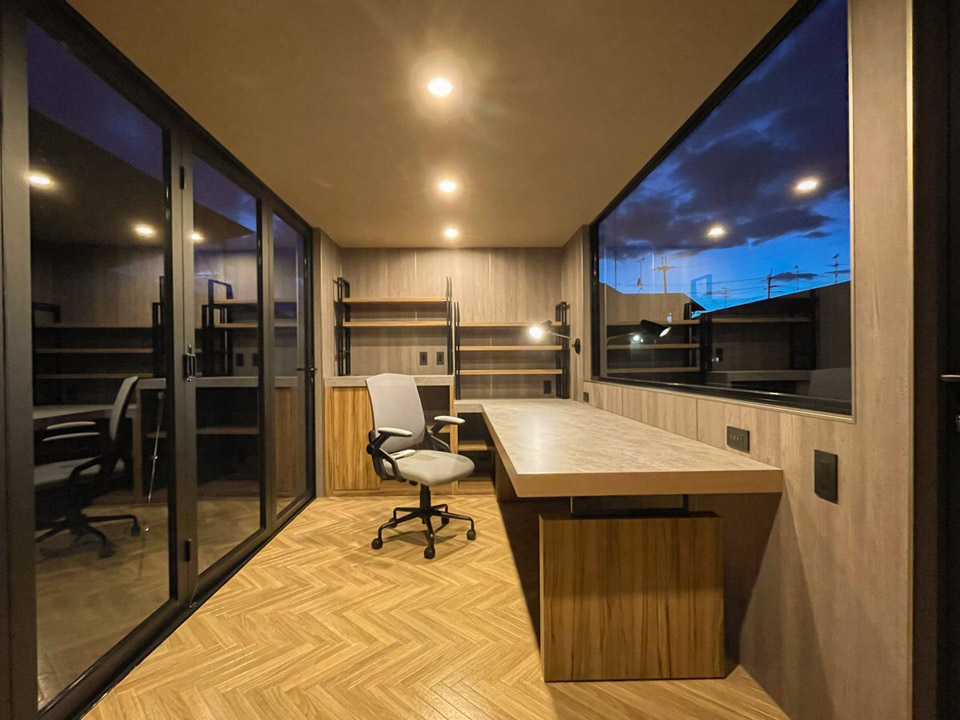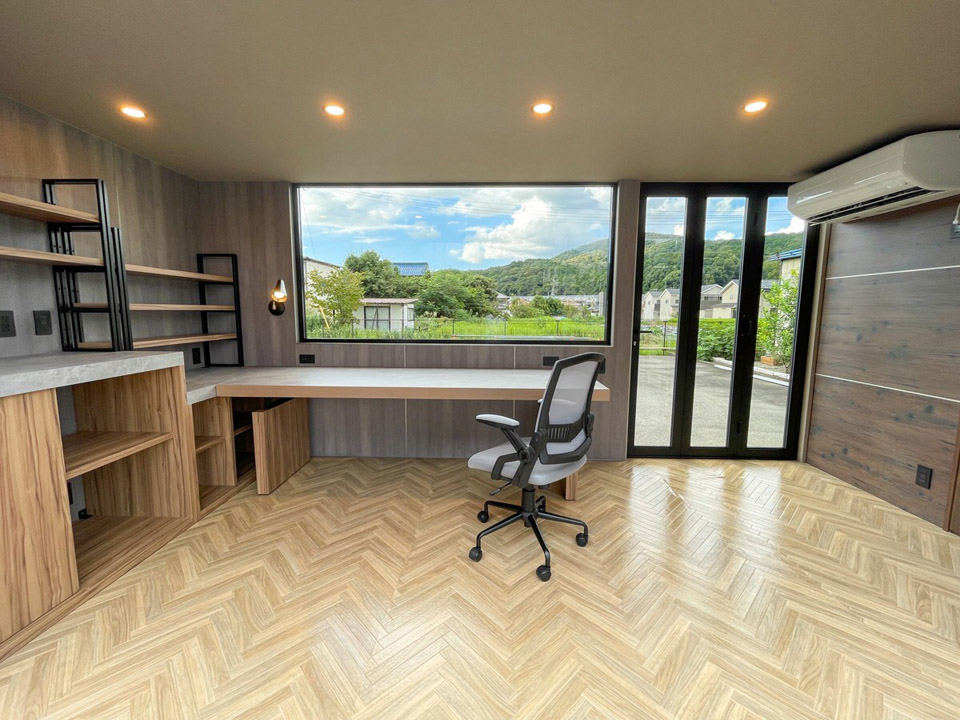 <Front view>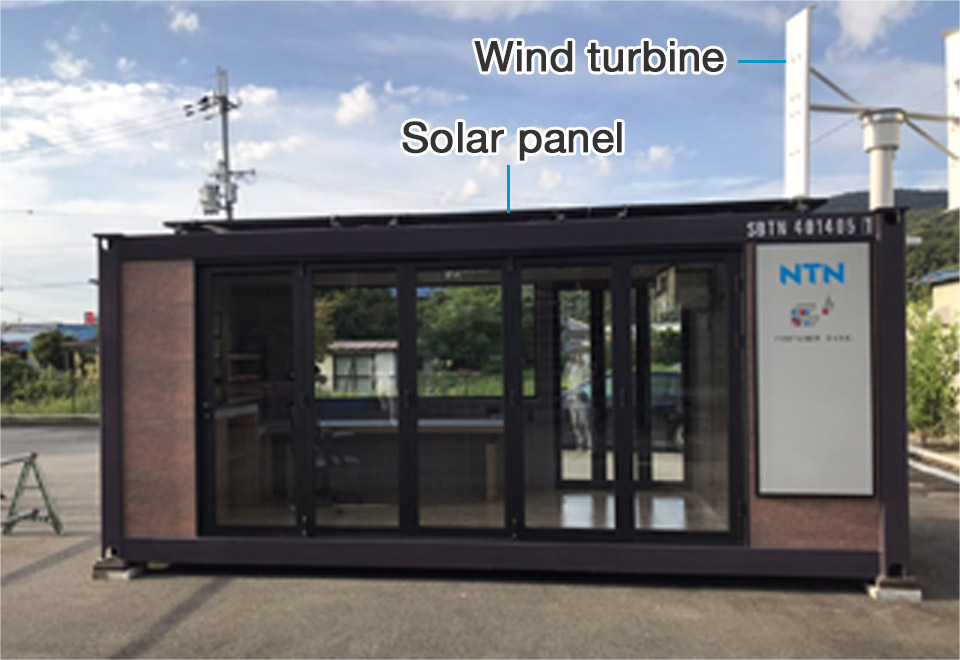 <Back view>
Disaster prevention warehouse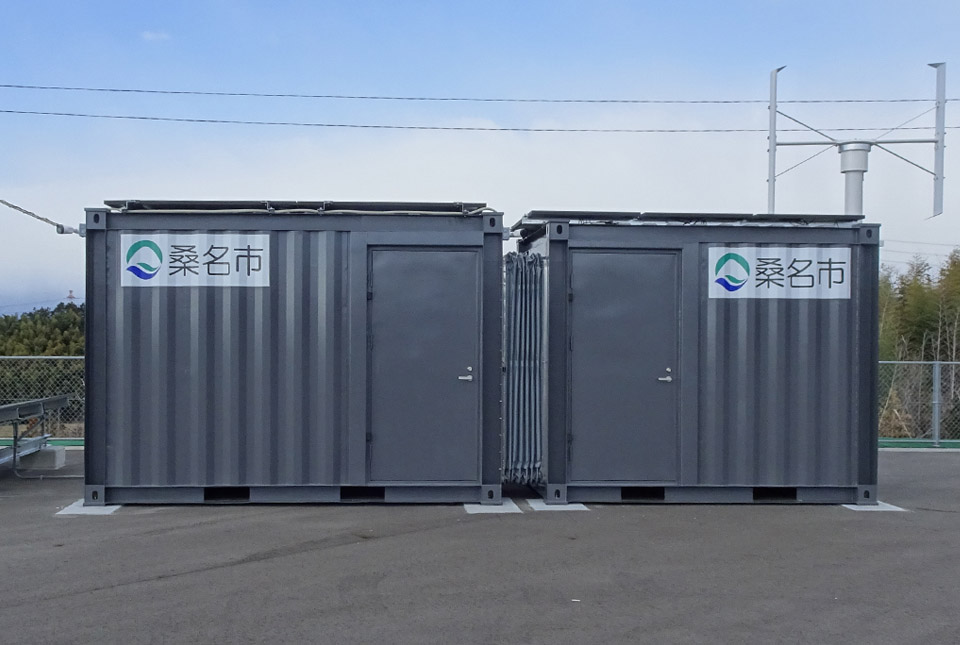 "N3 N-CUBE" can be used as a disaster prevention warehouse. As it operates on an off-grid*, it can be operated as a facility capable of supplying electricity in the event of a power outage. Air conditioners can also be installed to manage internal temperature, and sanitary supplies and milks can also be stored.
Staggered evacuation
In situations where infectious diseases are prevalent, staggered evacuation that avoids "Three Cs (Closed spaces, Crowded places, and Close-contact)" are needed, and evacuation methods using automobiles and tents are required. Some municipalities in Japan have introduced "N3 N-CUBE" and "NTN Green Power Station" as emergency power stations for large parking lots and designated emergency evacuation areas.

Medical space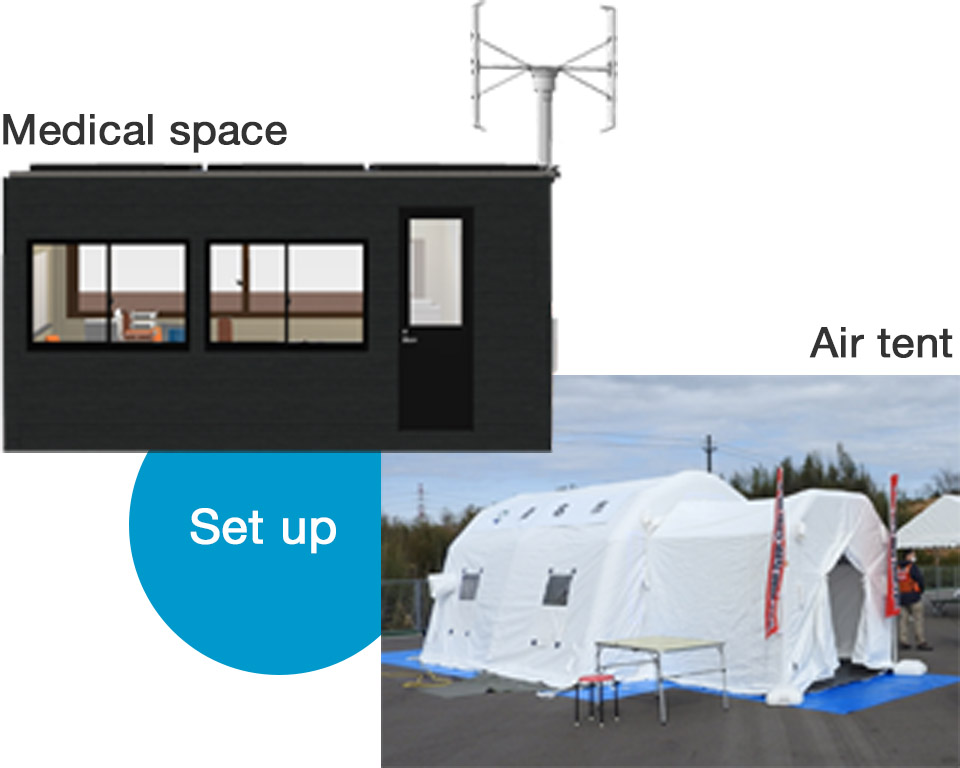 "N3 N-CUBE" can also be used as a medical space. It is useful for expanding hospitals and other facilities. By setting up air tents with electricity generated by renewable energy, medical space can be added even in the event of a power outage.
Operation with seawater desalination equipment
In some countries, the lack of electric infrastructure makes it difficult to supply safe water by converting seawater into fresh water even if ocean is near. By equipping "N3 N-CUBE" which can provide electricity even in undelivered areas, with a seawater desalination system, it provide safe water for a living.
Strengthen resilience of remote island communications
Electric power and communication cables are laid on the sea floor for remote islands, but the cables may be broken due to earthquakes, typhoons, etc., resulting in communication failures. By installing "N3 N-CUBE" equipped with long-distance wireless communication devices in remote islands, it is able to build communication network and communicate even in the event of a power outage.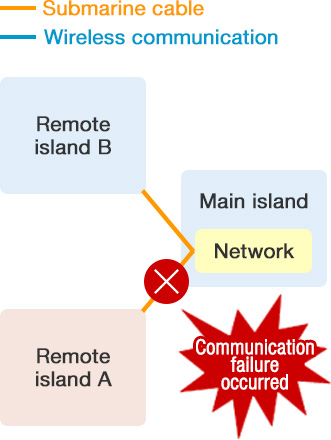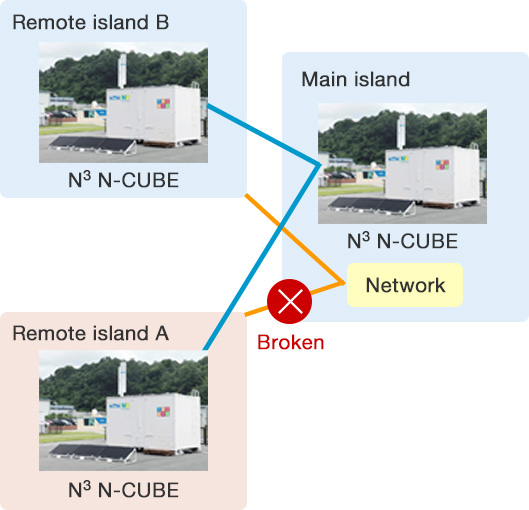 Electricity generated by renewable energy,
enabling continuous communication even in the event of a power outage
Case Studies and Customer Testimonials
Utilized as a disaster prevention warehouse capable of temperature management in Kuwana City, Mie Prefecture
"N3 N-CUBE" which was adopted in Kuwana City, Mie Prefecture, Japan in 2021, is a 12-feet and 20-feet combined model for disaster prevention site facilities. The generated electricity is used to operate the air conditioners within "N3 N-CUBE" 24 hours a day, and "N3 N-CUBE" is used as a disaster prevention warehouse to store support supplies and medicines that require temperature-control.
The customer anticipates to separate the 10-feet model in the event of a disaster and move it by truck to neighboring disaster-stricken areas and other locations for use as an emergency power source. In order to withstand a large-scale disaster, it has earthquake resistance that will not fall down even in earthquakes with a seismic intensity of 7 class.
In March of the same year, the customer conducted a training to operate a disaster prevention base facility. The electricity generated by "N3 N-CUBE" was supplied to electric pumps and an air tent was installed.
An expert who witnessed the training commented, "it is extremely important to be able to operate 24 hours a day and store pharmaceuticals, etc., and it is very beneficial if these things are located in the region."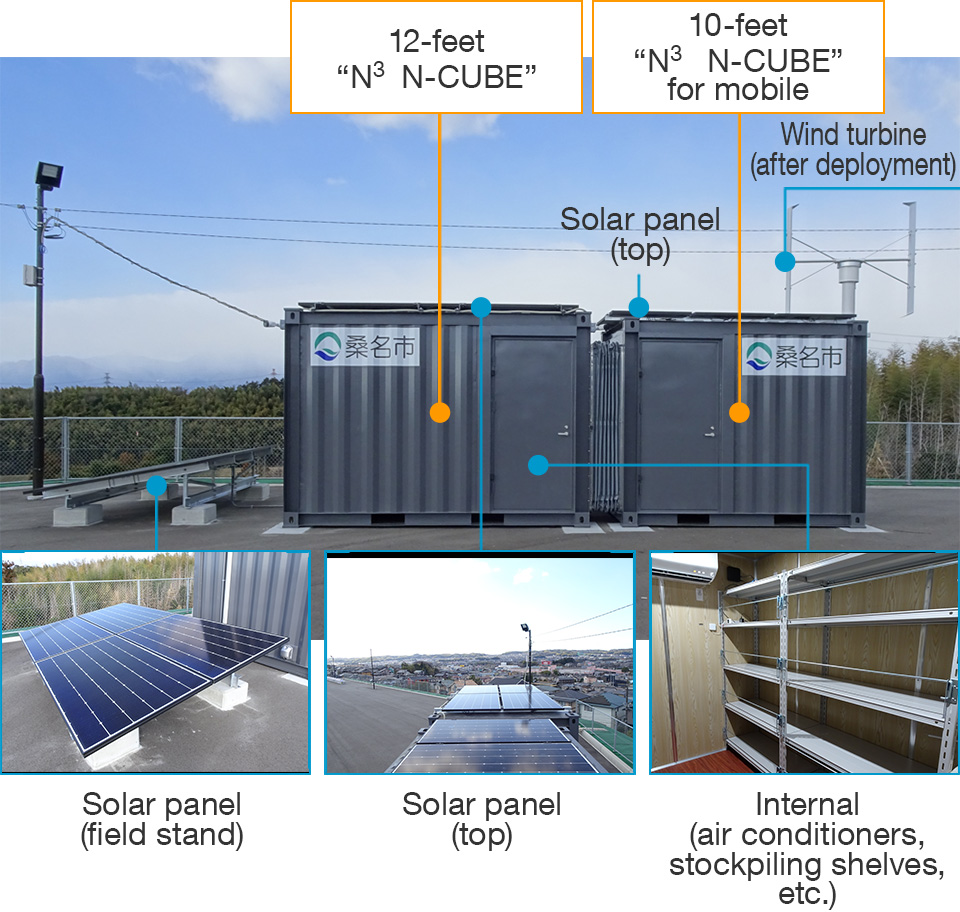 Support for Typhoon No. 15 in Chiba, Japan in 2019
In September 2019, "N3 N-CUBE" was transported to Kyonan-machi and Futts-shi, Chiba Prefecture, Japan which suffered power outage due to Typhoon No. 15.
"N3 N-CUBE" was used to recharge mobile phones, as well as for free Wi-Fi spots and night lights. Residents commented that "the light of N3 N-CUBE at night was a landmark," and that "I am very grateful to recharge mobile phones and smartphones even in the event of a power outage."
"N3 N-CUBE," in Chiba, 2019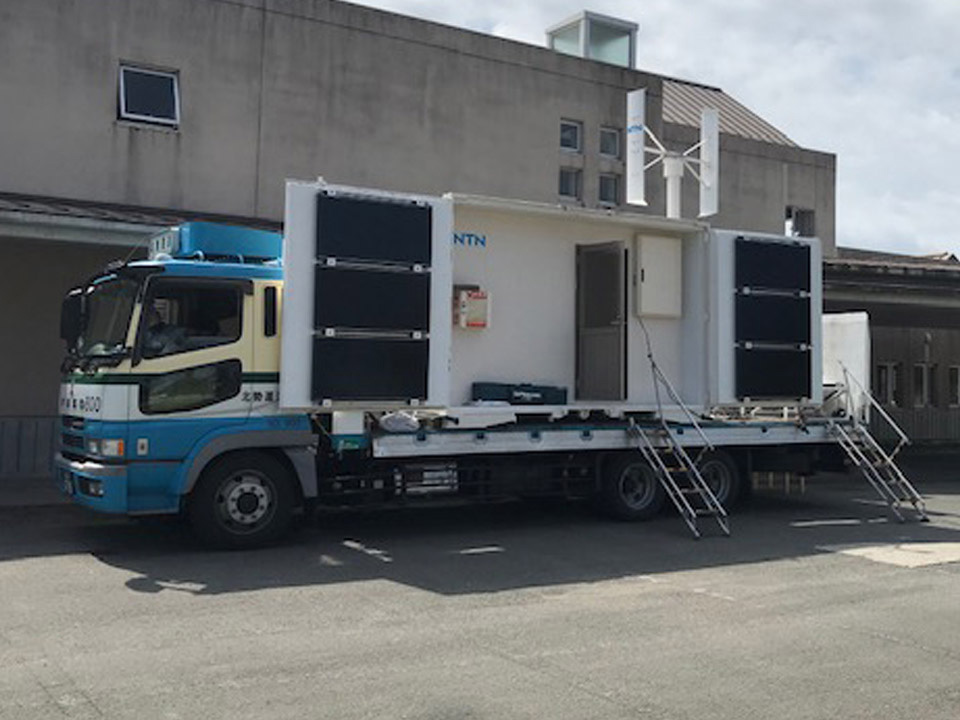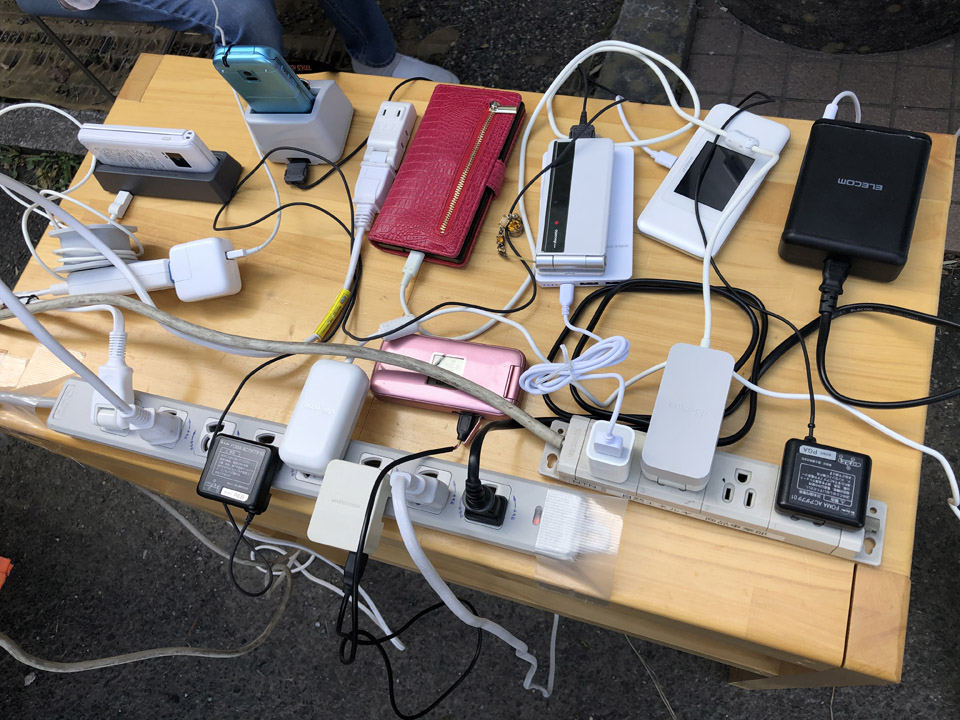 Now accepting business meetings, requests for broucures and tours