NTN's Transportable Independent Power Supply "N3 N-CUBE" Adopted as Flood Prevention Center in Yoshida Town, Shizuoka Prefecture

May 27, 2022
Supply electricity generated from 100% renewable energy to operate prevention base in the event of disasters with 100% renewable energy
Contribute to strengthening regional resilience
Transportable Independent Power Supply "N3 N-CUBE*1" developed by NTN Corporation (hereafter, NTN) was adopted as independent power supply for flood prevention center in Yoshida Town, Haibara District, Shizuoka Prefecture.
"N3 N-CUBE" is a transportable independent power supply that stores a compact wind turbine, solar panels, and storage batteries in a container. It can be transported by means such as trucks, and installed and generate electricity quickly. In the event of power outages due to natural disaster, it can supply areas where power outages occur with electricity generated from renewable energy by demonstrating its features of high mobility.
Yoshida Town has been promoting "Town Development Preventing from Tsunami Disaster" as the town faces the ocean (Suruga Bay). The town has constructed tsunami evacuation towers at 15 locations in the area. Additionally, the town newly constructed seawall with hieight of 11.8m and length of 2.3km, and river disaster prevention station that serves as space for carrying in/out materials and for helicopters landing and taking-off in the event of disasters. "N3 N-CUBE" was adopted in flood prevention center which was constructed in area of river disaster prevention station.
The flood prevention center is a facility to conduct flood prevention activities and rescue activities in the event of disasters, and to store disaster relief supplies. In normal times, the center is open to the general public and is used as space for local residents with neighboring park. Two units of 20-feet "N3 N-CUBE" are used in the center. They can generate all electricity required to operate air conditioners and lighting in multi-purpose room and the warehouse. When power outage occurs in some areas in the town, "N3 N-CUBE" can be transported by truck to supply electricity in the areas.
In 2019, some ares in Chiba Prefecture, Japan was sufferred from serious power outages caused by a typhoon. "N3 N-CUBE" was used as a power supply for recharging smartphones and nighttime lighting at evacuation centers for the residents. In addition to independent power supply in the event of disasters, it can be used for a variety of purposes in normal times: multi-functional disaster prevention warehouse that can control temperature 24 hours a day by installing air conditioners*2 and eco toilet with treatment tanks*3. "N3 N-CUBE" can be used both in disaster times and normal times in a variety of purposes, and is easy to install without electrical construction. Many local goverments in Japan evaluate these features and the number of "N3 N-CUBE" adopted is increasing.
Since April 2022, NTN has concluded disaster prevention agreement with Yoshida Town. In the event of natural disasters, NTN will provide disaster relief by lending "N3 N-CUBE" at the request of the town.
In recent years, measures for natural disasters is becoming crucial. NTN will continue to propose our green energy products including "N3 N-CUBE" as means of disaster prevention and mitigation utilizing renewable energy, contributing to strengthening regional resilience.
"N3 N-CUBE" installed in flood prevention center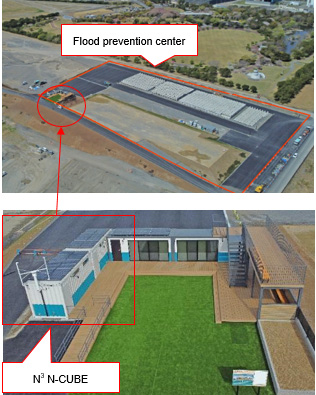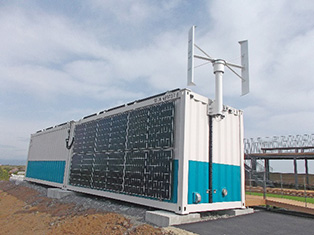 Specifications
Type
20-feet type (total of 2 units)
Size (m)
L×W×H
6.1×2.4×2.6
Wind turbine
0.5kW (installed in one unit only)
Solar panels
9kW (4.5 kW × 2 units)
Battery
38.4kWh (19.2kWh × 2 units)
Click here for more details of "N3 N-CUBE".
Transportable Independent Power Supply "N3 N-CUBE"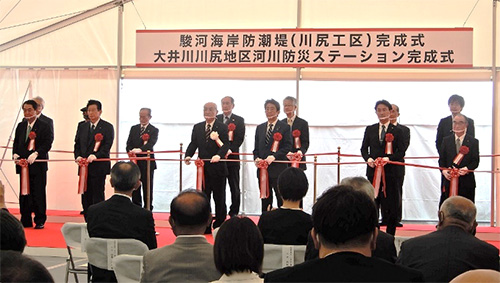 At ceremony for completion of seawall and river disaster prevention station held on May 14
(3rd from left of front row) Mayor Tamura of Yoshida Town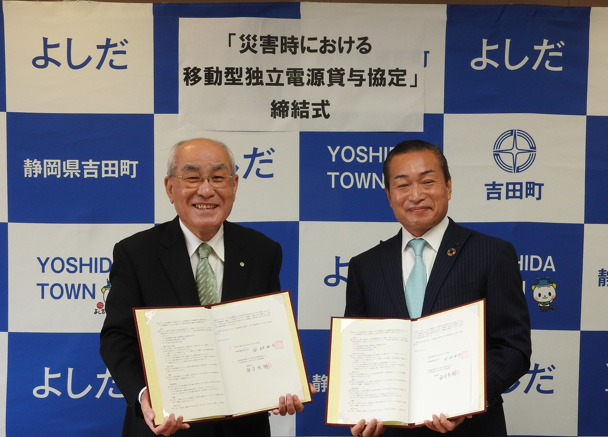 At ceremony for concluding disaster prevention agreement between NTN and Yoshida Town at Yoshida Town Hall on April 27
Mayor Tamura of Yoshida Town (left)
and Umemoto of Corporate General Manager, Green Energy Products Division, NTN (right)
Inquiries about this release