Development of "N3 N-CUBE," Container Type Transportable Independent Power Supply

June 4, 2019
Realize high mobility and quick installation, Generate and store electricity by natural energy of wind, water, and solar light
NTN Corporation (hereafter, NTN) has developed the "N3 N-CUBE," a next-generation Container Type Transportable Independent Power Supply that can generate and supply electricity from three types of natural energy (wind, water, and solar light) in a short time by mounting power generators and storage batteries in a container. In the event of disasters, it is possible to deliver the product by multiple means (trucks, cargo ships, helicopters, etc.) to disaster areas where it has become difficult to supply electric power, and to install it quickly with a small number of people.
In recent years, large-scale disasters have occurred frequently, and it is very important to establish the system to supply electricity in an emergency and this is one of the social issues. As people are increasingly conscious of disaster prevention and mitigation, each prefecture in Japan is trying to install disaster prevention stockpile containers. However, only three containers per 10,000 people are currently installed.
The newly developed "N3 N-CUBE" not only combines natural energy products that NTN has developed*1, but also adds "transportability" to them, enabling it to be delivered, installed, and supplied easily to disaster areas where a power outage occurs. By installing the "N3 N-CUBE" in each region on a daily basis, it can quickly generate electricity in the event of disaster and recharge smartphones using USB ports and other devices, and people can use small home appliances (e.g., AC100V). As many emergency generators use cassette cylinders, gasoline, etc., they require refueling for use in a long time. However, "N3 N-CUBE" is an independent power source that utilizes natural energies and does not need fueling.
The space inside the container can be used for multiple purpose such as changing clothing room, nursing room, and break room by installing benches and desks for resting as well as shelves for storing stockpiles.
NTN promotes energy-saving through its main product of bearings, and measures to achieve sustainable growth for the next generation. The natural energy business is one the measures that NTN is taking on newly to achieve the sustainable growth. Through the natural energy business, NTN will contribute to the achievement of targets for energy and the environment of the "SDGs" (Sustainable Development Goals).
August 19, 2016 press release: NTN Launches Extremely Silent Hybrid Street Lights
https://www.ntnglobal.com/en/news/new_products/news201600059.html
June 30, 2017: NTN Launches "NTN Micro Hydro Turbine"
https://www.ntnglobal.com/en/news/new_products/news201700064.html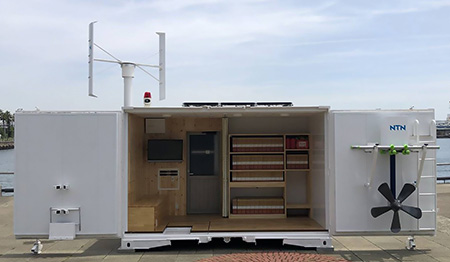 "N3 N-CUBE," Container Type Transportable Independent Power Supply
Features
| | |
| --- | --- |
| (1) | Transportable independent power supply with power generation and storage devices using natural energy (wind, water, and solar light) |
| (2) | Storing a set of equipments in a freight container |
| (3) | Using a container to respond to various transportation means and rough route |
| (4) | Installation in a short time after arrival at the site and prompt start of power generation and supply |
| (5) | Inside space can be used for disaster prevention stockpile container, private room space, etc. |
Inquiries about this release
Specification
| | |
| --- | --- |
| Product type | 12-feet container |
| Transportation means | Trucks, cargo ships, helicopters, etc. |
| Power generator | Wind turbine: 0.5 kW, hydro turbine: 1.0 kW, solar power generator: 0.9 kW, storage battery: 8.6 kWh |
| Number of works | 2 persons × 1 hour |
| Durability | Wind turbine and solar power generator: 30 m/s *2, hydro turbine: 2 m/s *3 |
*2 Extreme wind speed *3 Maximum flow speed
Major examples of use
Supply of power to cooking and storage equipment
Supply of stockpiles
(e.g., 100 people × 3 meals × 3 days = 900 meals)
Drinking-water supply
(e.g., use to filter pool water, etc.)
Supply power to medical devices
Use for AED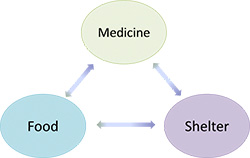 Provide space
(Composed of insulation paint and material)
Supply power to information devices (Wi-Fi)
Charge smartphones
(2,000 units/day)
Supply power to toilets and air conditioners
Examples of actual use