NTN Launches Extremely Silent Hybrid Street Lights
(New name:"NTN Green Power Station*1")

August 19, 2016
NTN Corporation (hereafter, NTN) launched its Hybrid Street Lights in July 2016. The lights use the power generated from two forms of natural energy, wind and solar light, to charge batteries and power LED lights that turn on automatically at night.
There is a growing market for street lights that use natural energy from both wind and solar light for better power generation capacity, and a high level of silence is required for installations in areas such as residential zones or public facilities as there had been in the past issues related to noise generated while the blades rotate.
NTN's Hybrid Street Lights use a vertical axis wind turbine with a proprietary blade shape that does not disturb the air around it or generate any swooshing sounds. In addition to NTN's original thick blade shape, winglets installed on the tips of the blades limit vortex turbulence and air separation from the tips, for an outstanding level of silence.
Furthermore, the use of vertical blades bring maximum energy to be extracted from wind blowing from any direction, making this low-loss "high-efficiency power generator" one of the key features of NTN's "Hybrid Street Lights."
Hybrid Street Lights that make almost no noise will play a role in various areas of local communities, including public facilities such as parks and schools, as well as bus stops, parking areas, commercial buildings and disaster evacuation areas. The built-in battery provides power for illumination for 5 days when fully charged, and can also be used as electric power source for emergency during disasters. The blades and supporting columns can be colored to blend in with nearby scenery or to suit customer requirements.
These Hybrid Street Lights were installed at facilities including Mie Prefectural Sun Arena which operated as the media center of the Ise-Shima Summit that was held in this May, and are also used as illumination for local communities.
Optional functions are also being developed, such as adding an electrical panel for use as an advertising pillar, to give the lights diverse functionality and applications.
In addition to the Hybrid Street Lights, NTN has also promoting to commercialize its micro hydro turbines and compact wind turbines and is developing business in the field of natural energy to achieve a low carbon society by utilizing natural energy sources,.
The name of this product was changed to the name of "NTN Green Power Station" from October 2018.
Features
(1) Proprietary blade shape
Efficient power generation by preventing wind escaping
Extremely silent, as there is almost no wind noise generated, even in strong wind
(2) No need for wind direction control
Vertical axis wind turbine catches wind from any direction
(3) Hybrid power generation with wind and solar light
Generates power using solar light if no wind during the day, or using wind at night
Inquiries about this release
Reference
Winglets control the flow of air and prevent turbulence from being generated at the blade tip, While the thick blade cross-sectional shape ensures high level of silent operation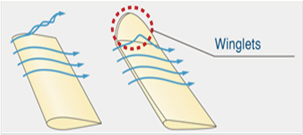 Winglets
Prevents vortex turbulence being generated at the wing tip, for extremely silent operation.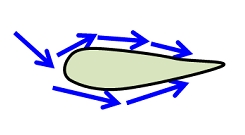 Blade cross-sectional shape

Air flows smoothly over the raised surface without any resistance or turbulence generated, for extremely silent operation.
(*) Optional examples
Other types of LED lights and an additional bench are available
Circular LEDs can be arranged to simulate sunshine filtering through trees
Other options are also being considered, including USB and Wi-Fi connectivity, security cameras, and electrical panels for advertising or community maps