NTN's Transportable Independent Power Supply "N3 N-CUBE" adopted by Kuwana City, Mie Prefecture

March 19, 2021
To be Utilized as an emergency power supply and a storage warehouse that can control the temperature at disaster prevention base
The transportable independent power supply "N3 N-CUBE"*1 (hereafter, N3) developed by NTN Corporation (hereafter, NTN) has been adopted as an emergency power source at the disaster prevention base in Kuwana City, Mie Prefecture.
"N3" is a transportable independent power supply that NTN developed in 2019. It has storage batteries and 3 types of generators: wind turbine, micro hydro turbine, and solar panels in the freight container and it can start to generate and provide electricity quickly. NTN has been proposing this product mainly to the local government as a useful emergency power source at the power outage due to the disaster. The disaster prevention base of Kuwana City established in last autumn adopted the product.*2 Kuwana City established the base for the disaster emergency measures and utilizes it as the distribution base of relief supplies.
The N3 adopted in Kuwana City is a model for disaster prevention base and connects 12ft N3 and 10ft N3. The 12ft N3 can supply power to the equipment in the base by generating and storing electricity with solar panels installed on the top and ground. In addition, it can be used as a storage warehouse for disaster prevention to store relief supplies and medicines that require temperature control by operating the air conditioner in N3 for 24 hours a day. The 10ft N3 is equipped with a highly efficient wind turbine developed by NTN and solar panels, and can also supply power. In addition, it can be separated from the 12ft N3 and transported by truck to a nearby disaster area and used as an emergency power source. Both N3s are earthquake resistant and can withstand the earthquake with an intensity of seven class so that they can be used after a large-scale disaster.
On March 7, the operation training of the base was carried out by Kuwana City, and NTN participated together with related companies to check the facility operation manual and verify the related disaster prevention plan. The training was conducted on the assumption that a medical base would be opened after a disaster. N3 deployed wind turbine and solar panel and generated energy to supply power to the electric pump to install an air tent. Mr. Jun Kawaguchi, Associate Professor of Mie University, who joined the training to evaluate the training as an expert of disaster prevention commented, "it is very important to store the supplies such as medicines 24 hours a day and it is very beneficial to have this kind of product in the community."
NTN will continue to develop renewable energy products and propose power generation solutions that utilize renewable energy to help with disaster prevention and mitigation.
May 31, 2019 press release: Development of "N3 N-CUBE," Container Type Transportable Independent Power Supply
https://www.ntnglobal.com/en/news/new_products/news201900034.html
Disaster prevention base in Kuwana City(Only in Japanese)
http://www.city.kuwana.lg.jp/index.cfm/28,80529,220,896,html
"N3 N-CUBE" adopted by Kuwana City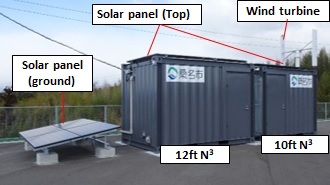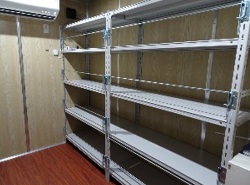 Storage warehouse in12ft N3
Features
Connected with 12ft N3 and 10ft N3
Powered only by renewable energy, operates 24 hours a day
Utilize the indoor space as a storage warehouse for relief supplies such as medicines(12ft N3)
Disconnected 10ft N3 and send to nearby disaster area and supply power
Earthquake resistant Withstand the earthquake with an intensity of seven class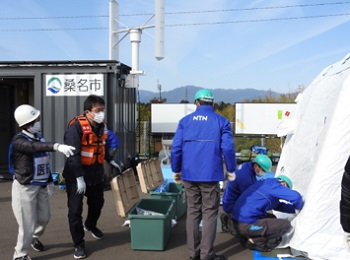 Operation training
Supply power to the electric pump to install an air tent
Specification
Model
Connected model of 12ft N3 and 10ft N3
Type
12ft N3
10ft N3 (Transportable)
Power generator
Solar panel (Top) 1.34kW
Solar panel (Ground) 1.34kW
Wind turbine 0.5kW
Solar panel (Top) 1.0 kW
Battery
4.8kW
4.8kW
Function
AC100V power source
LED light(indoor)
Warehouse to store medicine
Air conditioner
Security camera
AC100V power source
LED light(indoor)
Inquiries about this release