NTN's Transportable Independent Power Supply "N3 N-CUBE" Adopted as Eco Toilet

April 18, 2022
Equipped with treatment tank that operates with 100% renewable energy,
easy operation with few man-hours to install and maintenance
Transportable Independent Power Supply "N3 N-CUBE*1" developed by NTN Corporation (hereafter, NTN) was installed as eco toilets in Tado Sanjyo Park in Kuwana City, Mie Prefecture, Japan.
"N3 N-CUBE" is a transportable independent power supply that stores a compact wind turbine, solar panels, and storage batteries in a container. It can be transported to locations where electricity is needed by means such as trucks, and installed and generate electricity quickly. In 2019, NTN transported the product to Chiba Prefecture in Japan where people suffered a large-scale power outage due to Typhoon No. 19. Electricity generated by "N3 N-CUBE" was used to recharge smartphones and as night lights at evacuation sites. For other example, it was adopted as a multi-functional disaster prevention warehouse that can control temperature within it 24 hours a day by installing air conditioners.
"N3 N-CUBE" installed in Tado Sanjyo Park this time is equipped with a circulation type flush toilet and treatment tank. All electricity used in the treatment tank is generated by "N3 N-CUBE." Water used in the toilets is filtered through the treatment tank and recycled as reclaimed water. It is an environmentally friendly toilet that can use clean water at any time without wastewater discharged outside the toilet.
There are two types of "N3 N-CUBE" installed in the park: standard type and large capacity type. There are one toilet by using the standard type and two toilets by the large capacity type. The toilet by the standard type can be used about 30 times per day, and the toilet by the large-capacity type can be used more than about 200 times per day.
The normal toilet requires approximately one month to be installed as well as periodic maintenance. On the other hand, the eco toilet utilizing "N3 N-CUBE" can be installed in a short period of time by demonstrating its features of high mobility. As there is no need for electrical or water supply construction to install it, it can be installed even in the place where infrastructure is not ready. Additionally, it can operate continuously with only annual maintenance*2 which replaces some water.
The exterior of the eco toilet is equipped with a digital signage that operates with electricity generated by "N3 N-CUBE." It shows local merchant advertisements and coupons that can be used at the local stores. People enjoying the hiking of the mountain can obtain coupons from the digital signage and use them in the local stores. It can contribute to both promoting health and creating a virtuous cycle of the economy.
As "N3 N-CUBE" can be transported and installed without electrical construction, it can be used as a variety of applications including eco toilets, simple offices, rescue rooms, and retail stores.
NTN aims to realize a sustainable "NAMERAKA Society" through the development of renewable energy-based products including "N3 N-CUBE."
Eco toilets using "N3 N-CUBE"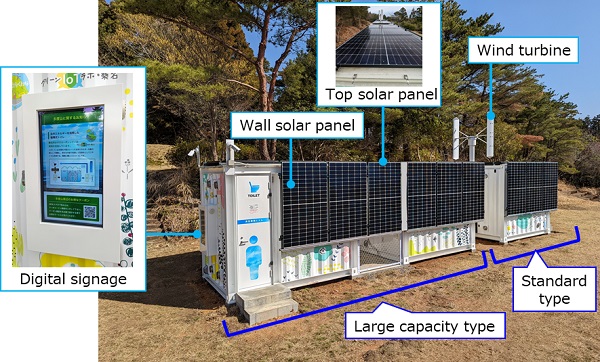 Features
Easy to transport and install
No need for electricity, water supply construction
Reduced maintenance costs
(Number of maintenance times: recommend once a year)
Clean flush toilet with no odor or smell
Environmentally friendly
(100% renewable energy, no wastewater)
Specifications
Type

Large capacity




10ft+10ft




Size: 7.8 x 2.1 x 2.7 (m)

Standard




10ft




Size: 3.7 x 2.1 x 2.7 (m)

Wind turbine
-
500W
Solar panel
4.5kW
2.2kW
Battery
17.6kWh
8.8kWh
Toilet type
Circulation type flush toilet
Toilet
(capacity)
For male, all gender
(more than 200 times/day)
For female
(approx.30 times/day)
Option
・Digital signage
・Remote control system
-
Layout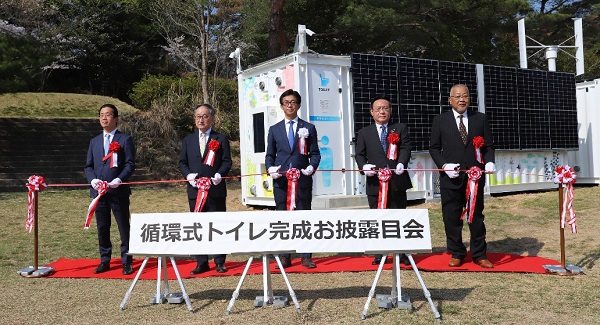 At the completion ceremony held at Tado Sanjyo Park on April 6, 2022
Inquiries about this release