NTN Exhibits at Automotive Exhibition "Automotive Engineering Exposition 2018 NAGOYA"

June 28, 2018
| | |
| --- | --- |
| Date | July 11 (Wed) to 13 (Fri), 2018 |
| Venue | Nagoya International Exhibition Hall |
| Booth No. | 213 |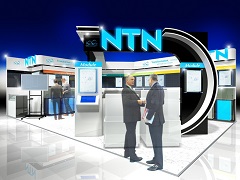 NTN will run a booth at "Automotive Engineering Exposition 2018 NAGOYA."
With the theme "Contributing to NAMERAKA* Society," the booth will feature the "eHUB", Hub Bearing with Motor Generator Function, the "sHUB", a Hub Bearing with Steering Assist Function, the Electric Motor and Actuator series as well as a range of electrification products.
Some products will also be exhibited, including products for a lower fuel consumption and higher efficiency such as Low Friction Hub Bearing II and the ULTAGE Tapered Roller Bearing for Automotive Application, and information on new next-generation technologies that will transform the automotive market.
We look forward to seeing you at the event.
* "NAMERAKA" means "smooth" in Japanese
Main exhibits
Electric Motor and Actuator

Combine its core technologies of bearings and ball screw product technology with motor design technology and electrical control technology for controlling vehicles to develop the "Electric Motor and Actuator" series. The product lineup features common components and specifications, and available with variations in shape and size, which eliminates the need for individual designs for a shorter development time.
| | |
| --- | --- |
| NTN has developed the industry's first hub bearing with a steering assist function that can be equipped on the front wheels by combining a mechanism that adjusts the steering angle of the tires on a hub bearing. Optimally correcting the steering angle at the left and right wheel improves both stability when moving forward at high speed and vehicle cornering performance in addition to also contributing towards improved fuel efficiency while also stabilizing the vehicle during emergencies such as when the vehicle starts to skid. | |
"eHUB", Hub Bearing with Motor Generator Function

Module product with a motor generator integrated into a hub bearing that supports the rotation of tires. For front-wheel drive vehicles, the product is installed in the rear (non-driven) wheels to reduce engine load and assist with power regeneration. This modified version has been developed with an optimized internal structure for a much more compact size and significant improvement in permitted rotational speed with the same level of performance as conventional products.

Reference: Development of "eHUB," Hub Bearing with Motor Generator Function

https://www.ntnglobal.com/en/news/new_products/news201700105.html
Low Friction Hub Bearing II

The number of contacting seal edge lips has been reduced to create even lower friction. To respond to the drop in resistance against muddy water as a result of reducing the number of contacting lips, we created a labyrinth structure (clearance) on the seal while also devising the shape of the seal to maintain a high resistance against muddy water. We also adopted a grease specification that provides a torque reduction. These measures helped reduce rotational friction by 50% compared to conventional products without impairing its ability to resist against muddy water and improve vehicle fuel efficiency by approximately 0.42%.
| | |
| --- | --- |
| Based on a conventional product redesigned for use with propeller shafts, new product features an even more compact outer ring and thinner inner ring. The developed product delivers the world's most compact and lightweight design, which is 17% lighter than conventional products and with 6% more compact outer diameter, while delivering the same level of performance. | |
| | |
| --- | --- |
| Based on a conventional product, NTN has significantly strengthened each component and improved lubrication. Furthermore, by adopting NTN's proprietary structure, NTN has achieved both the "world's highest maximum operating angle of 55°" and an "approximate 50% reduction in torque loss compared to conventional products". This product also contributes towards improved vehicle turning and lower fuel consumption. | |
ULTAGE Tapered Roller Bearing for Automotive Application

The optimal design technology for the shape of tapered rollers that maximize the rolling operating life has been modified and improved as a more compact series lineup. This optimal design gives the bearing a high-load capacity that is 1.3-times higher than the conventional product, and improves the rated life by 2.5-times or more. Sliding contact zone between the rollers, inner ring and retainer are also optimized, which raises the permitted rotational speed by approximately 10% to offer the world's highest level in high-load capacity and high-speed rotational performance.
Inquiries about this release