Development of Compact Plunging Type Constant Velocity Joint for Propeller Shafts

May 11, 2018
17% less weight, 6% less outer ring outer diameter compared to conventional products
NTN Corporation (hereafter, NTN) has developed "HEDJ-P*1" a plunging type constant velocity joint for propeller shafts that achieves the world's highest level in terms of being compact and lightweight since it has 17% less weight and 6% less outer ring outer diameter when compared to conventional products.
Propeller shafts are used on vehicles such as 4WD and take the role of transferring transmission rotation to the front and rear of the vehicle. Furthermore, constant velocity joints for propeller shafts have increased in application on recent luxury passenger vehicles that emphasize NVH (Noise, Vibration and Harshness), as well as SUV (Sports Utility Vehicle).
The conventional HEDJ*2, which this development was based on, is superior in terms of the ease-of-mounting on a vehicle since a greater slide amount and operating angle can be used in order to improve the flexibility of vehicle layout. Additionally, the product has the advantage of excellent balanced NVH characteristics. It is suitable for use on SUV as it uses large angles.
NTN has proceeded with the mass-production of HEDJ until now, and since commencing its sale, it is widely adopted by a great number of users around the world.
The newly developed "HEDJ-P" is redesigned based on the conventional HEDJ to make the outer ring even more compact and the inner ring thinner for dedicated use with propeller shafts. As a result, it achieved a 17% reduction in weight and 6% reduction in the size of the outer diameter while maintaining the same performance as HEDJ.
Due to the recent popularity of SUV and 4WD, the demand for constant velocity joints for propeller shafts continues to increase. NTN will propose and expand the market for "HEDJ-P," which is most suitable for propeller shafts of SUV, on a global scale, and also contribute towards improving the flexibility of vehicle layout, lowering fuel consumption and increasing speed using NTN's proprietary compact and weight saving technology.
The developed product will be exhibited at the "Automotive Engineering Exposition 2018 Yokohama" to be held in Pacifico Yokohama Exhibition Hall from May 23 to 25.
Abbreviation for HEDJ for propeller shaft
Abbreviation for High Speed Efficiency Compact Double Offset Joint
Features
| | |
| --- | --- |
| 1. Lightweight | 17% reduction in weight (compared to conventional products) |
| 2. Compact | 6% reduction in outer ring outer diameter (compared to conventional products) |
Inquiries about this release
Product photo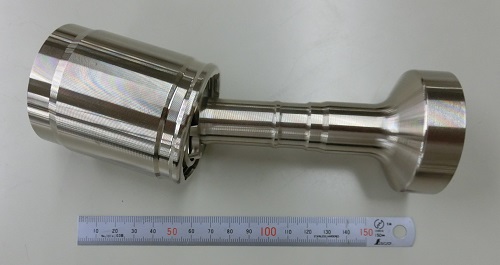 Position where part is used