Development of "eHUB," Hub Bearing with Motor Generator Function

October 27, 2017
Fuel efficiency improvement by 25% in combination with the 48V Mild Hybrid System
NTN Corporation (hereafter, NTN) has developed the industry's first "eHUB" which combines a motor generator with a hub bearing used to support wheel rotation.
In recent years, according to improvement of fuel efficiency of vehicles and strengthening restrictions for CO2 emissions, the popularity of the "48V Mild Hybrid System" (hereafter, 48V MHEV) has increased mainly within Europe. The "48V MHEV" is a system that uses the engine as the main power source and provides driving assist using a small motor generator while driving the engine when moving from stationary and acceleration. Also, the energy generated when decelerating is transferred into electric power (regeneration) and can be used to more improve fuel efficiency.
When the developed "eHUB"s are used for front-wheel drive vehicles, they are mounted on the rear wheels (non-driven wheels) to provide driving assist with motor generators to reduce engine load and also acts as power generators to regenerate energy into electric power when decelerating. In combination with "48V MHEV," which is already in use such as starter generators, "eHUB" improves fuel efficiency by 25% when compared to conventional vehicles mounting only engines. It can also be used for EV creep traveling and vehicle stability control on slippery roads (low friction roads).
NTN has technology founded on development of hub bearings for which NTN holds the world's No.1 share, as well as technologies for motor control and modular cultivated from the development of the In-wheel Motor System and the Electric Motor and Actuator series. These technologies make it possible to integrate the hub bearing and the motor generator together without significantly changing the current suspension design. A controller that independently controls the left and right motor generators is also being developed and will be proposed as a system product.
NTN will propose "eHUB" globally and contribute to improvement in fuel efficiency of vehicles. The "eHUB" is exhibited at the "Tokyo Motor Show 2017" held from October 27 to November 5.
Features (target values)
| | |
| --- | --- |
| 1. Improving fuel efficiency | 25% (when combined with the "48V MHEV") |
| 2. Compact | Equivalent size to current product |
| 3. Maximum output from motor generator | 20 kW/ 2 wheels |
Inquiries about this release
Product photo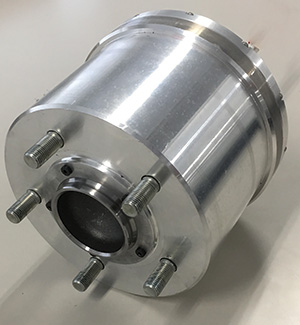 Cross-section of product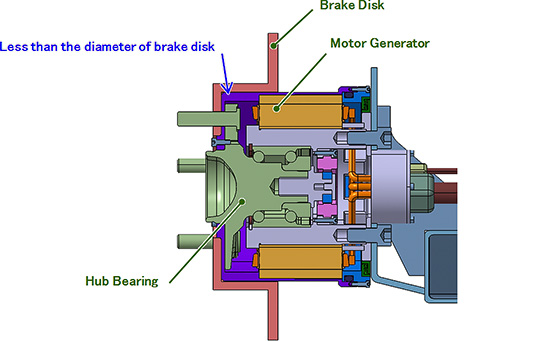 Cross-section at installation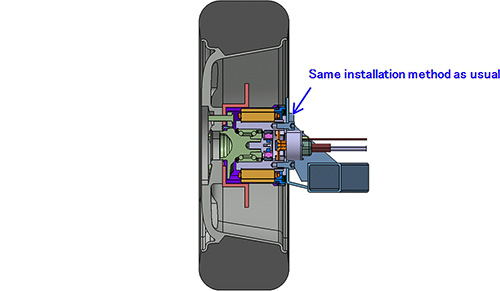 Illustration of application