Development of "sHUB," Hub Bearing with Steering Assist Function

May 23, 2018
NTN Corporation (hereafter, NTN) has developed "sHUB," which combines a mechanism that adjusts the steering angle of the tires on a hub bearing. This product is the industry's first hub bearing with a steering assist function that can be equipped on the front wheels. We have developed "sHUB" by combining motor and motion control technology with the design and manufacturing technology, cultivated over many years with development of hub bearing of which NTN has the No.1 global share.
With conventional steering device, the tires being turned are set at a fixed angle depending on the angle of the steering wheel being operated. While driving, it was not possible to change to an optimal setting for each driving condition, such as moving in a straight line or cornering.
"sHUB" is a module product that can correct the steering angle at the left and right wheel separately and it can be installed onto a vehicle's front wheel steering and the suspension system without changing the existing steering device. The tires are corrected to the optimal steering angle by using data on the vehicle speed and steering wheel operating angle while driving. This improves stability when moving forward at high-speed and cornering performance in addition to contributing towards improved fuel efficiency while as stabilizing the vehicle during emergencies like skid.
NTN conducted joint research with the Kanagawa Institute of Technology on vehicle motion control to derive the control method suitable for "sHUB". Using experimental vehicles equipped with this control law, we has verified that the amount of steering wheel operation while driving is reduced by up to 40%. A vehicle with "sHUB" contributes to reduce the driver's burden on driving. Furthermore, NTN has also obtained results of approximately 50% improvement in vehicle responsiveness when the driver operates the steering wheel, which leads to an improvement in vehicle drivability.
This developed product is expected to be a system that will enable safer risk avoidance operation even for autonomous driving, which are expected to progress in the near future. From now, NTN will propose to a market for this developed product on a global scale to contribute towards improvements in automotive safety and driving comfort.
NTN exhibits the "sHUB" at the "Automotive Engineering Exposition 2018 Yokohama" to be held at Pacifico Yokohama on May 23 to 25. NTN also plan to hold an academic lecture about the control technology for this developed product at the "Society of Automotive Engineers of Japan, Spring Congress" to be held at the same time.
Features
1. Reduced driver's burden load on driving: Driving amount of steering wheel operation is reduced by up to 40%
Ex: Experimental vehicle maximum steering wheel angle is 98 degrees ⇒ 56 degrees when sHUB is equipped (in a lane change)
2. Approximately 50% improvement in vehicle responsiveness
Ex: 0.2 seconds response speed by conventional steering system (in a lane change) ⇒ 0.1 second when sHUB is equipped.
Inquiries about this release
Specifications
| | |
| --- | --- |
| Maximum steering angle | ±3.5 degrees |
| Steering angular speed | 16 degrees/second or more |
| Maximum steering torque | 350 N·m |
Vehicle mounted example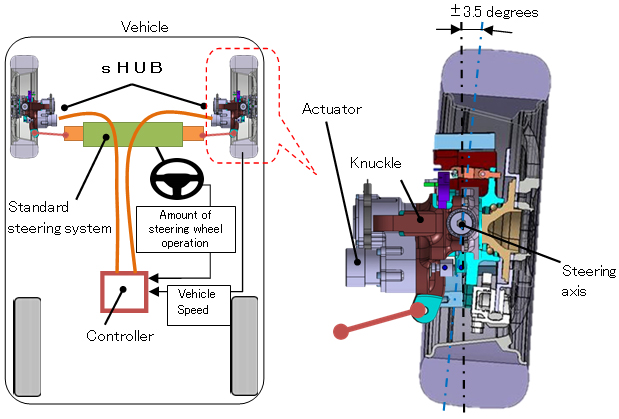 Drawing when looking at the right wheel from above the vehicle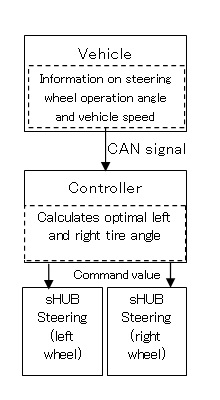 Control block diagram