NTN Starts Maintenance Service for Wind Turbines

May 25, 2022
Contribute to stable operation and expansion of wind turbines market
Provide one-stop solution from supplying bearings to abnormality detection and maintenance
NTN Corporation (hereafter, NTN) starts maintenance service for wind turbines by collaborating with Hokutaku Co.,Ltd. (Head Office: Asahikawa City, Hokkaido, hereafter, Hokutaku), that specializes in maintenance business for wind turbines. Based on technologies of NTN's condition monitoring system (CMS) to detect abnormalities in bearings with high accuracy and identify defective parts, NTN provides quick and accurate facility inspection and maintenance service by utilizing Hokutaku's extensive expertise and experiences.
Furthermore, by verifying the defective status of facility, NTN will further enhance the accuracy to analyze CMS data and improve bearing performance.
Through the partnership with Hokutaku, NTN provides services to support operation and maintenance such as condition monitoring, early abnormality detection, repair, and replacement with customers' wind turbines. NTN will realize highly efficient and stable operation of wind turbines, while contributing to effective use of renewable energy and expansion of wind turbines market towards carbon neutrality.
Wind turbines may be suffered from damages of blades due to bad weather and aging. In such cases, it is necessary to immediately inspect facility, and conduct appropriate parts replacement and maintenance. Delayed abnormality detection that leads to failures may result in prolonged downtime, as arrangements for parts and equipment for repair are delayed as well.
Since 2012, NTN has been providing the Condition Monitoring System (CMS) for Wind Turbines "Wind Doctor™" and monitoring service based on the system to contribute to the early detection of abnormalities in facility*1 *2. This system enables early abnormality detection around bearings by collecting and analyzing data such as vibration from sensors attached to bearings in wind turbines. In addition to detecting abnormalities, it also helps to reduce time for inspection, as it can identify defective parts. Generally, inspecting facility on site requires know-how of technical expertise, but "Wind Doctor™" can identify abnormalities quickly without such know-how.
Previously, NTN reports abnormalities based on results of diagnostics by using "Wind Doctor™." Then, customers arrange inspection and maintenance. Through the collaboration with Hokutaku, NTN can conduct a series of operations including arrangements for repair bearings. We can contribute to not only reducing the number of man-hours of customers, but also implementing maintenance quickly after detecting abnormalities, resulting in minimizing the downtime. In addition, by utilizing data from "Wind Doctor™," we can provide quicker and more accurate maintenance than ever before. Also, by comparing / verifying CMS data and detailed defective conditions, we will further improve accuracy of data analysis technologies and improve bearing performance.
As wind turbines will become larger in size into the future, it becomes more important for stable operation to improve accuracy of condition monitoring and provide appropriate maintenance based on accurate data analysis. Through the collaboration with Hokutaku, NTN will contribute to stable operation of wind turbines and expansion of the market as a supplier which can provide one-stop solution to operate wind turbines from supplying highly functional bearings to abnormality detection with high accuracy by CMS, as well as supplying accurate and efficient maintenance.
Overview of Hokutaku Co.,Ltd.
| | |
| --- | --- |
| Company Name | Hokutaku Co.,Ltd. |
| Head Office | Asahikawa City, Hokkaido, Japan |
| Line of Business | Wind turbine equipment service, Wind turbine maintenance |
| Capital | 60 million yen |
| Number of Employees | 72 |
| Website | http://www.hokutaku-co.jp/ |
Condition Monitoring System (CMS) "Wind Doctor™"
This system collects data such as vibration from sensors attached to the drive trains (main shaft, gearbox, and generator) in nacelle of wind turbines. It detects abnormalities in bearings and gears at an early stage. The collected data is managed by a dedicated cloud server and analyzed by dedicated software. As NTN's data monitoring and diagnostics service is also highly evaluated, it is currently installed in approximately 300 wind turbines in Japan.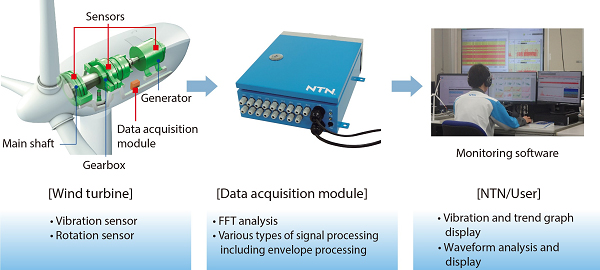 Specifications of Data Acquisition Module of "Wind Doctor™"
Environmental durability with stand-alone type applicable to existing wind turbines
Dimensions: 250mm × 320mm × 103mm
Weight: 5.5kg
Number of input channels: 17 channels at maximum
Power: AC100V to 240V
Environmental durability: -20°C to 60°C
Case protection: IP65 (dustproof, waterproof)
DNV certification (acquired in 2012 as the first manufacturer in Japan, maintaining the certification)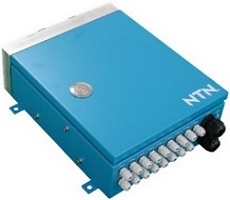 Data Acquisition Module of "Wind Doctor™"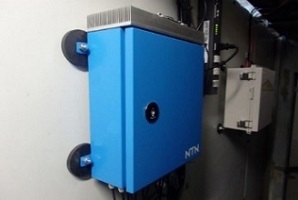 Installation in nacelle
(right: dedicated wireless communication unit)
For Reference: NTN's business for wind turbines
NTN began manufacturing bearings for wind turbines in 1998, and has been providing bearings for main shafts, gearboxes, and generators, etc. Main shafts transmit rotation generated by blades. Gearboxes increase the rotation speed and transmit it to the generators. Generators convert rotational energy from the gearboxes to electricity. We provide bearings with features that match each usage condition such as insulation and wear-resistance*3.
In recent years, offshore wind turbines have been attracting attention. NTN plays an important role in the supply chain as one of the few manufacturers capable of manufacturing bearings for main shaft of offshore wind turbines, which are becoming larger in size.
In addition to bearings, NTN has also been providing the Condition Monitoring System (CMS) "Wind Doctor™," and monitoring and diagnostics services using the system.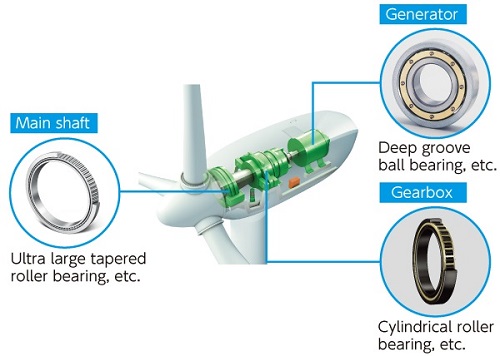 Inquiries about this release