Development of "Condition Monitoring System for Wind Power Generators"
(New name: "Condition Monitoring System for Wind Turbines**")
("Wind Doctor™" is NTN's trademark for this product.)

June 26, 2012
[The world's smallest class*1 data collection device allows constant monitoring from remote locations, also reducing maintenance costs]
NTN Corporation (hereafter, NTN) has developed the "Condition Monitoring System for Wind Power Generators (hereafter, CMS*2)" that utilizes the world's smallest class of data collection device backed with NTN's years of experience with bearing diagnostics technology.
The nacelle*3 of wind power generators generally comprises of main shafts, gearboxes, power generators, and many mechanical components, such as bearings, and gears are built in. If defects in these bearings, gears and other components are discovered too late, problems may spread throughout the entire wind power generator and increase maintenance costs and man-hour, and also result in long periods of time without power being generated. Recently constructed offshore wind power generators in particular are much larger than their onshore counterparts, and access to the generators themselves can be extremely difficult, which means the risk of finding defects too late has increased.
The "CMS" developed by NTN features a data collection device, measurement sensor, and data control, monitoring and analysis software. The world's smallest class data collection device has been used, which allows installation in nacelles easy, and can be adapted to suit existing wind power generators. With outstanding levels of water and dust-proofing, the device is designed for a variety of different environments, including offshore locations. The device also features automatic diagnosis of highly accurate measurement data, and combined with various different software packages for condition monitoring, the system allows the condition of bearings, gears and other components to be monitored in real-time from remote locations. This system ensures that defects in each component can be identified faster to help prevent spreading damage throughout the nacelle. It also allows preparations to be made for replacement components in advance, and repairs to be conducted systematically, which not only reduces maintenance costs, but also limits reductions in the operating ratio of wind power generators. The "CMS" developed by NTN was the first in Japan to acquire GL*4 certification, a certification system developed for wind power generators.
NTN is already conducting demonstration assessments at multiple locations, and plans to market the monitoring system used in this system globally to help improve the operating ratio of wind power generators. This technology is also planned for a greater number of applications in the new energy fields.
| | |
| --- | --- |
| *1: | NTN survey. |
| *2: | Abbreviation of Condition Monitoring System. |
| *3: | Refers to the machine room located at the top of the wind turbine tower and contains main shafts, gearboxes, power generators and other components. |
| *4: | Germanischer Lloyd: Lloyd's Register of Germany that conducts GL certification, considered the most reliable certification system in the world. |
| **: | The name of this product was changed to the new name of "Condition Monitoring System for Wind Turbines" from March 2014. |
Features
World's smallest class data collection device (250×290×108mm)
→Compact and space-efficient, allowing easy installation in existing nacelles
Suited to offshore installations and a wide range of other environments (usage temperature conditions: -20 to 60°C)
→Outstanding levels of water and dust-proofing
Highly reliable diagnosis information
→Automatic diagnosis function using highly accurate measurements, as well as allowing real-time monitoring and data analysis
Inquiries about this release
Product photo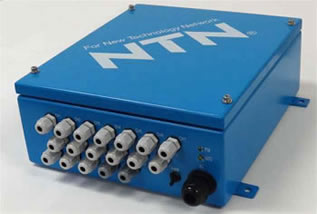 Data collection device
| | |
| --- | --- |
| Product dimensions | 250 (W) × 290 (D) × 108 (H) mm |
| Product weight | 5.0kg |
Layout of the Condition Monitoring System (CMS) for Wind Power Generators