Advancing the Implementation of NTN-developed Condition Monitoring Systems (CMS) for Wind Turbines in Japan

January 24, 2019
NTN captures the top market share in Japan and expands the business with growing market
NTN Corporation (hereafter, NTN) continues to accelerate the adoption of its Condition Monitoring System (CMS) "Wind Doctor™" for the early detection of failure signs in large wind turbines.
Since the system developed in 2012, many customers have adopted it as an information providing service transmitting operational status data using IoT. As of November 2018, close to 200 systems have been installed across Japan.
Wind turbines consist of a tower spanning some 80 meters, and above this are a nacelle, rotating blades and a consolidated hub at the blade root. Inside the nacelle, there are drive units such as main shaft, gearbox, generator, and control unit. The "Wind Doctor™" collects, stores and analyzes data from sensors mounted onto the bearings and the housing near the gearing of this drive units to identify signs of failure and detect non-conforming parts. This information can be used to perform early part replacements and other maintenance activities in a timely manner, making it possible to prevent serious breakdowns before they occur, leading to increased operating stability.
One example of failure detection by the "Wind Doctor™" was an issue detected with the gearbox in a wind turbine in Hokkaido in autumn 2016. The wind turbine operator was able to determine the actual damage of the wind turbine through a fiberscope inspection. Based on the information, the operation was continued with reduced power output. During this time, the operators arranged repair parts and heavy machinery, together with introducing improvements to the work environment. The gearbox was replaced over a short period of time in summer when winds are weakened, which helped minimize the loss of power generation opportunities.
NTN's "Wind Doctor™" manages all data collected on a cloud server. By using the remote monitoring analysis software "Monitoring Client" provided by NTN free of charge, information can be shared among NTN as well as the power generation operators. This features a rich array of highly regarded analysis functions, such as the ability to compare trends with the previous year's figures, performing a level-based analysis by monitoring part, and digital filter processing.
From January 2014 to February 2018, NTN worked with The University of Tokyo, National Institute of Advanced Industrial Science and Technology, and others on NEDO smart maintenance technology R&D activities into advancing the failure detection technologies used in wind turbines. As a result of these efforts, wind turbine downtimes were greatly reduced, increasing the capacity factor*1 of wind turbines from 21% to 23%*2.
Further, in commemoration of the company's 100th anniversary, NTN is currently holding a "One for one campaign" for the "Wind Doctor™" where NTN will provide a free "Wind Doctor™" with each purchase of it. This applies to all products ordered while the campaign runs through to March 2019, even if the planned implemented timing is after March 2019.
In the Medium-term Management Plan "DRIVE NTN100," started from April 2018, NTN positioned the "Wind Doctor™," which provides for the stable operation and optimal maintenance of wind turbines, as a core element of its "Services, Solutions Business," and will expand the business in new areas.
Capacity factor = Total annual power generated ÷ (Maximum output of the facilities × Hours in a year) × 100
NEDO (New Energy and Industrial Technology Development Organization) News release
http://www.nedo.go.jp/news/press/AA5_100939.html (only in Japanese)
Overview of the "Wind Doctor™"
| | |
| --- | --- |
| (1) | Small-size standalone type optimized for equipment used with existing wind turbines |
| (2) Dimensions | 250 mm × 320 mm × 103 mm |
| (3) Weight | 5.5kg |
| (4) No. of input channels | 17 |
| (5) Power supply | 100V to 240V AC |
| (6) Environmental durability | -20°C to 60°C |
| (7) Case protection | IP65 (Dust resistance and water proofing) |
| (8) | DNV-GL certified (2012; First acquisition by a Japanese manufacturer) |
Inquiries about this release
Product photo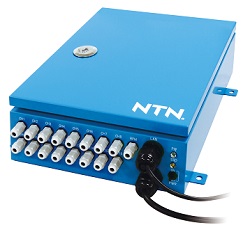 External view of the "Wind Doctor™" data acquisition module
For reference
State of wind power generation and demand for CMS in Japan
Although the introduction of wind power generation in Japan has trailed behind countries in Europe and Americas, the increased use of wind power is forecasted on the back of a heightened push towards the use of renewable energies. However, due to a series of extreme environmental circumstances unique to Japan - such as typhoons, lighting storms, steep mountain ranges and unexpected wind gusts, etc. - the high frequency at which wind turbines breakdown continues to be an issue of serious concern. The implementation of appropriate maintenance measures is essential to ensuring the stable operation of these devices.
Think tank studies* showed that many operators have adopted CMS because insurance companies offer special benefits on insurance premiums for operators who use a CMS. As such a trend has also recently emerged in Japan as well, the use rates of wind turbines with CMS is forecasted to be expanded to around 20 to 30% by 2020, and to around 50% by 2030.
"Reality and Future Prospect of Worldwide Wind Power Generation in Land and Offshore on Ocean 2017" by Fuji Keizai Co., Ltd.