"NTN Health Declaration" Issued

May 21, 2021
NTN Corporation (hereafter, NTN) issued "NTN Health Declaration" in order to further strengthen health management and raise employee awareness of health.
[NTN Health Declaration]
We recognize the health of our employees and their family members as the foundation of the sustained growth of the NTN Group. We hereby declare that we will actively promote measures aimed at improving health and preventing disease and will strive to create lively workplace environments in which each and every employee works passionately, living up to their full potential.
NTN Corporation
Representative Executive Officer, President
CEO (Chief Executive Officer)
Eiichi Ukai
We have been making various efforts related to health management based on the "Basic Management Policy" and "Safety and Health Basic Policy". In this situation where people all over the world under threat from the new coronavirus infection today, we reaffirm that the health of employees and their families is the foundation of management for the sustainable development of the company and issued this declaration. In the future, based on this declaration, we will develop measures to further strengthen the health management.
NTN's Health Management Initiatives
We are working to improve the health of employees from the three perspectives of "working atmosphere," "mental health," and "physical health." We have had various initiatives such as interview with industrial counselors for all employees and health guidance for employees over 40 years old with high health risk. We have also issued the Non Smoking Declaration*1. Furthermore, in the pandemic that has been continuing since last year, we took the survey on the impact on the mind and body of employees and hold an online stretch seminar for those who complain of fatigue from working from home in addition to prevent infection such as utilizing remote work. As a result of these initiatives, we received the certification of "Health and Productivity Management Organization 2021 Large enterprise category (White 500)" for the first time from the Ministry of Economy, Trade and Industry *2 last year.
Press Release, April 6, 2021:
"NTN Non Smoking Declaration" Issued
https://www.ntnglobal.com/en/news/press/news202100025.html
Press Release, March 19, 2021:
NTN Certified as "Health and Productivity Management Organization 2021 Large enterprise category (White 500)"
https://www.ntnglobal.com/en/news/press/news202100014.html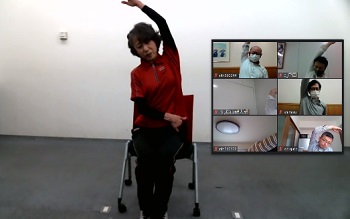 Hold an online stretch seminar to relieve the fatigue of working from home in the pandemic
Our Future Initiatives
In the future, NTN will strengthen the above-mentioned efforts at business site in Japan and raise health awareness by distributing information on health promotion during the period before the health examinations to some of young employees under the age of 40 who have high health risks. Furthermore, we will further strengthen our mental health care system by making all managers participate in line care*3 training that we have been conducting so far.
At overseas, in addition to the health measures implemented at each business site we will introduce measures by cooperating the person in charge at each base such as making rules to reduce smoking rates and introducing exercises before work in accordance with local laws and culture. In addition, we hold a "Safety and Health Global Conference" to exchange information on health management with the person in charge at overseas bases, share measures globally and work on health promotion throughout the NTN Group.
One of the cares established by the Ministry of Health, Labor and Welfare to promote mental health in the workplace. In the training, managers learn how to respond to consultations in the workplace and how to improve the workplace environment.
Inquiries about this release