"NTN Non Smoking Declaration" Issued

April 6, 2021
Reduce the smoking rate of employees to 20% by FY2023
NTN Corporation (hereafter, NTN) issued "NTN Non Smoking Declaration."
Since 2004, NTN has been working to protect employees from health risk related to smoking. Aiming to make a better work environment as a company that promotes health management, we have announced this declaration. Setting employee smoking rate less than 20% by FY2023 as the target, we will promote a variety of initiatives to quit smoking.
[NTN Non Smoking declaration]
The NTN Group is actively promoting various measures to encourage health improvement and disease prevention while creating vibrant workplaces so that all employees can work enthusiastically and maximize their capabilities.
As part of these efforts, we declare that we will vigorously implement initiatives to reduce the health risks of smoking, including passive smoking.
NTN Corporation
Managing Executive Officer
Corporate General Administrator of Safety and Health
Toshinori Shiratori
[Target]
Employee smoking rate reduce to 20% by 2023
[Priority Promotion Items]
Improving health literacy
We will improve health literacy related to tobacco (utilizing of health knowledge and information) and motivate people to quit smoking.
Quit Smoking approach to smokers
Understand the smoking status of employees and actively work with them according to their interest in smoking cessation while providing medical support.
Prevention of passive smoking
Reduce smoking areas (complete non smoking in the room), prevent passive smoking, and promote the creation of an environment that makes it difficult to smoke.
In accordance with the above priority promotion items, NTN will continue to deepen the understanding of all employees regarding health risks from smoking through training and other means. In addition, the NTN Health Insurance Society will partially cover the cost of online clinic to quit smoking using smartphones, PCs. In addition to these measures, non-smoker employees will also participate in these activities to further support the health of employees and to contribute to the creation of a healthy society.
Initiatives related to non smoking
2004
No smoking during working hours at the head office and sales offices
(Currently, employees could not smoke in all domestic business sites during working hours.)
2008
No smoking on the premises of the head office
Established "Non smoking Challenge System*" in cooperation with NTN Health Insurance Society
2020
Removed the indoor smoking areas in all domestic business sites of NTN Group
* NTN own system to support to quit smoking. Through counseling with health personnel and the provision of smoking cessation aids (a part of the costs are covered by the NTN Health Insurance Society). The person who quit smoking successfully will be granted our unique point "Smooth Health Point" at kencom, a health web service introduced in 2017. Points can be exchanged for electronic gifts of amazon and nanaco and prizes such as food. In the future, non-smokers employees will also participate in the activities using the new system in which points will be granted to both of the employee who quits the smoking and who supports it.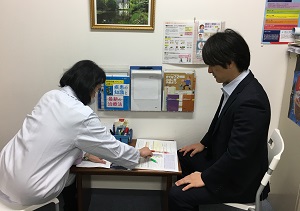 Employees using "Non Smoking Challenge System" in counseling
Inquiries about this release