NTN Starts Demonstration Tests of the "Small Wind Turbine [10 kW]"

April 7, 2017
[Contributes to achieving a low-carbon society utilizing high efficiency blade technology]
NTN Corporation (hereafter, NTN) has been developing "Small Sind Turbine [10 kW]" that uses high efficiency blade technology and on this occasion has started demonstration tests in Iwata Eco Park, located in Iwata City, Shizuoka Prefecture, which has excellent wind conditions throughout the year.
NTN's "Small Wind Turbine [10 kW]"adopts uniquely shaped vertical blades that enable high efficiency power generation and extremely silent operation. Almost no wind noise is generated even in strong winds due to the thickened blade shape and it has the feature of rotating by catching wind from any direction due to the adoption of vertical blades. Winglets installed on the tip of the blades minimize energy loss by preventing vortex turbulence, the cause of rotational resistance.
The current demonstration test will collect data related to operation control of the "Small Wind Turbine [10 kW]." The test will collect data including optimizing brake control conditions and control conditions for rotational speed with regards to wind speed as well as the durability of components for long periods of continuous operation. The results will be used to continue improving the reliability of the wind turbines.
NTN considers the "Development of Businesses in New Areas" as one of the major themes in "Management Growth," the basic policy stated in the Medium-term Management Plan "NTN 100" and is engaged in the natural energy business that utilizes the technology and expertise NTN has developed with the past concerning bearings. On July 2016, NTN has released the "Hybrid Street Light*1" that uses the two natural energy sources of wind and solar light and plans to sell the "NTN Micro Hydro Turbine*2"that generates power simply by installing it on existing wall surfaces of existing irrigation channels.
NTN will contribute to achieving a "smooth society*3"as well as energy saving through the development of products that use natural energy.
"NTN Launches Extremely Silent Hybrid Street Lights" Press Release
https://www.ntnglobal.com/en/news/new_products/news201600059.html
"NTN Completes Demonstration Test of the "NTN Micro Hydro Turbine" Press Release
https://www.ntnglobal.com/en/news/press/news201600063.html
"Announcing NTN Corporation's 100th Anniversary Vision" Press Release NTN will use technology that makes things "smooth" to contribute to development of a smooth society
https://www.ntnglobal.com/en/news/press/news201700022.html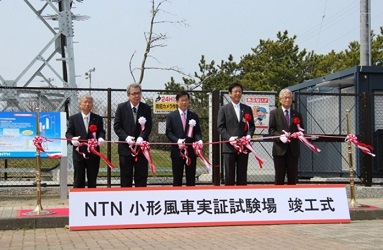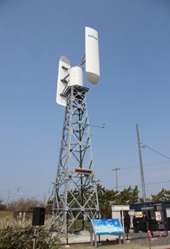 Features
(1) Proprietary blade shape
Efficient power generation by preventing wind escaping
Extremely silent, as there is almost no wind noise generated, even in strong wind
(2) Vertical axis wind turbine
Catches wind blowing from any direction
Specifications
| | |
| --- | --- |
| Power generation capacity | 10kW |
| Rated wind speed | 12m/s |
| Rotor diameter | 6m |
| Blade length | 7m |
| Total height | 19.5m |
| Wind turbine type | Vertical axis |
| Survival wind speed | 60m/s |
Reference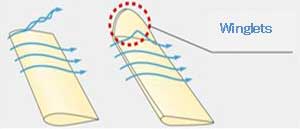 Winglets
Prevent vortex turbulence being generated at the wing tip,
for extremely silent operation.
Inquiries about this release