Announcement of NTN's 100th Anniversary Vision

April 6, 2017
NTN will contribute to
"development of a smooth society" by utilizing technology that makes thing "Nameraka*"
Technology developed with bearings ever will change smoothly future electric vehicles,
robots and even society based on natural energy
* "Nameraka" means "Smooth" in Japanese.
* These initiatives are implemented only in Japan.
On March 8, NTN Corporation (hereafter, NTN) held a press conference about the company's 100th anniversary on March 1 next year at its head office (in Osaka City). At the conference, President Hiroshi Ohkubo and Managing Director Keiji Ohashi presented media representatives with the vision for the 100th anniversary and an overview of commemorative activities.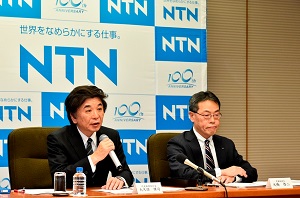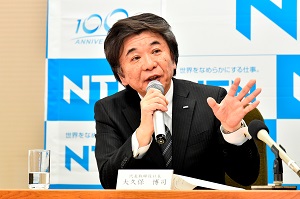 The company's 100th anniversary has been viewed as the ideal opportunity to express gratitude for the immense loyalty and assistance received over the years. It is also a way to help achieve a "smooth society," "smooth world" and "smooth lifestyle" with a vision for the next 100 years by continuing to develop the company's technical foundation of "tribology,"* expanding into new fields of business, and transforming into a company capable of achieving a sustainable society and contributing to a broad range of stakeholders.
* "Tribology" refers to the "science and technology of two interacting surfaces in relative motion, covering all phenomena that occurs between them" as an engineering field that deals with lubrication, friction, wear, seizing and bearing design. The science and technology of tribology is applied to achieve low-wear, low-friction machines and parts, and to reduce surface damage as a way of saving energy and resource efficient throughout our society (excerpt from the Japanese Society of Tribologists homepage).
100th Anniversary Vision
NTN's aim of contributing to a smooth society
Bearing technology is used to smoothen the rotating parts of any types of machines. With better precise bearing technology, shafts can turn smoother, minimizing energy loss as much as possible. Bearings are thus a technology for saving energy. NTN will be celebrating its 100th anniversary. The technology developed with bearings ever will help change smoothly electric vehicles, robots and even society based on natural energy.
100th Anniversary Activity Concept
NTN will analyze "What NTN can do for society for the next 100 years" and progress forward for the next 100 years.
What NTN continues: Pursue tribology technology to make things "smooth"
NTN will continue pursuing "tribology technology" that helps to save energy and improve safety by reducing friction.
What NTN starts: Contribute to the development of a "recycling-based society that keeps circulating smoothly"
NTN will expand the fields where we can contribute by utilizing the core tribology technology developed with bearings.
<New fields> Natural Energy Business, EV Business, Robot-related Business and Service, Solution Business
Society that NTN is aiming for: Development of a "smooth society"
Create future technology for the global environmental conservation and new energy, based on the core "tribology technology"
Support industry around the world with original technology, help make people's lifestyles safer and more secure, and save energy
Help develop a sustainable society
100th Anniversary Message (communication)
NTN will help develop a "smooth society," "smooth world" and "smooth lifestyle" using its technology that makes things "smooth."
Communication Keyword: "Make the World Nameraka*"
*"Nameraka" means "Smooth" in Japanese.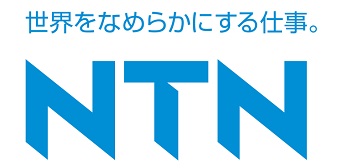 Slogan: "NanTe Nameraka"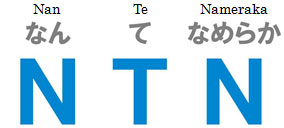 Taken from the capital letters of NTN.
"NanTe Nameraka" meaning "how smooth!"
in Japanese
100th Anniversary Logo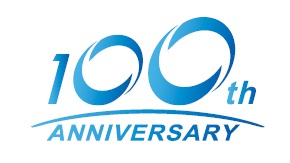 It represents tribology image of rotations combined smoothly and precisely, persistence of keeping smooth rotating for next time and growth for the future.
100th Anniversary Event Planning Project
NTN will sponsor "Tour of Japan," the largest bicycle racing event in Japan, scheduled for May this year. Together with the event, NTN will run the "NTN Rotating Workshop" in each area to give local children and residents a fun way of learning about saving energy and bearings contributed to achieve a sustainable society. A range of other activities are also planned for "Coexistence with Local Communities," including providing natural energy products to the local community and contribution activities made by employees.
Various ideas are also being planned and developed for company employees.
Inquiries about this release