NTN Starts Sales of "NTN Portable Vibroscope" Overseas

February 24, 2022
Also provide diagnostic services combined with remote technical support service
NTN Corporation (hereafter, NTN) will start global sales of "NTN Portable Vibroscope*1," which detects bearing abnormalities.
"NTN Portable Vibroscope" is a device that measures machinery vibrations, and detects abnormalities and damaged positions of bearings. Its palm-size, compact design makes it easy to carry, and it can easily conduct measurements in a short period of time simply by mounting it to a machine with a magnet or threaded stud.
In recent years, there has been an increasing importance of preventive maintenance for machinery, such as conveyance and hydraulic/pneumatic equipment, to provide stable operation of production lines. While handing down and accumulation of knowledge has become difficult due to shortages of human resources and other factors, there has been an increasing need for tools to detect machine abnormalities.
In addition to the excellent convenience and the accuracy of the measured data of "NTN Portable Vibroscope," NTN's reporting service has been favorably evaluated by customers; NTN engineers diagnose and analyze bearing conditions based on data such as vibrations measured by the product. To date, NTN has provided more than 100 orders of "NTN Portable Vibroscope" and its report service in Japan.
NTN will start sales of this product in Americas, Europe, Asia, and others with the aim of further expanding sales. For launching sales, NTN has improved some product specifications including displaying results in inches and anti-electromagnetic noise measures to ensure stable Wi-Fi connection. NTN will also support the use of this product and the diagnosis and analysis of bearing conditions by utilizing our remote technical support service where on-site information is shared with NTN engineers in Japan and they provide expert support.
NTN will expand sales for aftermarket business by further incorporating demand for repairs, including sales of this product overseas. In addition, NTN will develop a new business model that combines hardware (products) with software (services), such as the diagnosing and analyzing service, and monitoring services using bearings equipped with sensors.
Press Release on May 26, 2020: Expand Bearing Failure Detection Service
https://www.ntnglobal.com/en/news/new_products/news202000026.html
Product specifications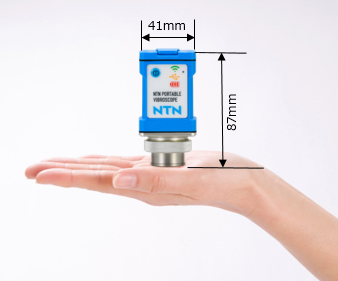 | | |
| --- | --- |
| Size | W41mm × D36mm × H87mm |
| Weight | Approx. 145g (excluding magnet) |
| Dust/water resistant | IP65 |
| Measuring/analyzing method | Apple iPhone, iPad and dedicated app |
| Measuring/analyzing | Vibration OA values*2 (acceleration/velocity/displacement), estimation of damaged position, failure detection of bearings or machines by FFT analysis*3, and abnormality detection |
"Overall," a method to calculate RMS values, peaks, etc. using the entire vibration waveform
A method to analyze the frequency spectrum of the input vibration signal using "Fast Fourier Transform"
Applications
Electric machinery (elevators, pumps, conveying machinery), paper-making machinery, plant equipment, maintenance of machine tools and other general industrial machinery facilities, shipping inspection, the tool for the person who provide technical support
Usage example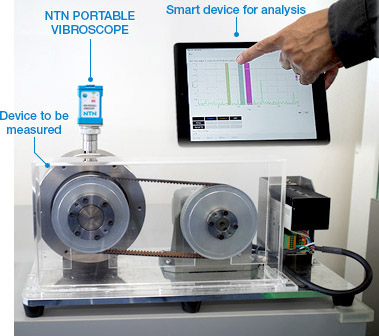 Overview of remote technical support service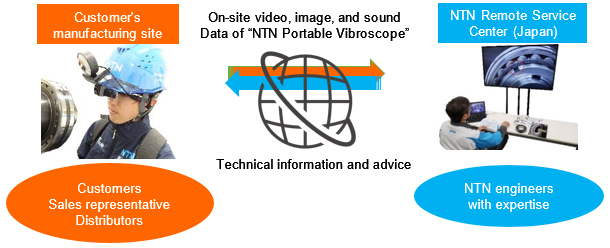 Inquiries about this release