NTN Exhibits at 17th China International Machine Tool Show "CIMT 2021"

April 7, 2021
Date
April 12 (Mon) to 17 (Sat), 2021
Venue
China International Exhibition Center (new venue)
(Beijing, China)
Booth No.
E1 A315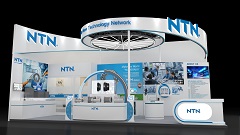 NTN Corporation (hereafter, NTN) will exhibit at the 17th China International Machine Tool Show "CIMT 2021" held in Beijing, China from April 12 to 17.
This event is one of the largest machine tool-related exhibitions in China. It is held every other year and approximately 1,600 companies related to machine tools, spindles, and tools will exhibit at this event. NTN will exhibit at this event for the fourth time since its first exhibition in 2015.
NTN will exhibit products for machine tools and robots under the theme of "Navigate Your Future -NTN ULTAGE-." We offer a wide range of products for machine tools including "Sensor Integrated Bearing Unit" which helps prevent seizing of bearings for machine tool spindles, "Machine Tool Spindle Bearing with Air Cooling" Spacer for Grease Lubrication which improves high speed rotational performance and rigidity with grease lubrication instead of air-oil, and the ULTAGE* series of precision roller bearings for machine tools.
As products and technologies that contribute to collaboration between machine tools and robots which takes a growing interest recently, NTN will exhibit bearings for robot gearbox and "Multi Track Magnetic Ring" which contributes to angle detection of robot joints with high resolution.
* ULTAGE is the name for NTN's goal of achieving the ultimate performance with precision bearings, and expresses the "Ultimate" performance on any type of "Stage."
Main exhibits
The load detection sensor built in spacer can detect bearing loads and their trends and helps prevent seizing of bearings for spindles by detecting a sudden increase of preload that occurs before seizing. The sensor also contributes to improved machining quality and productivity, and enables adjustments to mount bearings in a short time.
Additionally, by building two devices of an electro-magnetic generator that generates electricity using the rotation of spindle and a radio module into the product, external connection cables, and wiring space are eliminated, which realize wireless communication.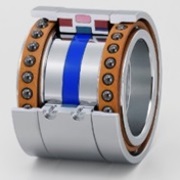 "Machine Tool Spindle Bearing with Air Cooling" Spacer for Grease Lubrication
Applying NTN's proprietary air-cooling technology, this product has an increased high-speed rotational performance and rigidity by 10%. This grease lubricated bearings, which are beneficial from environmental perspectives, can be used in machining centers, complex processing units and other high-speed equipment where air-oil lubrication is conventionally required.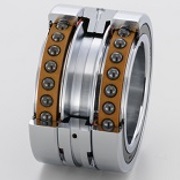 ULTAGE Series of Precision Roller Bearings for Machine Tools
This is precision bearing series that supports high efficiency processing, high reliability, high quality processing and environment conscious design required for machine tools. It demonstrates excellent ability due to such factors as the adoption of seals on both sides, special grease, special material/surface modification and the optimization of the internal bearing design.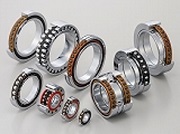 This ring-shaped part is used to detect the angle of robot joints. When combined with a dedicated magnetic sensor, it can detect absolute angles with high resolution.
Being a magnetic type, it has superior resistance against vibrations, high temperatures, dust, oil mist and such environments. Since it is thin, lightweight, and has a hollow shape with a large diameter so that cables can be passed, it contributes to downsizing and improvement of design flexibly of robots.
In addition to the 64/63 pole pairs series, the compact and lightweight type, the 32/31 pole pairs series is also available.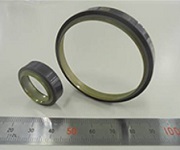 Inquiries about this release