Improvement of "Sensor Integrated Bearing Unit" for Machine Tool Spindles

November 13, 2020
Realize advanced monitoring of various conditions by functions of wireless communication and load detection
NTN Corporation (hereafter, NTN) has improved "Sensor Integrated Bearing Unit" for Machine Tool Spindles*1 which was announced in 2018 by adding functions of wireless communication and newly mounting load detection sensor to the conventional product. The developed product contributes to not only preventing the seizing of bearings for spindles but also simplifying the monitoring machining conditions and the mounting bearings with spindles.
Due to factors such as the lack of labor shortage, manufacturing sites require reduced manpower, unmanned operations and higher productivity. Under these situations, there is a growing demand to prevent damage such as seizing of bearings for machine tool spindle, which are key components of machine tools, and the resulting losses such as production stop and spindle replacement. "Sensor Integrated Bearing Unit" for Machine Tool Spindles contributes to preventing seizing of bearings for spindles by incorporating sensors into the outer ring spacers adjoining the bearing to realize advanced condition monitoring near bearing raceway surface. After the development in 2018, NTN has proposed this product to customers and received requests for wireless communication, monitoring machining conditions, and reduction of man-hours to mount bearings with spindles. To respond to these requests, NTN has conducted this improvement.
The first improvement is wireless communication function realized by building two devices into the product: a compact and higher power output electro-magnetic generator that generates electricity using the rotation of spindle, and a compact, power-saving radio module. With this improvement, external connection cables, and wiring space for power supply and data transmission are eliminated so that mounting and handling bearings are simplified.
Secondly, the developed product newly adopts a compact and highly sensitive load detection sensor, enabling simultaneous detection of bearing loads and their trends during the operation. By applying this function to monitor machining conditions such as trend of cutting loads during operation, the developed product can contribute to improved machining quality and productivity. It also features high precise measuring of preload, enabling adjustments to mount bearings in a short time.
Additionally, the load detection sensor helps prevent seizing of bearings for spindles in place of the conventionally applied heat flow sensor by detecting a sudden increase of preload that occurs before seizing.
NTN will propose the developed product to machine tools and spindles manufacturers as a product that contributes to advanced machine tool functions, reduced manpower, unmanned operations, and hihger productivity at manufacturing sites.
NTN will exhibit this product at "JIMTOF2020 Online"*2 which will be held from November 16 to 27.
Press Released on October 19, 2018:
Development of "Sensor Integrated Bearing Unit" for Machine Tool Spindles
https://www.ntnglobal.com/en/news/new_products/news201800100.html
JIMTOF2020 Online : http://www.jimtof.org/online/en/index.html
Features
1. Wireless communication
Wirelessly transmit sensor signal to outside of spindle
Simplify mounting and handling bearings
2. Load detection
Contribute to improvement of machining quality and productivity by utilizing it to monitor machining conditions
Simplify high precise measurement of preload of bearing when mounting
Detect sudden increase in preload of bearing to help prevent seizing of bearing for spindle
Application
Machine tool spindles (machining center, lathes, multi-function machines) etc.
Inquiries about this release
Product photo and construction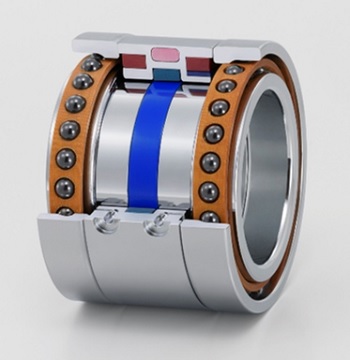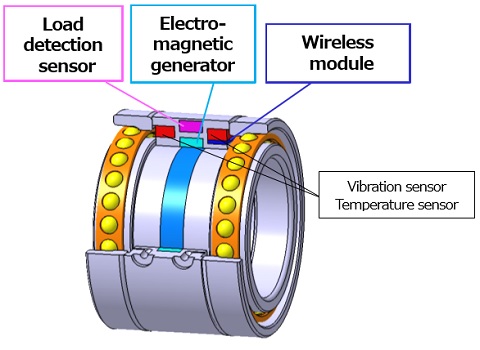 Applied parts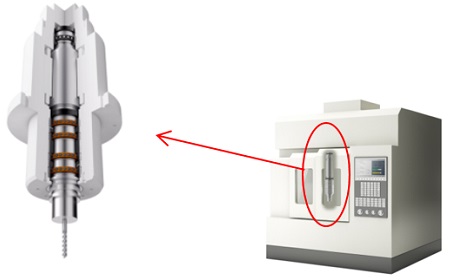 Machine tools and spindle (machining center)
Example of applications