NTN Exhibits at "JIMTOF2020 Online"

November 6, 2020
Date
November 16 (Mon) to 27 (Fri), 2020*
Admission
All visitors are requested to register (for free).
Please register from the official website of hereafter.
* You can view the exhibition for the archive period from November 27 to December 11.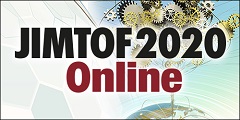 NTN Corporatin (hereafter, NTN) will exhibit at Japan International Machine Tool Fair "JIMTOF2020 Online" held from November 16 to 27.
With the aim to save manpower and improve productivity at manufacturing sites, machine tools have been evolving and utilization of robots has been accelerated. Under such situation, NTN exhibits under the theme of "Navigate your future" and introduces high-performance products that meet the demands of machine tools and robots with various photographs, videos, and materials.
In recent years, machine tools have been required to improve productivity through consolidating some machining processes and reduce environmental impact. As products to solve these issues, NTN will introduce the "Angular Contact Ball Bearing for High-Speed and Heavy-Cutting Machine Tools" and the "Machine Tool Spindle Bearing with Air Cooling Spacer for Grease Lubrication." In addition, we will disclose the newly improved "Sensor Integrated Bearing Unit" for Machine Tool Spindles that helps prevent main shaft bearings from seizing.
As products that accelrate the use of robots and collaboration between machine tools and robots, NTN will also exhibit the "i-WRIST™" Wrist Joint Module that contributes to automation of various processes such as inspection and cleaninig with movements like human wrist, as well as "Multi Track Magnetic Ring" that enables highly accurate angle detection of robot joints. Additionally, we will introduce the newly developed bearing that responds to the miniaturization and higher power output of servo motors for joints of robots.
You can view "JIMTOF2020 Online" for free by registering on the official website.
Main exhibits
Reference exhibition product

As an improved product to contribute to preventing seizing of bearings for spindles by advanced condition monitoring near bearing raceway surface, this product has functions of wireless communication and newly mounting load detection sensor.

By building two devices of an electro-magnetic generator that generates electricity using the rotation of spindle and a radio module into the product, external connection cables, and wiring space are eliminated.

The load detection sensor to detect bearing loads and their trends contributes to improved machining quality and productivity, and enables adjustments to mount bearings in a short time. It also helps prevent seizing of bearings for spindles in place of the conventionally applied heat flow sensor by detecting a sudden increase of preload that occurs before seizing.
"Angular Contact Ball Bearing for High-Speed and Heavy-Cutting Machine Tools"

This product has a high-speed rotational performance of dmn value* of 1.6 million as well as 1.3 times the load capacity and allowable axial load compared to NTN's conventional products. This enables a single machine tool to cover the rough machining work and finishing processes that previously required numerous machine tools, and also helps to further increase productivity of machining centers and complex processing units.

* ULTAGE is the name for NTN's goal of achieving the ultimate performance with precision bearings, and expresses the "Ultimate" performance on any type of "Stage."

* dmn value:An indicator that expresses the rotational performance of bearings and is bearing pitch circle diameter (mm) × rotational speed (min-1)
"Machine Tool Spindle Bearing with Air Cooling" Spacer for Grease Lubrication

Applying NTN's proprietary air-cooling technology, this product has an increased high-speed rotational performance and rigidity of 10%. This means that grease lubricated bearings, which are beneficial from environmental perspectives, can be used in machining centers, complex processing units and other high-speed equipment where air-oil lubrication is conventionally required.
Compared to the conventional product, this product reduces the amount of dust generated from bearing by approximately 90% and the rotational torque by approximately 50% by applying newly developed grease and seal. The new grease suppresses dust generation by improving its components and mixtures, and the new seal achieves both high sealing performance and low torque by improving the shape to uniformize the contact force of the sliding part between the inner ring and the contact type seal.

By applying this product with servo motors for industrial robots, servo motors can be downsized by eliminating the sealing devices, and increase power output by reducing rotational torque of bearings.
"i-WRIST™" Wrist Joint Module

Positioning equipment that achieves a wide range of angle movement, and is both compact and space-saving. This can move smoothly like human wrist at high-speed to perform minor position (angle) changes, which vertically articulated robots are not good at doing.

"i-WRIST™" contributes towards the automation of various processes, makes them efficient and reduces manual labor. These processes can include appearance inspection, grease application, and cleaning when combining "i-WRIST™" with other robots and attaching end effectors to the equipment.
"Multi Track Magnetic Ring"

This ring-shaped part is used to detect the angle of robot joints. When combined with a dedicated magnetic sensor, it can detect absolute angles with high resolution.

Being a magnetic type, it has superior resistance against vibrations, high temperatures, dust, oil mist and such environments. Since it is thin, lightweight, and has a hollow shape with a large diameter so that cables can be passed, it contributes to downsizing of robots and improvement of design flexibility.

In addition to the 64/63 pole pairs series, the 32/31 pole pairs series is also available to meet needs of compact and lightweight type.
Inquiries about this release