Development of "Low Dust Generation Bearing for Servo Motors"

November 13, 2020
Contribute to downsizing and higher power output of servo motors, and improvement of robot productivity
NTN Corporation (hereafter, NTN) has developed "Low Dust Generation Bearing for Servo Motors" which drastically reduces dust generation from bearings and rotational torque by applying newly developed grease and seal.
As servo motors enable high-precise rotation control with rotation detectors and brakes (hereafter, control equipment), they are in high demand mainly for industrial robots and machine tools in recent years. Servo motors for industrial robots are often used in driven application of robot joints, and are required to downsize and increase power output in order to increase shaft velocity and acceleration/deceleration velocity at joints. To downsize servo motors, the control equipment is placed near the bearings. However, if oil in the bearing splashes and leaks as dust, it adheres to the control equipment, causing reduction in the detection accuracy and braking performance. To prevent this, sealing devices are used within the servo motor, however the space for sealing devices makes servo motor larger. Therefore, low dust generation bearings are required in order to suppress adhesion of oil even without sealing devices. Additionally, the bearings are required to achieve low torque for higher power output of servo motors. These demands are increasing year by year.
The developed "Low Dust Generation Bearing for Servo Motors" applies the newly developed grease, which suppresses dust generation by improving its components and mixtures, with sealed type of deep groove ball bearing widely used for servo motors. In addition, this developed product adopts the newly designed contact type seal which achieves both high sealing performance and low torque by improving the shape to uniformize the contact force of the sliding part between the inner ring and the contact type seal. As a result, compared to the conventional product, the developed product reduces the amount of dust generated from bearing by approximately 90% and the rotational torque by approximately 50%. Low dust generation and low torque performance of this developed product exceed the performance of competitor's bearing which currently is used for the same application. By applying the developed product with servo motors, servo motors can be downsized by eliminating the sealing devices, and increase power output by reducing rotational torque of bearings.
NTN will propose the developed products to customers in the FA filed such as motor and robot manufactures to contribute to improvement in performance of serve motors and productivity of robots. NTN will exhibit this product at "JIMTOF2020 Online"* which will be held from November 16 to 27.
* JIMTOF2020 Online : http://www.jimtof.org/online/en/index.html
Features (compared to the conventional product)
| | |
| --- | --- |
| 1. Low dust | Reduce dust generation by approximately 90% |
| 2. Low torque | Reduce rotational torque by approximately 50% |
Application
Servo motors for industrial robots, etc.
Inquiries about this release
Product photo
Example of dimensions : φ10×φ22×6mm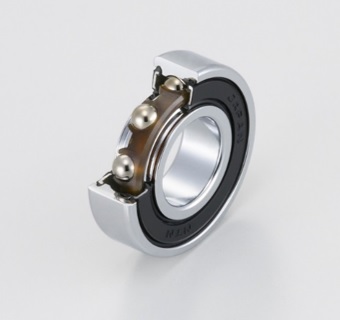 Applied parts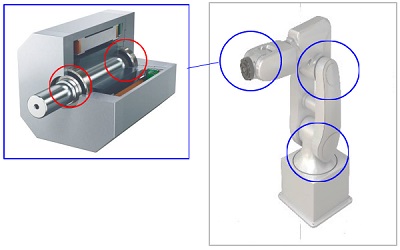 Structure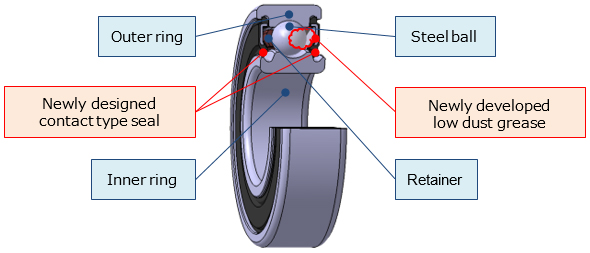 Test data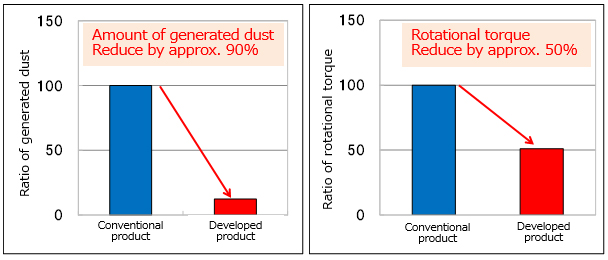 * Both charts show the raio of the developed product to 100 of conventional product.