NTN Exhibits at "2nd RoboDEX Nagoya"

September 2, 2019
Date
September 18 (Wed) to 20 (Fri), 2019
Venue
Portmesse Nagoya
(2-2 Ariake, Kinjofuto, Minato-ku, Nagoya City)
Booth No.
7-117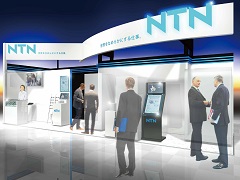 NTN Corporation (hereafter, NTN) will exhibit at "2nd RoboDEX Nagoya" held at Portmesse Nagoya on September 18 to 20.
Under the theme of "Quick Motion Like a Human Wrist" representing the features movement of "i-WRIST™" Wrist Joint Module, NTN will introduce the movement and use of "i-WRIST™."
In the booth, the main unit and dedicated controller of "i-WRIST™" will be displayed, and its smooth and quick movement of "i-WRIST™" will be demonstrated.
In addition, "i-WRIST™" attaching a camera will demonstarate appearance inspections as an example of "i-WRIST™" use. You can see how quickly and accurately "i-WRIST™" inspects the appearance of a workpiece.
We look forward to seeing you at the event.
Main exhibits
Positioning equipment that achieves a wide range of angle movement, and is both compact and space-saving. This can move like human wrist at high-speed to perform minor position (angle) changes, which vertically articulated robots are not good at doing.

"i-WRIST™" contributes towards the automation of various processes, makes them efficient and reduces manual labor. These processes can include appearance inspection, grease application, and cleaning when combining "i-WRIST™" with other robots and attaching end effectors to the equipment.
This ring-shaped part is used to detect the angle of robot joints. When combined with a dedicated magnetic sensor, it can detect absolute angles with resolution of approximately 0.0027° to 0.00034°.

Being a magnetic type, it has superior resistance against vibrations, high temperatures, dust, oil mist and such environments. Since it is thin, lightweight, has a hollow shape with a large diameter so that cables can be passed, it contributes to downsizing of robots and improvement of design flexibility.
Inquiries about this release