Features of NTN Bearing Units
Construction of NTN Bearing Units
Essentially a double sealed ball bearing installed in a special housing, an NTN Bearing Unit is available in a wide variety of configurations. The spherical fit of the insert bearing O. D. and housing I. D. allows the bearing to compensate for misalignment.
NTN's unique ball-point set screws for select bearing units reliably lock the bearing units to the shaft even when they are subjected to vibration or impact loads.
The typical bearing housings for NTN bearing units are made of cast iron or steel plate. Cast iron housings are standard. For special purposes, the housings can be supplied in spheroidal graphite cast iron, structural rolled steel, cast stainless steel or resin.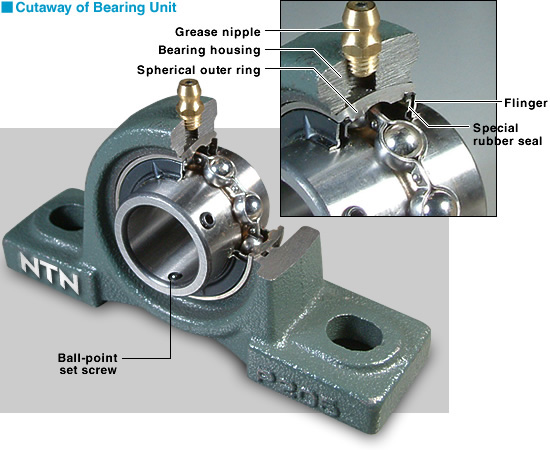 Feature 1 : Reliable installation
Hard-to-loosen ball-point set screws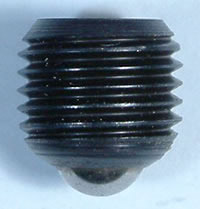 To secure the bearing to the shaft, ball-point set screws are used. An exclusive NTN design, the ball-point set screw has a hardened steel ball at the end of the set screw that reliably locks the bearing to the shaft, even when subjected to vibrations or impact loads.
■

The major advantages of ball-point set screw
Reduced fretting at the tip of the set screw - The hardened steel ball point set screw significantly reduces fretting. Other kinds cause fretting as they are softer.
Can be reused repeatedly - the hardened steel ball does not deform when tightened where conventional set screw tips are deformed once they are tightened.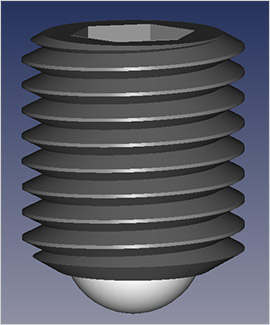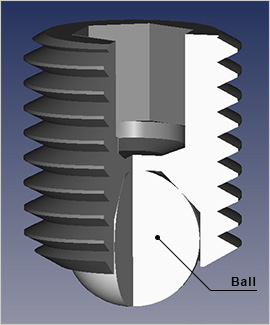 Feature 2 : Reliable sealing performance
Standard Unit
NTN bearings have a double-sealing construction that comprises an oil-resistant rubber seal and a flinger.
The double sealing construction boasts a sealing performance that is much more reliable than standard seals since the ingress path for dust is long, and because excess grease, which purges between the seal and the flinger when the bearing is in operation, serves as a seal.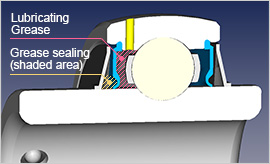 Bearing Unit with Dust Cover
NTN offers bearing units with external dust covers. Available either in pressed steel or cast iron, the dust cover and sealing mechanism provide extra protection for the bearing unit in heavily contaminated environments. Bearing units with dust covers can withstand the most severe environments in flour milling, steel making, casting, plating, and chemical plant applications where heavy dust and moisture are present. These units can also be used on outdoor equipment, such as construction and transport machinery.
The rubber seal in the dust cover has two lips that contact a shaft, as shown in Fig.A and B. The grease between the two lips not only enhances sealing performance but also lubricates the contacting faces of the lips to the shaft.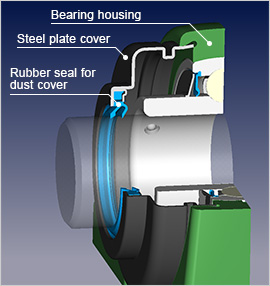 Fig.A Steel plate covered bearing unit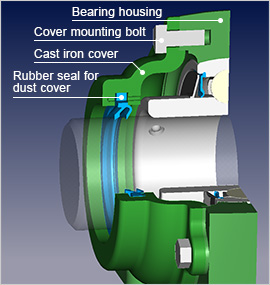 Fig.B Cast iron covered bearing unit
Triple-sealed bearing
The triple-sealed bearing is provided with a bearing seal having three lips. The special seal offers reliable dust and water-proofing performance superior to standard bearings and offers longer bearing life.
Detailed information on triple-sealed bearings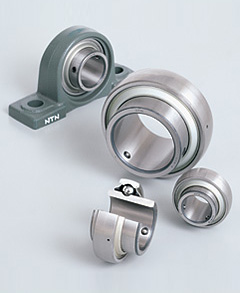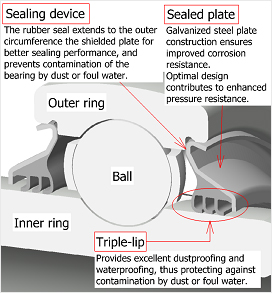 Feature 3 : Self-alignment
Oil inlet angle for larger alignment tolerances
The oil inlet of the UC type bearing is provided on the outer ring at an inclination of approx. 10°. Thus, the oil groove in the bearing housing can be located closer to the center of the bearing. Therefore, the resultant tolerance for alignment is as large as ±2°, as shown in Fig. A (in the case of narrower outer ring type, ±1°). Since the oil inlets of other manufacturers' bearing units are oriented vertically, the oil groove is inevitably located near the end face of the bearing housing, as shown in Fig. B. Thus, the distance between the fitting face of the bearing and that of the bearing housing leads to the relationship a > b (a=NTN, b=other manufacturers), and the alignment tolerance of other manufacturers' bearing units is smaller than that of NTN bearing units.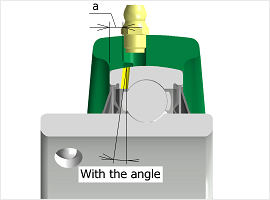 Fig. A (NTN)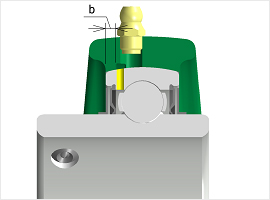 Fig. B (Other manufacturers)
Self-aligning cover seal
NTN covered bearing units are designed so that the seal lips can follow the shaft even when it is misaligned. Therefore, the covered bearing unit can achieve the rated dust-proofing performance of the cover seal even when the bearing is self-aligned to the shaft angle. However, to ensure that rated dust-proofing performance is not compromised due to uneven contact between the seal lips and the shaft, the alignment tolerance should be limited to ±1°.
Since the seals of other manufacturers' products are fixed, dust-proofing performance becomes unreliable when the bearing is aligned with the shaft angle.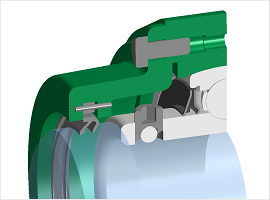 Cast iron covered bearing unit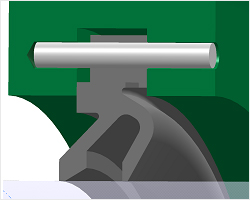 Enlarged view of seal
*

Diagram shows a cast iron cover; the same method of alignment applies to a steel plate cover.
Feature 4 : Prevention of I.R.cracking
Prevention of inner ring deformation and cracking due to over-tightening of set screws
One might think that fastening set screws tighter would prevent loosening. However, over-tightening of set screws leads to a heart-shaped deformation of the inner ring circumference, as shown in Fig. below.
At the same time, the inner ring becomes similarly deformed and the internal clearance gradually gets smaller, eventually leading to bearing failure. Thus, it is recommended that set screws be fastened at the appropriate torque.
Recommended fastening torque for set screws
To prevent the inner ring from cracking due to over-tightening of set screws, some models are induction-annealed.

Feature 5 : Brg. and Hsg. fits
Brg. and Hsg. fits
If the fit between the bearing and bearing housing is loose, vibration and impact during rotation and other effects may accelerate wear of the spherical surface, making it impossible to maintain the precision of the unit. NTN uses a tight fit to prevent such a problem.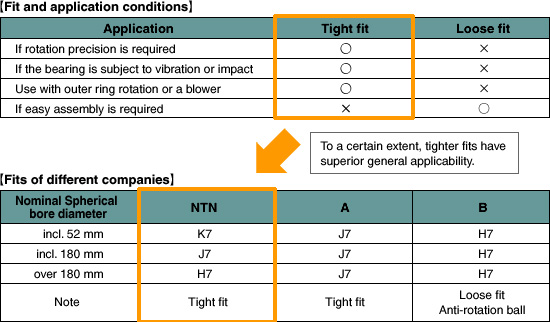 Feature 6 : Stretcher Unit®
Deformation-resistant Stretcher Unit® frames
Stiffener plates are welded to the inside of the left and right vertical frames to suppress possible deformation. (M type) In the M300 type, stiffener plates are also welded to both sides of the upper frame.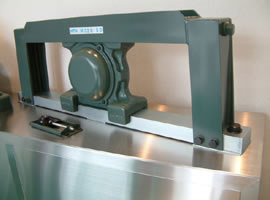 CM-UCM320-50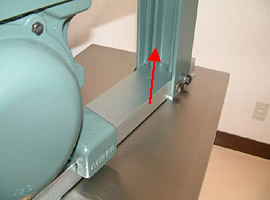 Vertical frame reinforcing plate for the M320
Anti-corrosion treatment of slide surface and adjustment bolts
The lower frame (slide surface) and adjustment bolts are galvanized, so less corrosion occurs and the stroke can be adjusted smoothly.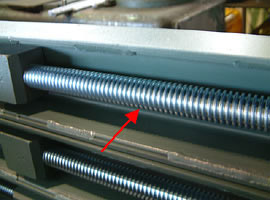 Adjustment bolt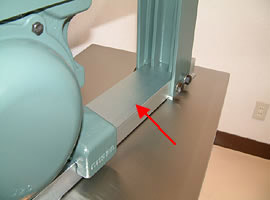 Lower frame
Prevention of damage when loaded
When a load is applied to the Stretcher Unit®, there is a risk the load will act on the adjustment nuts and damage them. To prevent such damage, strength is enhanced by welding the adjustment bolts and nuts.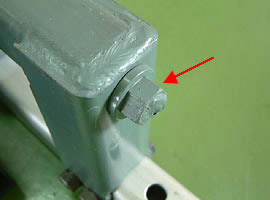 Adjustment nut
Feature 7 : Solid grease for bearings
Solid grease for bearings
"Solid grease" is a lubricant composed mainly of lubricating grease and ultra-high polymer polyethylene. Solid grease has the same viscosity as grease at ordinary temperature, but by applying a special heat treatment process, this special grease solidifies retaining a large proportion of lubricant within the bearing.
Solid grease for general use
Grease code: LP03
More resistant to centrifugal force-induced leakage.
Fouling from grease leaks on or around the bearing is positively prevented.
Water does not emulsify the grease or cause the grease to leak. Thus, the grease has a longer lubricating life.
Unlike ordinary grease, bearings with solid grease exhibits virtually no stirring drag and therefore contributes to lower bearing torque.
Permissible operating temperature range and speed
Temperature at bearing outer ring: Use the bearing in a temperature range of -20°C to 80°C (60°C max. for continuous operation). Permissible dn value: 120000 [dn=bearing bore diameter d(mm) X operating speed n(min-1)]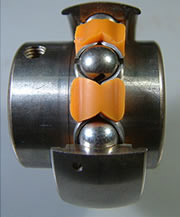 Solid grease for food machinery
Grease code: LP09
In addition to the advantages of the general-use bearings with solid grease (P-03) as mentioned in a) above, bearings with solid grease type P-09 boasts a high degree of safety because its heat-solidifying grease for food machinery is composed of food-grade lubricating grease that complies with the NSF's H-1 standard (permitting contact with food) and super molecular weight polyethylene approved according to an FDA (US Food and Drug Administration) standard.
Permissible operating temperature range and speed
Temperature at bearing outer ring: Use the bearing in a temperature range of -10 to 100°C (80°C max. for continuous operation). Permissible dn value: 100000 [dn=bearing bore diameter d(mm) X operating speed n(min-1)]
*

Contact with organic solvent, wash oil or other chemicals can degrade the lubricating perfomance of solid grease.