NTN to Sponsor World Athletics Road Running Championships Riga 23 as a Women's Bib Partner

September 27, 2023

NTN Corporation (hereafter, NTN) will sponsor the World Athletics Road Running Championships in Riga, Latvia, on October 1, 2023. As NTN has become an Official Partner of World Athletics until 2024,* we will sponsor the event as a women's bib partner.
The World Athletics Road Running Championships was previously held as the World Athletics Half Marathon Championships until 2020, but, it has evolved into a new event that will include not only the half marathon, but also the road mile and a five kilometer race. In addition to the competition among the world's top elite athletes, each distance will also be run by thousands of recreational runners.
NTN will encourage the world's best athletes in their endeavors and contribute to the promotion of the World Athletics Series events, the sport of athletics, and the international exchange between running nations by promoting the event through sponsorship.
Event overview
| | |
| --- | --- |
| Date and time | October 1, 2023 (Sunday) |
| Location | Riga, Latvia |
| Events | Mile, 5km, Half Marathon |
Content of sponsorship
Women's Competition & Award Ceremony Bibs
Advertising Boards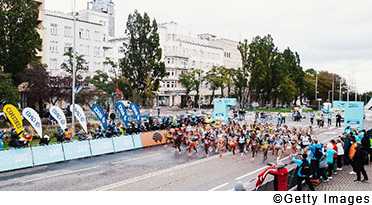 The World Athletics Half Marathon Championship 2020
Inquiries about this release