NTN Supports the World Athletics Championships Budapest 23 as an Official Partner

July 28, 2023

Japan's NTN Corporation (hereafter, NTN) has become the latest Official Partner of World Athletics, just in time for the World Athletics Championships Budapest 23, which will be held from August 19 to 27 in Budapest's spectacular new National Athletics Centre.
Under the terms of the agreement, which runs until the end of 2024, NTN will become the competition and presentation bib partner for the women's events in Budapest, as well as for the World Road Running Championships Riga 23, and the World Athletics Race Walking Team Championships Antalya 24. The agreement also includes support for all World Athletics Series events until the end of 2024.
World Athletics President Sebastian Coe said
I'm delighted to welcome NTN Corporation to our sport. Our Official Partners are key contributors to the staging of our World Athletics Series events, and there are none bigger than the World Athletics Championships Budapest 23. We are always looking for partners who share our global vision and want to make the world a better place, and NTN certainly fits that bill. Gender equality is one of our key pillars so I'm particularly pleased to see that NTN will support our female competition program through the bib sponsorship.
NTN CEO Eiichi Ukai said
We are pleased to have the honor of supporting World Athletics. NTN has developed its business globally based on the two Founders' "Frontier Spirit," which encourages us to keep taking on challenges, and "Coexistence and Co-prosperity Spirit" which encourages us to develop together with society. This is in accord with our corporate philosophy: "We shall contribute to international society through creating new technologies and developing new products." Through its business activities, NTN also contributes to the resolution of social issues, such as respecting human rights, promoting diversity, contributing to local communities, and protecting environment.
Through its support for the world's leading track and field events, NTN will encourage the world's best athletes to strive for excellence, promote the World Athletics Series events and the sport of athletics, and contribute to positive international exchange between nations.
Some 2,000 athletes from more than 200 countries will gather in Budapest next month to compete in what is regarded as the world's third biggest sporting event.
About World Athletics
World Athletics is the international governing body for athletics (track & field & running events). Our vision is to use the power and accessibility of athletics and our athletes to create a healthier and fitter world. World Athletics serves a number of stakeholders: elite athletes, their coaches and their agents, and the 214 national athletics federations that make up the organization, as well as commercial partners and broadcasters. We work closely with the national federations to develop the sport around the globe, and with local organizing committees to stage the biggest international athletics events, exciting and engaging fans of all ages.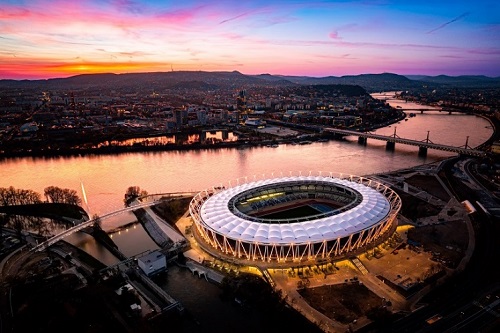 National Athletics Centre
(Budapest, Hungary)
Inquiries about this release