NTN Track & Field Club, Sonoda Places 9th in 35 km Race Walk in World Athletics Championships

August 1, 2022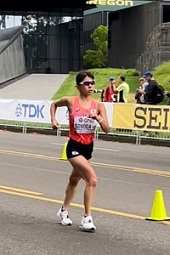 Serena Sonoda, a member of NTN Track & Field Club participated* in the women's 35km race walk at the 18th World Athletics Championships held in Oregon, the U.S. (July 15-24, 2022), and placed 9th. Her record was 2 hours 45 minutes 09 seconds that was approximately 40 seconds faster than her own Japanese record.
Sonoda was in a fourth-place group from the beginning of the race. At the 15km point, she was leading the group and continued the race well. She kept her position in the top 8 in the last stage after 30km point and walked towards the finish line with all her power, aiming for a higher place. In the end, she finished in 9th place, only 7 seconds behind the 8th place athlete. Although she was very close to win a prize, she did her best and set the new personal record in her first World Championships.
Sonoda will continue to train hard to participate in the World Championships in Budapest, Hungary in 2023 and the Paris Olympics in 2024. We would like to ask for your continued support.
Comment from Sonoda
Thank you very much for your warm support in my participation in the World Championships. Although I was not able to reach my goal, finishing in 8th place, I was able to show my best effort in the race. This experience trying the world stage I've longed for will lead to my own growth.
I would like to continue to make further efforts so that I can compete with the world's top athletes to achieve my goals, placing 8th at next year's World Championships and winning a medal at the Paris Olympics. Thank you for your continued support.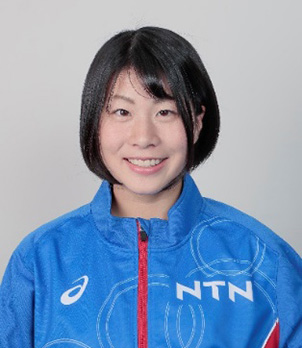 Profile
| | |
| --- | --- |
| Name | Serena Sonoda |
| Date of birth | September 10, 1996 |
| University | Chukyo University (Japan) |
| Joined NTN | 2019 |
Results
| | |
| --- | --- |
| 2017 | 8th place in 20km Race Walk of JAAF Athletics Championships |
| 2018 | 1st place in 50km Race Walk of All Japan Takahata Race Walking |
| 2018 | 6th place in 5000m Race Walk of National Sports Festival |
| 2019 | 3rd place in 10000m Race Walk in Japan National Industrial Teams Championships |
| 2021 | 1st place in 10km Race Walk of JAAF Athletics Championships |
| 2022 | 1st place in 20km Race Walk of All Japan Nomi Race Walking |
| 2022 | 1st place in 35km Race Walk of JAAF Athletics Championships |
| 2022 | 9th place in 35km Race Walk of World Athletics Championships |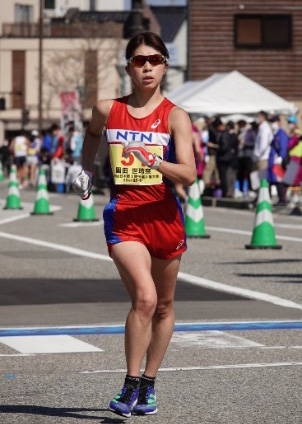 Inquiries about this release