NTN Provides EVs to Mie Prefecture in Support of the Ise-Shima Summit

May 10, 2016
NTN Corporation (hereafter, NTN) has provided Mie Prefecture with an electric vehicle (EV) equipped with NTN's proprietary developed "New In-wheel Motor System" in support of the "Ise-Shima Summit" to be held in May.
NTN was established in Kuwana City, Mie Prefecture and has grown with the local community. NTN has provided support for the "Ise-Shima Summit" which will be held in Mie Prefecture and the "2016 Junior Summit in Mie" that was held in April with Kuwana City as the main venue. NTN provides developed Hybrid Street Lights that utilize wind and solar light power, and on April 23 Junior Summit participants toured the "Green Power Park" natural energy circulation model that was newly established within NTN's Advanced Technology R&D Center located in Kuwana City.
The EVs that have been provided are converted electric vehicles (converted EVs) that are equipped with the "New In-wheel Motor System" that is more compact and lighter than the conventional system. Three of these EVs were provided to Mie Prefecture, and two provided to Kuwana City, where the Junior Summit was held. The provided EVs will be used to help promote the Ise-Shima Summit, and will also be utilized as official vehicles for staff members.
The presentation ceremony that was held at the Mie Prefectural office on April 27 was attended by Senior Advisor Yasunobu Suzuki and Director Takehiko Umemoto of NTN, and the keys were presented to Mie Prefectural Mayor Eikei Suzuki.
Senior Advisor Suzuki provided his greetings, stating "I am so happy to hear the young participants of the Junior Summit use the phrase 'Kizuna'in Japanese (meaning a bond) in the reports of their discussions about the tour. As efforts are coordinated around the world to address global warming, NTN continues to contribute to the local community and society through our natural energy business and other initiatives." Mayor Suzuki praised NTN's efforts by adding "With the provided EVs, we hope to help conserve the environment and also demonstrate the determination that Mie Prefecture has for handing a healthy planet to future generations."
NTN is promoting the natural energy business as one of the major themes raised in its medium-term management plan "NTN 100," and is also making contributions to achieve a low carbon society by utilizing the potential of NTN's technology.
* "NTN Provides Converted EV Equipped with "New In-wheel Motor System" to Kuwana City and Mie Prefecture" Press Release
http://wwwglobal.com/en/news/press/news201600030.html
* "Commercialization of Natural Energy Related Products" Press Release
http://wwwglobal.com/en/news/press/news201500018.html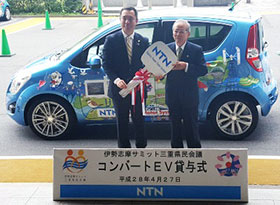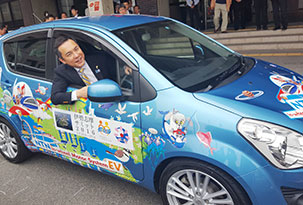 Reference
Converted EV Provided by NTN

Converted EV with the new In-wheel Motor System
Provided vehicle specifications
Vehicle size
3,775 mm (L) × 1,680 mm (W) × 1,590 mm (H)
Drive wheels
Front 2 wheels (In-wheel Motor)
Maximum power output
30kW × 2
Maximum speed
126km/h
Battery
Type
Lithium ion
Capacity
16.5 kWh (310 V)
Inquiries about this release