Winning the Innovation Award at Automechanika2012 in Germany

October 1, 2012
The In-Wheel Motor System*1 developed by NTN Corporation (hereafter, NTN) won the Innovation Award in the parts division at "Automechanika2012*2", the world's largest exhibition for the automotive aftermarket that was held in Frankfurt, Germany from September 11 to 16.
NTN-SNR, NTN's subsidiary in Europe, ran a booth at Automechanika2012 with the theme "Innovation and R&D" and had on show a large range of aftermarket products, as well as the "Q'mo" and "Two-seater Commuter" concept cars equipped with the In-Wheel Motor System.
The most outstanding technologies on show at the event were presented with awards for each division, with NTN's In-Wheel Motor System winning the Innovation Award in the parts division. The In-Wheel Motor System was highly praised as being the world's lightest and most compact design consisting of the hub bearing, motor and reducer stored within the wheel, and also for its outstanding functionality as a vehicle stability control system that provides independent control of the left and right wheels based on sensor information.
NTN will focus on further activities into the future to increase the spread of next-generation EVs globally, including in the European market where the popularity of EVs continues to rise.
*1 News related to the In-Wheel Motor System
In-Wheel Motor System
In-wheel Motor System for Electric Commuters
In-Wheel Motor System Concept
*2 Exhibition for the automotive aftermarket held every other year. More than 4,500 companies from 74 countries participated, drawing approximately 150,000 visitors.
Automechanika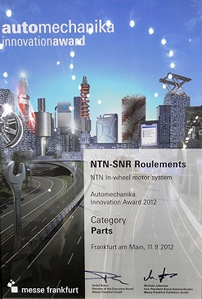 The Innovation Award in the parts division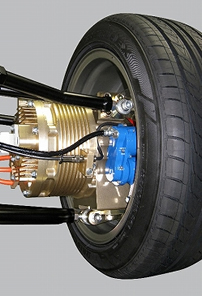 The In-Wheel Motor System that won the award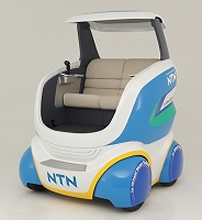 Test drives of the "Q'mo" showcased
its "pivot turn" and "lateral move" capabilities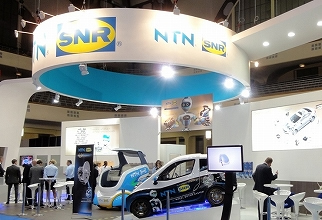 The NTN-SNR display booth