Development of "In-Wheel Motor System Concept" for Next Generation EVs

November 24, 2011
[Cars can now "Pivot turn" and "Lateral move" with the Independent In-Wheel Motor and Newly developed Independent Steering Systems]
NTN Corporation (hereafter, NTN) has developed the "In-Wheel Motor System Concept" (hereafter, the system) for two-seater, four-wheel electric commuters that are showing increased promise as Next-Generation EVs. The system combines a steering system, featuring a newly developed compact wheel-turning actuator, with the In-Wheel Motor System*1 for electric commuters.
The In-Wheel Motor Drive System is extremely efficient as it transmits drive power directly to the tires by mounting the motor and speed-reducer right to the wheel itself. This allows a greater degree of freedom for the design of the car layout and interior cabin, and also helps save weight. A driveshaft is no longer needed, which means the car can move with the wheels facing lateral.
The system combines the In-Wheel motor for electric commuters outlined above with a newly developed compact steering actuator, resulting in an extremely compact drive and steering package mounted to all four wheels. The system allows each wheel to move and steer the vehicle as part of coordinated control.
A prototype of a compact two-seater, four-wheel electric commuter concept model (hereafter, demonstration model: "Q'mo"*2) has been developed to demonstrate the practicality and features of the system's coordinated control. In addition to moving forward and backward like an ordinary vehicle, all four wheels of the Q'mo can be rotated around the center of the vehicle, allowing the vehicle to "Pivot turn". The wheels can also be rotated 90° in a lateral direction, allowing the vehicle to "Lateral move". The system is expected to be useful around town by female or elderly drivers for short shopping trips, or taking and dropping people off, as well as in areas where compact mobility is required, including transportation around tourist spots and within airports, hospitals and other facilities.
NTN will be exhibiting the Q'mo at the 42nd Tokyo Motor Show 2011 (held at Tokyo Big Sight between December 2 and 11). The demonstration model aims to highlight the benefits that the In-Wheel motor drive system provides to compact EVs, such as their enjoyment and convenience (including "Pivot turn" and "Lateral move"), and will serve as a showcase of the system's features to visitors to the booth.
The effectiveness of the In-Wheel Motor System and other key components of Next-Generation EVs will be studied in more detailed into the future through further demonstration tests.
*1 New product announced on March 25, 2011
*2 "Q'mo":"Q" + "mo(bility)"
"Q" comes from "Quattro", the word for "4" → Independent Driving and Steering with four wheels, and "Quest", Indicating "Search and Pursuit"
Features
Compact 4-wheel drive and steering system with compact In-Wheel Motor and newly developed steering actuator
In addition to ordinary driving, the model can now "Pivot turn" and "Lateral move"
Inquiries about this release
Image of Exhibit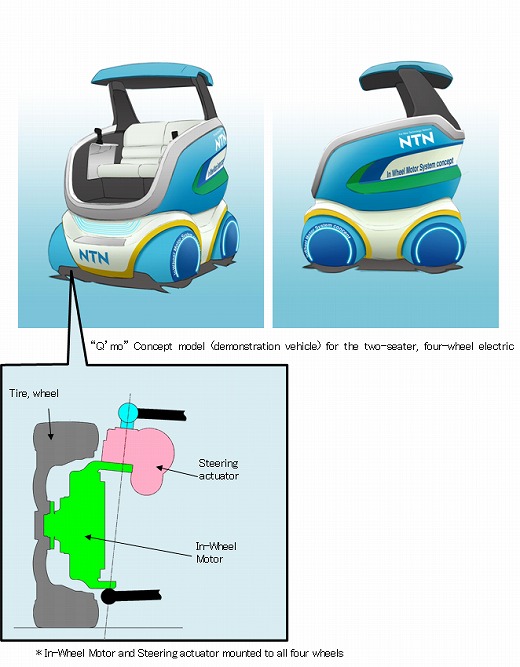 Vehicle motion modes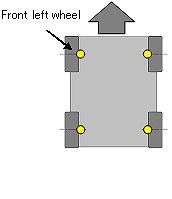 Driving straight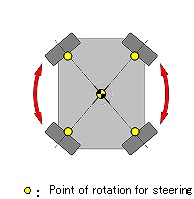 Pivot turn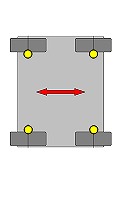 Lateral move
Steering modes: Pivot turn and Lateral move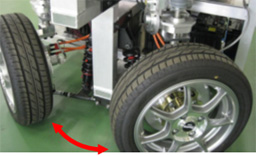 Steering mode: Pivot turn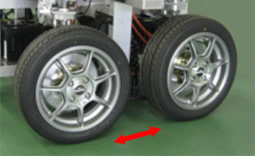 Steering mode: Lateral move
A project team comprising of young engineers and female technicians was formed within NTN in 2009 with the aim of determining the ideal approach for compact EVs with In-Wheel Motor Drive Systems, without the constraints of existing design concepts. This marked the start of planning and development of Next-Generation EV concept.
The "compact two-seater, four-wheel electric commuter concept model 'Q'mo'" will be unveiled and available for test drives at the 42nd Tokyo Motor Show 2011.
A press briefing will be held on December 1 from 16:15 to 16:30 at the NTN booth (West Hall 1, booth W1401).