NTN Starts Bearing Diagnostic Report Business Using "NTN Portable Vibroscope"

July 25, 2023
NTN Corporation (hereafter, NTN) has started report business where NTN provides customers with diagnostic results based on the measurement and analyzed data of "NTN Portable Vibroscope*" which detects abnormalities of bearings. By providing diagnostic reports to customers who conduct facility maintenance, NTN will contribute to the improvement of facility maintenance reliability, saving person-hours, and realizing stable operation.
"NTN Portable Vibroscope" is a device that can detect abnormalities and damaged positions of bearings in facilities by measuring vibrations and analyzing its frequencies. It features compactness in palm-size and usability; it can be used simply by attaching to facilities when it has vibration or noise, and customers can measure and analyze the data on the spot. The data can be analyzed and managed with smart devices which install a dedicated application. As most causes of vibration are due to bearing abnormalities, the cause of vibration in facilities can be identified efficiently by using "NTN Portable Vibroscope."
Conventionally, facility maintenance has relied on the experience and senses of technicians, but in recent years, it has become difficult to accumulate and pass on know-how due to labor shortages and other factors. There is also a growing need to digitize the experiences of technicians in order to reduce person-hours for facility maintenance and streamline it. To respond to these needs, NTN started selling "NTN Portable Vibroscope" in 2020. The product has been highly regarded by customers in various industries for its convenience and high functionality, and adopted by many customers around the world.
While proposing "NTN Portable Vibroscope," we have received requests from customers handling critical facilities requiring thorough maintenance to further improve the reliability of facility maintenance in addition to making the maintenance more efficient by using the product. In order to respond to the request, NTN has started the diagnostic report business based on the measurement data. NTN with expertise and know-how as a bearing manufacturer analyzes customers' data and provides detailed diagnostic reports to them.
When we provided this service to a municipality for their water supply and sewerage facilities, we discovered slight abnormal vibrations in bearings from the measured data of water distribution pumps, motors, etc., that could not be recognized by the ordinary maintenance. As a result, the customer was able to prevent bearing failures by making new maintenance plans based on our analysis and diagnosis results.
The need for digitalization of facility maintenance is expected to continue increasing especially in Japan. NTN will propose this service mainly for motors, pumps, and other facilities with rotating operations, thereby contributing to the improvement of reliability in facility maintenance and the stable operation.
In addition to "NTN Portable Vibroscope," NTN also offers products and services that monitor the condition of bearings by mounting sensors within or near bearings. NTN will utilize the know-how regarding measurement and analysis accumulated through these services to further develop the "Service/Solution" area.
Application
Maintenance and shipping inspection of electric machinery (elevators, pumps, conveying machinery), paper-making machinery, plant equipment, machine tools and general industrial machinery facilities
Product Specifications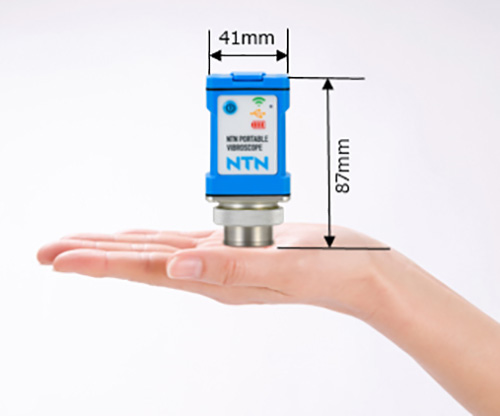 | | |
| --- | --- |
| Size | W41mm×D36mm×H87mm |
| Weight | 145g |
| Dust / Water Resistant | IP65 |
| Measuring / analyzing method | Apple iOS Smart device and dedicated app |
| Measuring / analyzing | Vibration OA values (acceleration / velocity / displacement), estimation of damaged position and failure detection of bearings or machines by FFT analysis |
Diagnostic Report Business Overview (Image)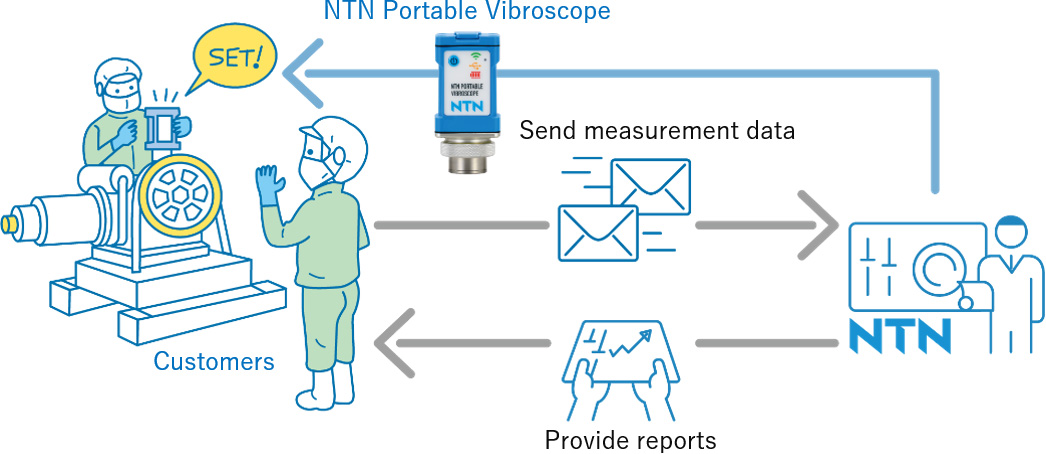 Diagnostic Report (Image)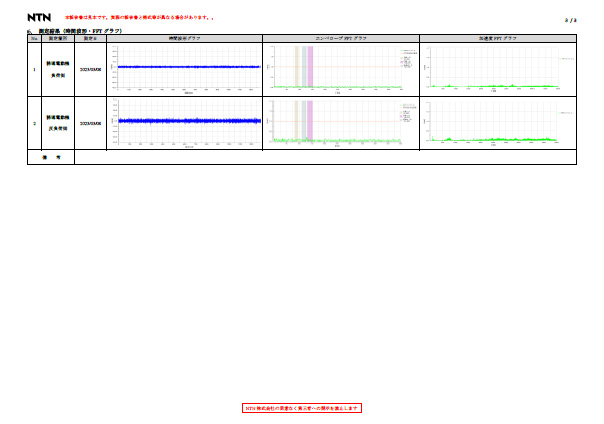 Inquiries about this release