NTN Increases Weight Capacity of Wrist Joint Module "i-WRIST™" IWS Series

July 21, 2022
Increase maximum weight capacity to 3kg to deal with a wide range of end effectors and workpieces
NTN Corporation (hereafter, NTN) has developed a new grade "IWS-C01" whose weight capacity has increased to 3kg from 1kg of "i-WRIST™*1" IWS Series. It can mount a wide range of end effectors*2 and workpieces compared to the conventional model, realizing automation and efficiency of various manufacturing processes, as well as contributing to man-power saving in manufacturing sites.
"i-WRIST™" is a robotic module product that uses a special link mechanism*3 to create smooth movements like human wrists. By controlling posture of end effectors and workpieces with "i-WRIST™," which performs high speed and accurate positioning in all directions of hemisphere, it is possible to automate manufacturing processes such as appearance inspection, grease dispending, and workpiece cleaning.
In 2021, NTN developed "IWS Series," which extended some functions; movement speed was increased, and flexibility of mounting direction was extended to support sideways and inclined directions in addition to the conventional downward direction. The series reduces tact time and realizes flexible machine configuration depending on workpieces and applications. "IWS Series" can realize appearance inspection of complex shaped workpieces with only one unit, while more than two units of vertical articulated robots is required to conduct the same inspection.
While proposing "i-WRIST™" to the market, NTN has received many requests to increase the weight capacity. In order to meet the requests, we have developed "IWS-C01" as a new grade of "IWS Series" which has increased maximum weight capacity from 1kg to 3kg through optimization of control methods. By increasing the maximum weight capacity, options for end effectors and workpieces that can be mounted to "i-WRIST™" increase, which leads to introduction of "i-WRIST™" in a wider range of applications.
When controlling posture of workpieces with "i-WRIST™" in appearance inspection, it is possible to handle not only small and lightweight resin components, but also most of products handled by people including small aluminum die casting components. Additionally, when end effector is mounted with "i-WRIST™," large lighting and high performance cameras can be mounted, which enables to detection of finer scratches and dents.
In addition to appearance inspections, it can be used for processes such as burr removal where the load on end effectors greatly fluctuates.
With shrinking workforce and aging of skilled workers, automation of manual work is one of urgent tasks in manufacturing sites. NTN will contribute to automating and streamlining manufacturing sites and stabilizing quality by further improving performance and develop applications of "i-WRIST™."
Press release on June 29, 2018:
NTN to Begin Mass-production of "i-WRIST™" Wrist Joint Module
https://www.ntnglobal.com/en/news/new_products/news201800064.html
Equipment that is attached to the tip of robot and performs tasks such as grasping, painting, and imaging.
Structure where three sets of links are placed in parallel between movable and fixed parts. Each link has a four-section chain mechanism where each member of frame-work is connected in rotatable way. By placing each rotation axis so that it intersects at two points, it achieves a wide range of movement and smooth movement.
Points of increasing weight capacity
1. Increase maximum weight capacity

Maximum weight capacity is extended from 1kg to 3kg by optimizing control methods
Optimize control methods depending on mounting weight
Existing "IWS Series" can increase weight capacity through software updates

2. Maintain compactness of machine body

The size of "i-WRIST™" machine body is not changed from existing "IWS Series"
(90° bend angle type: W417×D365×H196mm, 45° bend angle type: W474×D415×H185mm)
Applications
Appearance inspection, grease dispending, workpiece cleaning, assembly, burr removal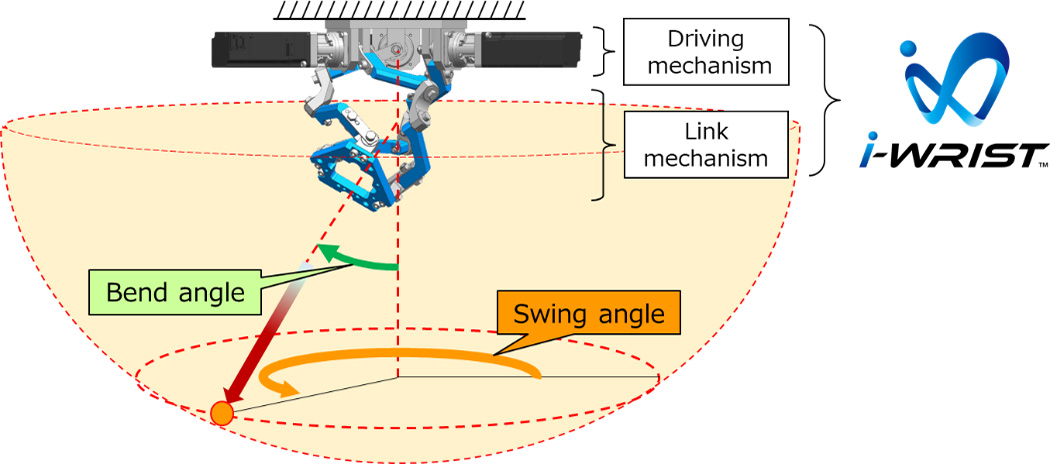 Wrist Joint Module "i-WRIST™"

| | |
| --- | --- |
| When applying vertical articulated robots | When applying "i-WRIST™" |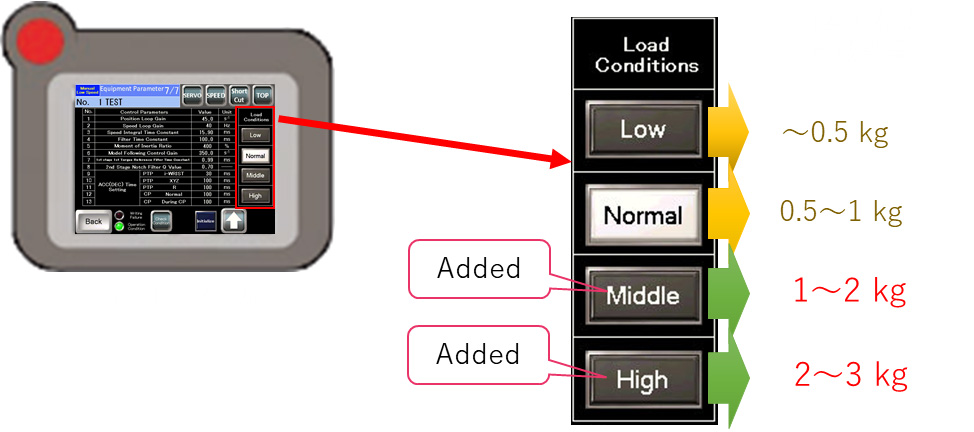 New grade "IWS-C01"
[Reference] About "IWS Series"
NTN has started sales of "IWS Series," which extends some functions of "i-WRIST™" in May 2021. The four points of extended functions of IWS Series are as follows.
1. Adopt to various mounting postures

Can be mounted in upward, sideways, and inclined directions in addition to conventional downward direction

For example, in upward direction where the end effector is fixed, "i-WRIST™" controls posture of lightweight workpiece to reduce vibrations and blurring of camera, and achieves more accurate imaging
Optimal equipment configuration is possible in accordance with applications and installation space

[Example of installation]

Downward direction (conventional model)

2. Extend external interfaces

In addition to the conventional parallel input/output (I/O), it supports Ethernet as an external interface for sending commands to "i-WRIST™" from the user-side controller

Various operation can be set in accordance with conditions, such as adjusting operation of "i-WRIST™" when there is a slight deviation in workpiece position

3. Improve operating speed
Maximum operation speed is 1.6 times (compared to conventional model), contributing to further reduction of tact time
4. Adopt to safety standards

Compliant with ISO 10218-1 safety standards for industrial robot

Added brake function to control motor to prevent accidents due to power shutdown in case of power outage
Operation directives from dedicated consoles to "i-WRIST™" also conform to safety standards
Inquiries about this release