Development of "Ra-sHUB" Hub Bearings with Steering Function for Rear Wheels

May 28, 2021
NTN Corporation (hereafter, NTN) has developed the "Ra-sHUB" hub bearing for rear wheels by modifying the hub bearing "sHUB" with steering assist function that incorporates a mechanism that adjusts the steering angle on front wheel hub bearings.
The hub bearing with steering assist function "sHUB" is a modular product that incorporates our hub bearing design that has achieved No. 1 share in the world market, manufacturing technology and motor control technology, etc. This product enables the steering angle of the left and right front wheels to be adjusted individually. Since the announcement of its development in 2018*1, we have been proposing the product to the market to contribute to improvement of vehicle responsiveness and fuel efficiency. This time, we have applied these technologies to newly develop a rear-wheel steering system that has a wide steering angle and is compatible with all types of suspension systems.
By applying conventional rear-wheel steering systems available in the market, the minimum turning radius can be reduced even in large vehicles with a long wheelbase, while enhancing driving stability and enabling safe driving. However, these conventional rear-wheel steering systems are bulky and can be applied only to specific suspension systems, such as multi-link type*2 used in luxury vehicles. In addition, it is difficult to achieve a wide steering angle due to the structure.
NTN's newly-developed "Ra-sHUB" is compact and can be applied on a variety of vehicles with any type of rear-wheel suspension, just like conventional hub bearings. When a suspension system steers the rear wheels without a linkage mechanism such as a torsion-beam*3, it was necessary to change the vehicle design drastically. However "Ra-sHUB" can be mounted comparatively easily, and realize rear-wheel steering in vehicles of all suspension types.
Press Release, May 23, 2018:
"Development of "sHUB," Hub Bearing with Steering Assist Function"
https://www.ntnglobal.com/en/news/new_products/news201800053.html
One type of independent suspension that supports wheels with multiple links and controls the motion
A suspension system with a simple structure in which the right and left trailing arms are suspended by a coil suspension, and the right and left arms are connected by a steel pipe
<Features of Ra-sHUB>
| | |
| --- | --- |
| (1) | Independent control of rear wheel angle on the left and right sides |
| (2) | Can be applied to any suspension system |
| (3) | Compact structure |
| (4) | High rigidity and high responsiveness |
| (5) | Wide steering angle (±10°) |
With "Ra-sHUB", these features are utilized to control the angle of the rear wheels independently based on vehicle information. This improves the cornering performance of the vehicle and the stability when going straight at high speeds. It also improves the fuel efficiency by reducing tire running resistance.
As the development and adoption of autonomous driving technologies progresses in the future, vehicle motion control will need to be more accurate. In addition, it is expected that the demand for rear-wheel steering and wider rear-wheel steering angles will increase to achieve higher safety.
NTN is proposing this new product to automotive manufacturers as a product that contributes to safe driving for avoiding risks and improved ride comfort during normal driving, and contributes to improving automobile safety and pleasant driving.
The developed product is exhibited at "Automotive Engineering Exposition 2021 Online", which is held from May 26 to July 30.
Product Photo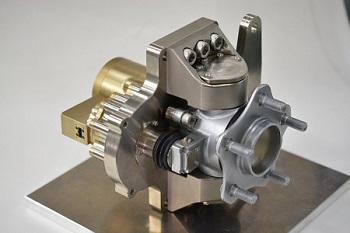 Ra-sHUB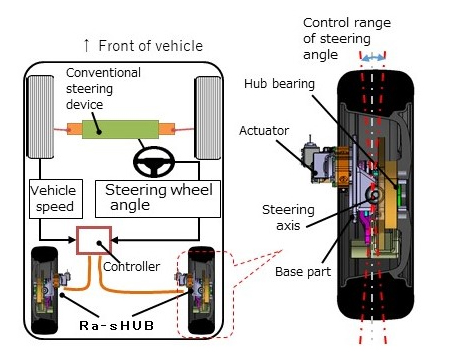 Image of mounting on a vehicle
Inquiries about this release