NTN Launches "Grid Connectable NTN Micro Hydro Turbine"

July 4, 2018
NTN Micro Hydro Turbine enables to sell power by simply placing in existing water channels!
NTN Corporation (hereafter, NTN) has developed the "Grid Connectable NTN Micro Hydro Turbine" which is simply placed over existing water channels to generate power that can then be sold. Small hydro generator is usually used*1 for charging batteries, however a new generator can be more widely used.
The "Grid Connectable NTN Micro Hydro Turbine" uses a controller to convert the AC power generated by the generator to DC power, which is then converted again to AC power by a power conditioner so that power can be sold by feeding into the grid.
The NTN Micro Hydro Turbine is available in rated output models of 0.4 kW, 1 kW and 2 kW, and there are no other compact hydroelectric generator systems available in the market that are capable of connecting to the grid. The "Grid Connectable NTN Micro Hydro Turbine" is equipped with a Maximum Power Point Tracking (hereafter, MPPT) for maximizing power generation as standard. This is the industry's first*2 compact hydroelectric generator with a rated output of 2 kW or less that is equipped with MPPT as standard.
Units will soon be equipped with the "Easy Lifter" mechanism that allows the turbine blades to temporarily be lifted out of the water flow. During typhoons or other times of high water levels, water channels are likely to have more flowing debris such as driftwood or garbage. This design enables the turbines to be lifted out of the water with no use of complex crane operations used during regular inspections, and is expected to make operation easier and reduce maintenance cost.
In July 2016, NTN launched the "NTN Hybrid Street Light"*3 that generates power using wind and solar, and many units have been installed. NTN celebrated its 100th anniversary in March this year, and is aiming to achieve continued growth for the next 100 years, and will contribute to achieving a low-carbon society by making progress with proposals of energy locally produced and consumed through the development and sales of products that use natural energy.
June 30, 2017 press release: NTN Launches "NTN Micro Hydro Turbine"
https://www.ntnglobal.com/en/news/new_products/news201700064.html
According to NTN study. Further details on MPPT are provided on the next page.
August 19, 2016 press release: NTN Launches Extremely Silent Hybrid Street Lights
https://www.ntnglobal.com/en/news/new_products/news201600059.html
Features
| | |
| --- | --- |
| (1) | Easy installation with minimal cost and time |
| (2) | High-efficient power generation that minimize loss of water energy |
| (3) | Increased output when installing more units, can freely arrange units in series or parallel |
| (4) | Can be connected to the grid to sell power |
| (5) | Easy Lifter ensures easy operation and reduces maintenance cost |
Inquiries about this release
Product photo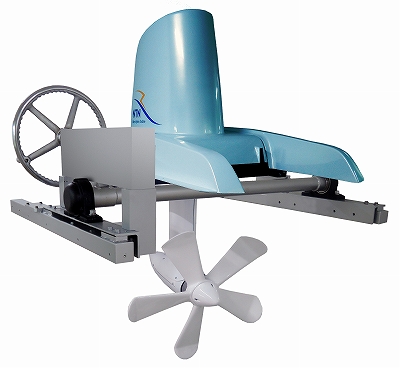 Grid connection and independent power supply
Grid connection configuration

Independent power supply configuration

About Maximum Power Point Tracking (MPPT)
The power generation control methods generally used with hydroelectric generators are (1) Look up table approach and (2) MPPT approach. (1) The Look up table approach controls the generated power by assigning a look up table for the turbine speed at the greatest level of power generation when there is a large flow late in the water channel. When the rate is small, the values in the look up table remain fixed, which means power generation cannot be maximized under those conditions. (Fig. 1) In contrast, the (2) MPPT approach constantly monitors and controls the turbine speed in relation to the water channel flow rate, to maximize power generation. The MPPT approach has higher annual power generation (Fig. 2)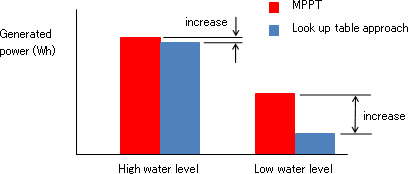 Fig. 2 Comparison of annual power generation
Easy Lifter operating mechanism
At high water levels, water channels are likely to have more flowing debris, so raising the turbines out of the water in advance allows safe operation