Development of "Multi Driving System" Equipped with In-wheel Motor for Next-generation EV

November 28, 2013
[Capable of "Pivot Turn" and "Lateral Move" and speeds of up to 60 km/h]
NTN Corporation (hereafter, NTN) has developed the "Multi Driving System (MDS)" for next-generation electric vehicles (next-generation EV) that consists of NTN's proprietary compact In-wheel Motor System (IWM) and a newly developed steering system.
The IWM system consists of a motor and reducer integrated within the wheel, which helps to transmit motor drive power directly to the tires with a high efficiency, and also contributes to greater design flexibility with the vehicle layout, more interior space and lighter vehicle weight. Driveshafts are no longer required, which means the vehicle can be driven with the wheels arranged laterally.
To demonstrate the features of this IWM, NTN developed the prototype "Q'mo*" concept car in 2011 with the IWM and steering actuator mounted to all four wheels. The vehicle's "Pivot Turn" and "Lateral Move" were demonstrated at the 2011 Tokyo Motor Show, which garnered much attention. To build on the unique drivability of the "Q'mo" concept car while also improving practicality, NTN developed the "MDS" with a new steering system designed for urban driving. The two-seater EV commuter "Q'mo II" demonstrates the features of the system.
The newly designed "MDS" turns both the left and right wheels with one steering device. The system turns all four wheels to the required angle for "Pivot Turn" and "Lateral Move" while also ensuring sufficient strength and safety in the steering system components for safe driving. Better compatibility with the suspension system helps lower the vehicle's center of gravity and ensure ordinary drivability at 60 km/h.
NTN is exhibiting the "Q'mo II" at the 43rd Tokyo Motor Show 2013 and demonstrate its "Pivot Turn" and "Lateral Move" functions to highlight the enjoyment and convenience that the IWM drive system can bring to EVs. The system will be proposed for compact mobilities and next-generation EVs to maximize its features such as the ability to change the travel direction in narrow streets and easy parallel parking, as these vehicles are designed as a mode of transport for families with small children and users of advanced age for driving short distances, as well as shopping, driving to tourist spots and the airport, or moving within plant sites.
Features
(1)
Left and right wheels with a built-in IWM can be turned laterally
⇒
In addition to ordinary driving modes, vehicles can "Pivot Turn" and "Lateral Move"
(2)
Sufficient strength and safety with steering components, and better compatibility with suspension systems to help reduce center of gravity
⇒
Capable of ordinary driving at 60 km/h
Inquiries about this release
Two-seater EV commuter "Q'mo II"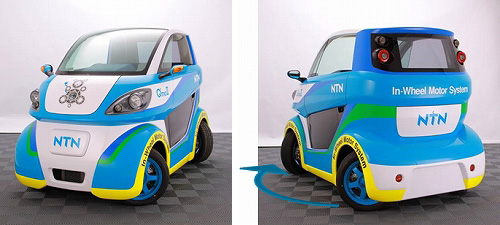 EV commuter "Q'mo II" equipped with the Multi Driving System
(demonstrating a Pivot Turn)
Travel modes of the Multi Driving System and wheel conditions