NTN Exhibits at "AUTOMOTIVE ENGINEERING EXPOSITION 2022 YOKOHAMA"

May 12, 2022
"AUTOMOTIVE ENGINEERING EXPOSITION 2022 YOKOHAMA"
| | |
| --- | --- |
| Date | May 25(Wed) to 27(Fri), 2022 |
| Venue | Pacifico Yokohama |
| Booth No. | 126 |
"AUTOMOTIVE ENGINEERING EXPOSITION ONLINE STAGE 1"
| | |
| --- | --- |
| Date | May 25(Wed) to 31(Tue), 2022 |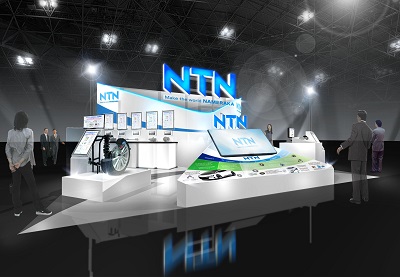 NTN Corporation (hereafter, NTN) exhibits at "AUTOMOTIVE ENGINEERING EXPOSITION 2022 YOKOHAMA" held in Pacifico Yokohama, Kanagawa Prefecture, Japan from May 25 to 27.
As the electrification of automobiles and shift to electric vehicles (EVs) is accelerating, the needs for automotive components are also changing from conventional internal combustion vehicles. This time, under the theme of "Proposals for EVs and Electrification of Automobiles," NTN will exhibit highly functional products that match the market needs from the electrification and EV shift: compact, lightweight, high speed rotation, and low torque. In addition to our core products and technologies such as hub bearings with the world's No.1 market share, driveshafts with the world's No.2 market share, and bearings for motors, we will exhibit module products utilizing these technologies to introduce our proposals for EV and electrification of automobiles.
In order to increase all-electric range of EVs, hub bearings that support wheels and bearings for motors are required to achieve low friction and reduce size and weight to save electricity. Driveshafts that transmit motor torque to wheels are required to reduce torque loss. In addition, bearings for motors are required to achieve high speed rotational performance to meet higher output of motors and adapt to creep*1 which tends to occur as housings of motors become thinner.
As NTN's core products and technologies that meet these needs unique to EVs, we will exhibit products such as "Low Friction Hub Bearing III" and High Speed Deep Groove Ball Bearing for EVs and HEVs, as well as "CreepLess Bearing" and High Efficiency Fixed Type CVJ "CFJ."
Additionally, we will exhibit highly functional module products utilizing NTN's accumulated core products and technologies: "Ra-sHUB" combining steering function with hub bearing, "Ball Screw Drive Module for Electric Hydraulic Brake" that contributes to electrification of brakes, and Electric Oil Pump.
NTN will also exhibit at "AUTOMOTIVE ENGINEERING EXPOSITION 2022 ONLINE STAGE 1" held from May 25 to 31 where we will introduce the same products exhibited at "AUTOMOTIVE ENGINEERING EXPOSITION 2022 YOKOHAMA" with photos, panels and others.
We look forward to seeing you at the event.
A phenomenon in which the fixed outer ring rotates and slips circumferentially.
Main exhibits
"Low Friction Hub Bearing III"
A hub bearing reducing rotational friction while driving by 62% and improving vehicle fuel efficiency by approximately 0.53% compared to the conventional product. By improving ingredient and viscosity of grease, applying seal structure with labyrinth, and optimizing the preload inside the bearing, the product reduces the rotational friction of the bearing itself with maintaining the performance. Additionally, it can prevent the fretting wear*2 in low-temperature condition.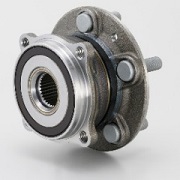 Wear caused by micro-vibration during transportation of vehicles
High Speed Deep Groove Ball Bearing for EVs and HEVs
It achieves high speed rotation capability by reviewing its material to improve retainer strength and designing pocket profile, where the retainer and rolling elements have direct contact, to minimize distortion caused by centrifugal force. It has identical dimensions with conventional product therefore interchangeable, and is applicable to both grease and oil lubrication.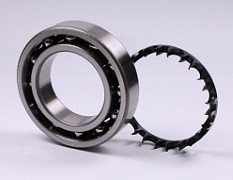 "CreepLess Bearing"
It stops progressive wave type creep*3 by applying NTN's proprietary undercut machining on the outer diameter of the outer ring of a bearing, which is industry first way. While there has been a growing demand for more compact and lightweight motors and transmissions, bearing raceways and housings used in these drive units tend to be a thin section type. It leads to creep which causes abnormal noises or vibrations in the apparatus or shorten the operating life of the bearing. This product can stop creeping by replacing standard type bearings of the same dimensions with no additional components.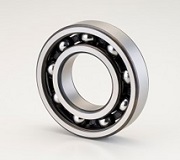 A phenomenon in which the distortion of the outer ring caused by a load acting on a rolling element becomes a progressive wave and the outer ring turns and slips in the same direction as the rotation of inner ring.
High Efficiency Fixed Type CVJ "CFJ"
By adopting proprietary design to reduce frictional loss, the product reduces torque loss ratio by 50% and reduces heat generation compared to conventional products.
Proprietary spherical cross groove structure drastically reduces internal frictional forces and decreases torque loss ratio over a wide range of operating angles.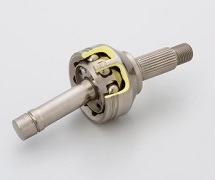 Ra-sHUB Hub Bearings with Steering Function for Rear Wheels
This is a module product of front wheel hub bearings that modifies the hub bearing "sHUB*4" with steering assist function that incorporates a mechanism that adjusts the steering angle. It improves the cornering performance of the vehicle and the stability when going straight at high speeds. It also contributes to improving fuel efficiency by reducing tire running resistance. As it is compact and can be applied on a variety of vehicles with any type of rear-wheel suspension just like conventional hub bearings, it realizes rear-wheel steering in vehicles of all suspension types.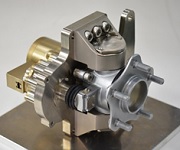 Inquiries about this release