NTN Exhibits at "19th Shanghai International Automobile Industry Exhibition (Auto Shanghai 2021)"

April 15, 2021
Date
April 19 (Mon) to 28 (Wed), 2021
Venue
National Exhibition and Convention Center (NECC)
(Shanghai, China)
Booth No.
5BC071 (exhibition hall 1.2H)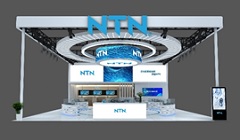 NTN Corporation (hereafter, NTN) exhibits at the "19th Shanghai International Automobile Industry Exhibition (Auto Shanghai 2021)" held in Shanghai, China from April 19 to 28.
This event is one of the largest automotive related exhibitions in China held every other year. At the previous exhibition in 2019, more than 1000 companies exhibited at the event with approximately one million visitors.
NTN will introduce a wide range of products that contribute to electrification, low fuel consumption, and higher efficiency for the Chinese automotive market, where new vehicle sales are recovering and development of electric vehicles is accelerating.
NTN booth will exhibit products of which NTN has been expanding mass-production in recent years such as high speed deep groove ball bearing for EVs and HEVs which contributes to small and lightweight motors through outstanding high speed rotational performance and "Ultra-low Friction Sealed Ball Bearing" which realizes both low torque and long operating life as bearings for gearboxes. Additionally, we will exhibit "Low Temperature Rise and Low Torque Tapered Roller Bearing" which contributes to more efficient differentials with world's highest level in low temperature rise and low torque and other various products including new products.
As to hub bearings and driveshafts for which NTN has large shares in global market, we will introduce high performance products such as "Low Friction Hub Bearing III" which reduces rotational friction by 62% from conventional product, "HEDJ-P" a plunging type constant velocity joint for propeller shafts that achieves the world's highest level in compactness and lightness, and "Lightweight Driveshaft for FR vehicle" which is suitable for FR vehicle with optimized design.
At the NTN booth, we will install models of transmissions and motorcycle engines to show where NTN products are applied and their roles in detail.
Main exhibits
Creepless Bearing
New Product
It stops progressive wave type creep* by applying undercut machining on the outer diameter of the outer ring of a bearing, which is industry first way. While there has been a growing demand for more compact and lightweight motors and transmissions, bearing raceways and housings used in these drive units tend to be a thin section type. It leads to creep which causes abnormal noises or vibrations in the apparatus or shorten the operating life of the bearing. This product can stop creeping by replacing standard type bearings of the same dimensions with no additional components.
* Phenomenon in which the distortion of the outer ring caused by a load acting on a rolling element becomes a progressive wave and the outer ring turns and slips in the same direction as the rotation of inner ring.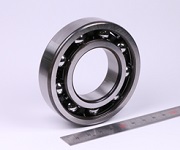 High Speed Deep Groove Ball Bearing for EVs and HEVs
It achieves high speed rotation performance by minimizing distortion caused by centrifugal force through improvement of the retainer which enhances its strength by reviewing the materials and improving pockets where the retainer contacts with rolling elements.
It can be applied to both grease lubrication and oil lubrication. Depending on the usage conditions of oil lubrication, it can be used for high speed rotation with dmn value 1.5 million. In recent years, there has been an increasing trend for motors with oil lubrication which has excellent cooling effects in order to suppress motor heat generation. Under these situations, NTN has received a large number of requests for oil lubrication and been expanding mass-production.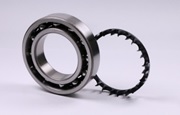 "Ultra-low Friction Sealed Ball Bearing" for Automotive Transmissions
It achieves 80% rotational torque reduction when compared to conventional products through adoption of newly developed seals which arranges arc-shaped micro convexes at regular intervals on the sliding contact section of the seal lip. The torque is the same level as that of bearings without seals. During rotation, the seal is floated slightly due to the wedge film effect of the micro convexes, resulting in the rotation torque reduction. As the convexes are micro, the seal prevents hazardous foreign matter from entering into the bearing to ensure bearing operating life.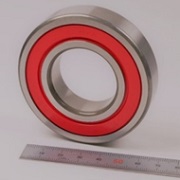 "Low Temperature Rise and Low Torque Tapered Roller Bearing"
By adopting the newly developed plastic cage and optimizing the internal bearing design, it improves low temperature rise (capacity for protection against seizing) by 10 times and reduces rotational torque by 66%. While the amount of oil used in transmissions and differentials decreases, and the oil is switched to lower viscosity oil, it adapts to severe lubrication condition due to such changes as well as further torque reduction.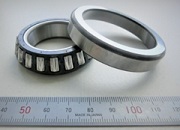 "Low Friction Hub Bearing III"
A hub bearing (a component that supports rotation of tires) reducing rotational friction by 62% and improving vehicle fuel efficiency by approximately 0.53% compared to the conventional product. By improving ingredient and viscosity of grease, applying seal structure with labyrinth, and optimizing the preload inside the bearing, the product reduces the rotational friction of the bearing itself with maintaining the performance. Additionally, it can prevent the fretting wear* in low-temperature condition.
* Wear caused by micro-vibration during transportation of vehicles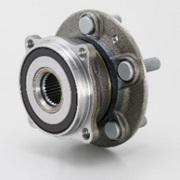 Lightweight Driveshaft for FR vehicle
Operating angles required for rear applications have been restricted to optimize the shape of main components and achieve a more compact size. The use of hollow shafts with wall thickness reduced as far as possible and compact boot helped to reduce the weight to 2.2 kg each, approximately 30% lighter than conventional product.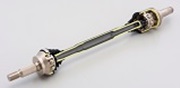 Inquiries about this release