NTN Exhibits at "RoboDEX - 4th Robot Development & Application Expo"

January 14, 2020
Date
February 12 (Wed) to 14 (Fri), 2020
Venue
Tokyo Big Sight
(3-11-1 Ariake, Koto-ku, Tokyo)
Booth No.
1-6 (West Hall 1)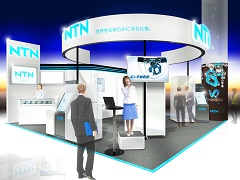 NTN Corporation (hereafter, NTN) will exhibit at the "RoboDEX - 4th Robot Development & Application Expo" held from February 12 to 14 in Tokyo Big Sight.
NTN will exhibit the "i-WRIST™," Wrist Joint Module and "Multi Track Magnetic Ring" as products that contribute to automation and labor saving in Monozukuri sites and further advances in industrial robots.
"i-WRIST™" features its smooth and quick motion like a human wrist realized by its original driving mechanism and contributes automation and labor saving in various manufacturing processes. As an example of applications, we will demonstrate apprearance inspection using "i-WRIST™" in the booth. To introduce the operability of "i-WRIST™," you can not only watch the demonstation of set up with the dedicated console but also have actual experiences in it.
At the front of the booth, we regularly give presentations on features of "i-WRIST™."
We look forward to seeing you at the event.
Main exhibits
"i-WRIST™" Wrist Joint Module

Positioning equipment that achieves a wide range of angle movement, and is both compact and space-saving. This can move like human wrist smoothly at high-speed to perform minor position (angle) changes, which vertically articulated robots are not good at doing.

"i-WRIST™" contributes towards the automation of various processes, makes them efficient and reduces manual labor. These processes can include appearance inspection, grease application, and cleaning when combining "i-WRIST™" with other robots and attaching end effectors to the equipment.
Multi Track Magnetic Ring

This ring-shaped part is used to detect the angle of robot joints. When combined with a dedicated magnetic sensor, it can detect absolute angles with resolution of approximately 0.0027° to 0.00034°.

Being a magnetic type, it has superior resistance against vibrations, high temperatures, dust, oil mist and such environments. Since it is thin, lightweight, has a hollow shape with a large diameter so that cables can be passed, it contributes to downsizing of robots and improvement of design flexibility.
Inquiries about this release