NTN Exhibits at the Beijing International Wind Power Exhibition "China Wind Power 2019"

October 15, 2019
Date
October 22 (Tue) to 24(Thu), 2019
Venue
Center on China International Exhibition
(Beijing, China)
Booth No.
E3 A04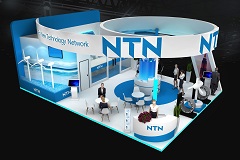 NTN Corporation (hereafter, NTN) will exhibit at the Beijing International Wind Power Exhibition "China Wind Power 2019" held in Beijing, China from October 22 to 24.
The Chinese wind turbines market continues to expand as renewable energy has rapidly been introduced. Under this situation, NTN will exhibit products and services that contribute to the stable operation of wind turbines with the theme of "Total Support Technology For Wind Turbines."
In addition to bearings adapting to usage conditions specific to various parts of wind turbines: main shaft, generator, gearbox, NTN will introduce the technogy for long operating life: the iron oxide coating treatment for rollers inside a bearing to prevent surface damage, and the Condition Monitoring System (CMS) "Wind Doctor™" that monitors the operation of bearings remotely as a service contributing to stable operation of wind turbines.
We look forward to seeing you at the event.
Main exhibits
"Asymmetrical Spherical Roller Bearings" for wind turbine main shafts

It features a modified roller design to suit the usage conditions specific to these wind turbine main shaft bearings to improve calculated operating life by about 2.5 times and wear-resistance characteristics compared to the conventional product. With the asymmetrical design of length and contact angle of left and right rollers, the row closer to the blades supports the radial loads from blade and rotors, that act horizontally in the direction of the shaft, and the row further away from the blades supports the axial loads from the wind, that act perpendicularly to the shaft.

September 4, 2017 Press Release: Development of "Asymmetrical Spherical Roller Bearings" for Wind Turbine Main Shafts

https://www.ntnglobal.com/en/news/new_products/news201700080.html
Condition Monitoring System (CMS) for wind turbines "Wind Doctor™"

The Condition Monitoring System (CMS) that realizes early detection of abnormal signs of wind turbine. It has acquired the GL certification, a wind turbine certification system. By installing sensors around the bearings and gears within the nacelle to collect, accumulate, and analyze data such as vibrations, it can identify abnormal signs and identify non-conforming parts. It prevents serious breakdowns of bearings before they occur, leading to stable operation of wind turbines.

January 24, 2019 Press Release: Advancing the Implementation of NTN-developed Condition Monitoring Systems (CMS) for Wind Turbines in Japan
Inquiries about this release