NTN Exhibits at "Disaster Prevention Japan 2019"

July 17, 2019
Date
July 24 (Wed) to 26 (Fri), 2019
Venue
Tokyo Big Sight
(3-11-1 Ariake, Koto-ku, Tokyo)
Booth No.
W1P-04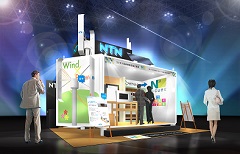 Exhibiting high efficient natural energy products that contribute to disaster prevention and mitigation
NTN Corporation (hereafter, NTN) will exhibit at the "Disaster Prevention Japan 2019" held at Tokyo Big Sight in Japan from July 24 to 26.
This exhibition aims to promote related industries and raise awareness of disaster prevention and mitigation.
In recent years, natural disasters such as heavy rains, typhoons, and earthquakes frequently occur in Japan. NTN will exhibit natural energy products that can stably provide electricity through higher efficiency power generation, even in the event of power outages caused by these disasters: "NTN Green Power Station" which generates electricity using wind and solar light, and "N3 N-CUBE," Container Type Transportable Independent Power Supply which generates electricity using wind, water, and solar light. Home appliances will be exhibited inside the container of "N3 N-CUBE" and the use of electric power generated from "N3 N-CUBE" in times of disasters will be introduced.
We look forward to seeing you at the event.
Main exhibits
Transportable independent power supply with power generation and storage devices using natural energy (wind, water, and solar light)
Storing a set of equipments in a freight container
Using a container to respond to various transportation means and rough route
Installation in a short time after arrival at the site and prompt start of power generation and supply
Inside space can be used for disaster prevention stockpile container, private room space, etc.
High performance with wind and solar light at the event of disasters
No need for electrical installation work and power costs because of the independent power source
Quiet design suited urban installation
Reliable electricity storage with high-efficiency power generation
High wind-resistance design

*Special site: "Contribute to disaster prevention and mitigation, NTN Green Power Station"

https://www.ntnglobal.com/en/products/natural_energy/gps_against_disaster.html
Inquiries about this release