Vacuum/Clean
Bearings for Special Environments
Related Catalog
Bearings for Special Environments - Ultra Final Series
Related Catalog

Bearings for Special Environments
Ultra Final Series Bearings for Clean Environment
Related Catalog
Plastic bearings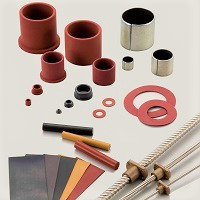 Bearings made of resin material for slippery surfaces or axes. Can be adopted for a wide range of fields and machine components due to light weight, lower cost, and versatility compared to metal. Generate less vibration and noise and have a lower slip friction coefficient due to light weight. Excellent plastic workability and electrical insulation when heated, water-resistant.
Related Catalog
Linear Motion Products
Suitable for long stroke transport of both light and heavy objects. Stroke adjustable in units of one millimeter, multiple tables can be combined.