Ultra-High Speed
There is a large trend toward increasing the speed and functionality of the machine tools that support manufacturing. In keeping with this trend, bearings that are stable even at high rotation speeds are needed. However, as the rotation speed of bearings increases, several problems arise.
The Issue
As a bearing rotates at high speed, there is a large centrifugal force acting on the ball. Because of this centrifugal force, there is a large load on the outer race of the bearing that interferes with high-speed rotation.
Also, a sufficient oil film cannot be maintained with conventional lubricating oil, so heat cannot disperse and the temperature of the bearing rises.
Solving the Problem with Supertechnology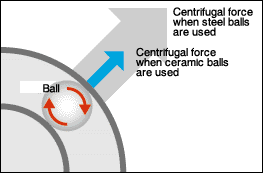 By using ceramic for the balls and two lubrication methods at the same time, we achieved a bearing that can be used at ultra-high speed.
With ceramic balls, not only do we reduce the rotational centrifugal force, we also increase the lubrication properties.
To lubricate bearings to achieve ultra-high-speed revolution, we adopted air-oil lubrication, in which air is used with a small amount of oil.
Using the minimum necessary oil along with air and accurately supplying it to the boundary between the ball and the race provides sufficient lubrication while preventing the temperature from rising.
We are applying the countermeasure of raising the hardness of the bearing while preventing slipping of the balls, one cause of heat generation.
Supertechnology Product
■

Angular contact ball bearing with ultra-high-speed ceramic balls

Achieves a dmn of 2.6 million for ultra-high-speed revolution with air-oil lubrication (dm: bearing pitch circle diameter in mm, n: rotation speed min-1).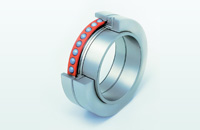 Eco Friendly Air Oil Lubricated Angular Contact Ball Bearings of the HSL type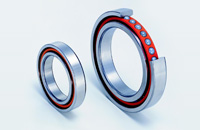 High-Speed Angular Contact Ball Bearing of the HSE type