Ultra-High Durability
For engines, reduced friction through weight savings and increased fuel efficiency is demanded. However, the requirements for bearings are strict, with high temperatures and impurity having an effect.
The Issue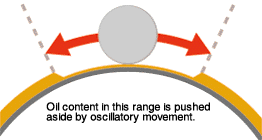 In the rocker arms of automobiles and in other applications, bearings sometimes have broken away in a short period of time because high temperatures and oscillatory movement have made it difficult for an oil film to form.
Solving the Problem with Supertechnology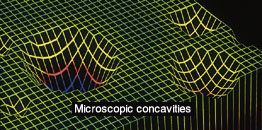 Through the micro oil pot effect, based on EHL theory, we developed HL bearings and achieved long product life.
In the micro oil pot effect, microscopic concavities created on the surface of the ball retain oil, preventing disruption of the oil film.
Supertechnology Products
■

Cageless Needle Roller Bearings for Rocker Arm

(HL Needle Roller)