Deep groove ball bearings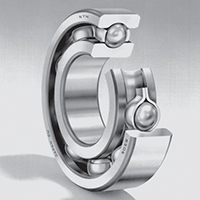 The most typical type of bearing, these are used in a wide range of fields. They include grease-enclosed sealed and shield bearings for ease of use.
Other types include bearings with a locating snap-ring to facilitate positioning when mounting the outer ring, expansion compensating bearings that absorb variations in bearing fitting surface dimensions due to housing temperature, and TAB bearings that are resistant to contamination in lubricating oil.
Related Catalog
Angular contact ball bearings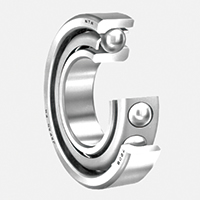 In these ball bearings, the direct line that connects the inner ring, balls, and outer ring has a given angle in the radial direction (the contact angle).
This angle is generally designed with three kinds of contact angle.
These bearings can bear axial loads, but because of the contact angle cannot be used singly and must be used in pairs or combinations.
Related Catalog
Duplex angular contact ball bearings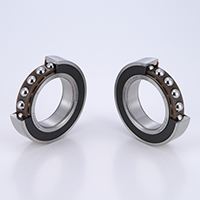 These are bearings combining two or more angular ball bearings in back-to-back arrangement, face-to-face arrangement, or tandem arrangement.
Face-to-face duplex (DF) or back-to-back duplex (DB) bearings can bear axial loads in both directions. Back-to-back duplex bearings have a higher moment load bearing capacity than face-to-face duplex bearings. Tandem duplex bearings can bear a larger single-direction axial load than single bearings.
Related Catalog
Ball bearings for rolling bearing units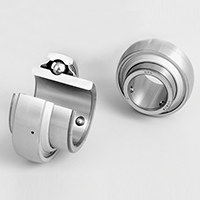 NTN uses the same steel balls and cage as used in the 62.63 deep groove ball bearing series. In addition, the units feature a double seal that combines oil-resistant synthetic rubber seals on both sides and NTN's unique slinger (also called flinger).
The products include those with a wide inner ring that is tightened to the shaft with screws having mounting balls at two locations, and those that have a tapered bore caliber surface and are mounted on the shaft using an adapter. There are also products using the off-center collar method in which the inner ring is fixed on the shaft by means of an off-center groove on the inner groove and an off-center groove on the collar, and those in which the inner ring is mounted on the shaft through interference between the inner ring and shaft, as in the deep groove ball bearing products.
Related Catalog
Cylindrical roller bearings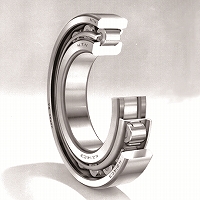 These use rollers as the rolling elements and have a high load capacity. The rollers are guided by the ribs of the inner or outer ring. The inner and outer rings can be separated to facilitate assembly, and both can be fitted tightly.
On types with no ribs, either the inner or the outer ring can move freely in the axial direction, making cylindrical roller bearings ideal for use in free side bearings that absorb shaft expansion.
On types with ribs, the bearing can bear a slight axial load between the roller end surfaces and the ribs. Cylindrical roller bearings include the HT type that modifies the shape of roller end surfaces and ribs to increase axial load capacity, and the E type that has a special internal design to increase radial load capacity. The E type is standard for small-diameter sizes.
Related Catalog
Double row cylindrical roller bearings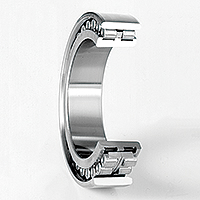 These are used in the printing cylinders of printing machinery, rolling mill rolls, and the main shafts of machine tools, where thin-walled bearings are required. In the main shafts of machine tools, the radial inner clearance is adjusted by pushing the tapered shaft into the inner ring of the tapered bore.
Related Catalog
Tapered roller bearings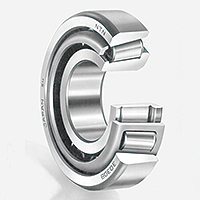 Tapered roller bearings are designed so the inner and outer ring raceway and the apex of the tapered rollers intersect at one point on the bearing centerline. For this reason, the rollers are pushed against the inner ring rib and roll guided by the rib, receiving the loads from the inner ring raceway surface and the outer ring raceway surface as a combined load on the raceway surface.
Component force is produced in the axial direction when a radial load is applied, so the bearings must be used in pairs. The inner ring with rollers and outer ring separate, facilitating mounting with clearance or preload. However, assembled clearance is hard to manage and calls for attention. Tapered roller bearings are capable of supporting large loads, both axial and radial.
Related Catalog
Double row tapered roller bearings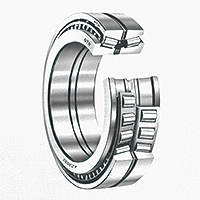 These have outward-facing types (for double-row outer ring use) and inward-facing types (for double-row inner ring use). As the inner clearance is adjusted to a set value, the bearings must be used in combination with components of the same product number, as marked.
In addition to duplex bearings that combine a pair of single row tapered roller bearings, there are also four-row tapered roller bearings composed of two double-row inner rings, one double-row outer ring, and two single-row outer rings. Four-row tapered outer bearings are used in high-load applications such as rolling mill roll necks.
Related Catalog
Spherical roller bearings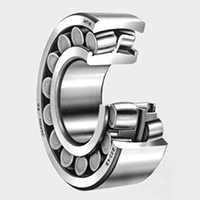 These bearings have an outer ring with a spherical track surface, and an inner ring that encloses two rows of barrel-shaped rolling elements.
Various types exist that differ by internal design, including bearings with a tapered bore inner caliber. The bearings are easily mounted on the shaft with an adapter or un-mounting sleeve, and are used in many industrial machines for their high load capacity. Potential troubles include one row bearing no load when axial load is large, calling for attention to usage conditions.
Related Catalog
Cylindrical roller thrust bearings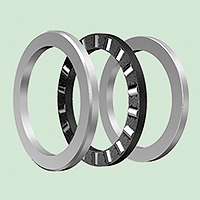 These bearings use cylindrical rollers and have single-row, double-row, and three-row types for larger load capacities.
They support axial loads only, are suited to high loads, and have high axial rigidity.
Related Catalog
Tapered roller thrust bearings
These are thrust bearings using tapered rollers. The single-type bearings include those with and without ribs on the housing raceway washers, as well as the full complement roller type. Double-type bearings are mainly used to support axial loads such as those on rolling mill roll necks.
Related Catalog
Polylubu Bearings
Related Catalog
Large Size, Long Operating Life Bearings - EA type
Related Catalog
SL-type Cylindrical Roller Bearings
Related Catalog
Cam followers
Related Catalog
Roller followers
Related Catalog
IC Tag Integrated Bearings
Related Catalog
Sealed Four Row Tapered Roller Bearings for Rolling Mill Roll-Necks
Related Catalog
Unit Bearings for Tension Levelers
Related Catalog
Plummer blocks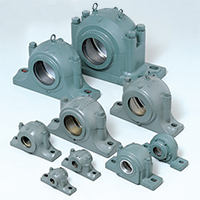 An assembly consisting of a spherical roller bearings or self-aligning ball bearing and a bearing housing with a sealing device. The bearing housing is generally made of cast iron, but can also be spheroidal graphite cast iron (Ductile cast iron) or cast steel depending on the application. A felt seal, rubber seal, or labyrinth seal is used as a sealing device.
Related Catalog
Bearing Units - Steel Series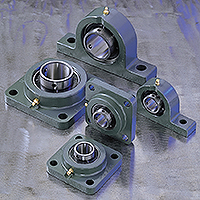 Rolled steel housing for general structures are processed by precision gas cut, ensuring higher rigidity compared to general cast steel. Suitable for parts where safety is a concern or with high vibration or impact due to excellent load capacity and impact resistance.
Related Catalog
Bearing Units - Stainless Steel Series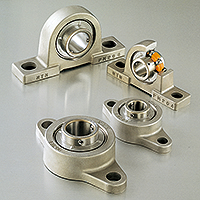 Units combining a stainless steel housing and a stainless steel ball bearing with improved corrosion resistance over general cast iron units. Heat-solidifying grease (polylube) in the ball bearing provides a clean environment and lower rotation torque.
Related Catalog
Triple-Sealed Bearings for Bearing Units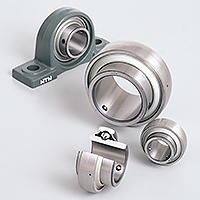 Contain a triple-lipped bearing seal, resulting in excellent dustproof and waterproof performance compared to standard bearings. A longer service life is ensured even when exposed to dust and splashes of foul water.
Related Catalog
Spherical plain bearings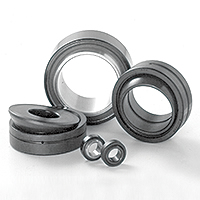 Self-aligning bearings with sliding spherical surfaces which can support radial loads or axial loads in both directions. Ideal for vibrating or aligning movement and is widely used in construction machinery and industrial machinery.
Related Catalog
Constant Velocity Joints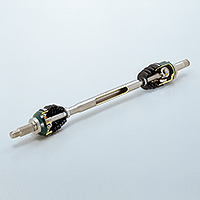 Components used to transmit rotational motion so both axes rotate at a constant velocity regardless of the angle between the input and output shaft, and torque is transmitted smoothly (bearings used here).
Related Catalog
Maintenance
Related Catalog
NTN Portable Vibroscope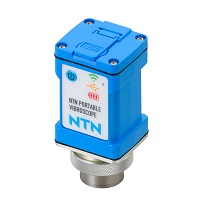 A small vibration measurement device that has excellent portability and usability for detecting abnormalities such as unbalance and misalignment of machines with rotating parts, performing FFT (Fast Fourier Transform) analysis and OA (Overall) measurement by wireless communication with tablets and smart devices.
Related Catalog