Thrust roller bearings
Cylindrical roller thrust bearings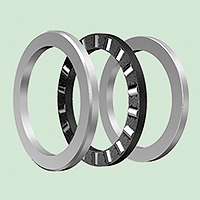 These bearings use cylindrical rollers and have single-row, double-row, and three-row types for larger load capacities.
They support axial loads only, are suited to high loads, and have high axial rigidity.
Related Catalog
Needle roller thrust bearings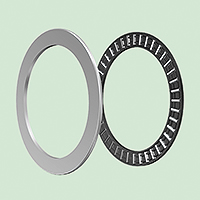 These include bearings using machined parts and bearings using pressed steel plate parts for the raceway washer, with the latter type having the smallest cross-sectional height and high load-bearing capacity.
Related Catalog
Tapered roller thrust bearings
These are thrust bearings using tapered rollers. The single-type bearings include those with and without ribs on the housing raceway washers, as well as the full complement roller type. Double-type bearings are mainly used to support axial loads such as those on rolling mill roll necks.
Related Catalog
Spherical roller thrust bearings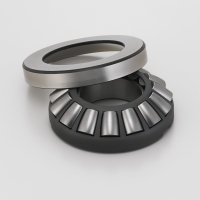 These bearings have a self-aligning nature that uses barrel-shaped rolling elements, with a spherical surface on which the raceway surface of the housing raceway washer (outer ring) is centered on the guide sleeve. They can bear high axial loads.
As there are many sliding surfaces such as the roller end surfaces and the cage, oil lubrication must be used even in low-speed operation.
Related Catalog