Thrust ball bearings
Single-direction thrust ball bearings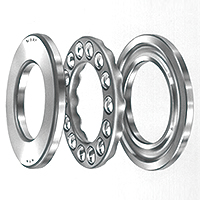 These bearings have balls enclosed in a cage between the shaft raceway washer that corresponds to the inner ring, and the housing raceway washer that corresponds to the outer ring. They can bear only single-direction axial loads.
Related Catalog
Double-direction thrust angular contact thrust ball bearings
These can support axial loads in both directions, with high rigidity in the axial direction due to a large contact angle. Their structure is not suited to grease-lubricated vertical shafts.
Related Catalog
High-speed duplex angular contact ball bearings (for axial loads)
These are used in back-to-back duplex (DF) arrangement and can support only bi-directional axial loads. They are superior to double-direction thrust angular ball bearings in high-speed properties, with low axial rigidity.
Related Catalog